ABA/VBA/MBA Virtual Diversity, Equity and Inclusion Summit
Co-hosted by the American Bankers Association & the Maryland Bankers Association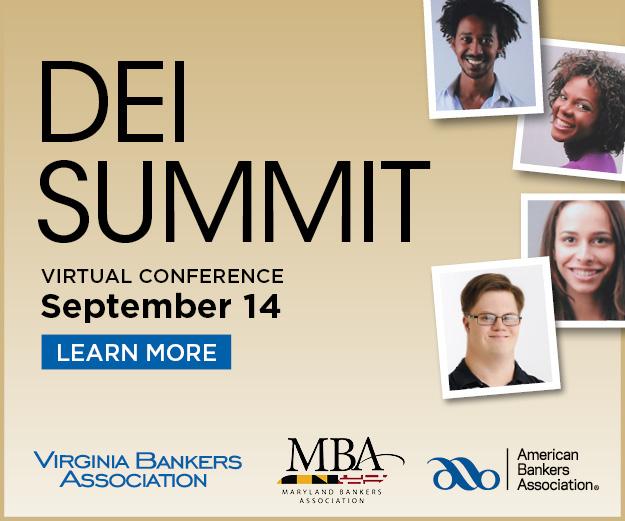 American Bankers Association (ABA), Virginia Bankers Association (VBA) and Maryland Bankers Association (MBA) are joining together to host the Diversity, Equity and Inclusion Summit for bankers nationwide. This virtual event is designed to help bankers become an agent of change for the banking industry and for the community. The DEI Summit will help bankers master the leading practices for mitigating the systemic barriers that disadvantage marginalized groups in the industry—and give actionable steps to implement change.
Why You Should Attend the DEI Summit
Be an Agent of Change
Master the leading practices to mitigate systemic biases that disadvantage marginalized groups.
Get Content that Fits Your Needs
Pick sessions that will nurture your DEI efforts – whether you're looking to explore a new program, engage more fully, or elevate an existing initiative.
Cultivate a Network
Share stories with peers and learn deeper insights from experts.
Support Your Bank's Bottom Line
A diverse working environment has a positive impact on a company's financial performance.
Be a Bank Known as a "Best Place to Work"
Create a culture that is welcoming and equitable to all, and your bankers will thank you.
It's a Smart Business Move
Be one of the banks making public commitments to fostering DEI, and then follow through.
Registration & Fees
The Summit is a virtual event; it will take place via Zoom. Registration information is not yet available.
Agenda & Session Information
Click

here

to view the 2022 agenda. The 2023 agenda is not yet available.