ABA/VBA/MBA Virtual Diversity, Equity and Inclusion Summit
Co-hosted by the American Bankers Association & the Maryland Bankers Association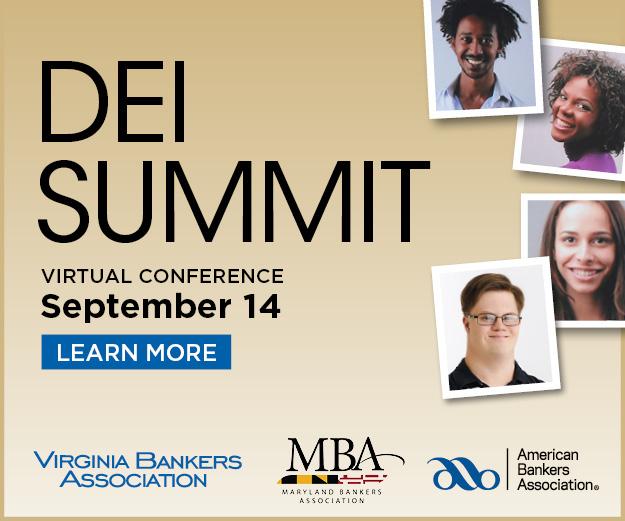 American Bankers Association (ABA), Virginia Bankers Association (VBA) and Maryland Bankers Association (MBA) are joining together to host the Diversity, Equity and Inclusion Summit for bankers nationwide. This virtual event is designed to help bankers become an agent of change for the banking industry and for the community. Winners of the inaugural ABA DEI Awards, honoring and recognizing an outstanding DEI program, leader and initiative, will be announced at the DEI Summit.
Why You Should Attend the DEI Summit
Be an Agent of Change
Master the leading practices to mitigate systemic biases that disadvantage marginalized groups.
Get Content that Fits Your Needs
Pick sessions that will nurture your DEI efforts – whether you're looking to explore a new program, engage more fully, or elevate an existing initiative.
Cultivate a Network
Share stories with peers and learn deeper insights from experts.
Support Your Bank's Bottom Line
A diverse working environment has a positive impact on a company's financial performance.
Be a Bank Known as a "Best Place to Work"
Create a culture that is welcoming and equitable to all, and your bankers will thank you.
It's a Smart Business Move
Be one of the banks making public commitments to fostering DEI, and then follow through.
Registration & Fees
The Summit is a virtual event; it will take place via Zoom.
Individual Registration Rate - $195
Group* Registration Rate - $495
*Access for three to five members from the same institution.
Please share any specific needs that should be considered as we plan for the conference (i.e. hearing impaired, sight impaired, etc). Please contact Chandler Owdom with any details.
Agenda & Session Information
Sessions at this year's Summit to include:
12:30 – 1:40 PM
Welcome
DEI Award Winners
Opening Keynote Session: Courageous Civility*

Creating and sustaining a culture of equity, diversity and belonging can be challenging and exhausting work. Not only does it require the willingness to actively combat inequities, bias and discrimination in the workplace — but equally as important — it requires the courage to actively take part in uncomfortable but necessary discussions. You will learn key tools, strategies, and information necessary to engage in this critical work. Importantly, the keynote speaker will help you stay committed to this work long after the session ends.
Shola Richards, Founder & CEO, Go Together™ Global, Best-selling Author, "Go Together"
*Please note this session addresses the topic of suicide.
1:40 – 1:50 PM
Break & Transition to First Strategy Session
1:50 – 2:35 PM
CONCURRENT STRATEGY SESSIONS
Attendees will choose a strategy session that will help your bank build a more robust DEI program.
DEI: Meaningful Metrics

As people with DEI responsibilities, it is our job to explore how to measure success in our DEI efforts. Join this workshop for a deep dive into measuring DEI quantitative and qualitative data and learn the elements used in measuring DEI success.
Naomi Mercer, Senior Vice President, Diversity, Equity & Inclusion, American Bankers Association

Introduction to Disability Inclusion & Awareness

What role does disability inclusion play in attracting and serving clients and employees with disabilities? Central Virginia start-up, VisitAble, is on a mission to enable a better experience for individuals with disabilities. Learn interpersonal best practices, easy tips for increasing accessibility, important statistics and much more! Whether your bank is ADA-compliant or hasn't yet started to think about disability inclusion, this presentation will be a great way for you to improve your disability awareness.
Joe Jamison, CPACC, CEO & Founder, VisitAble LLC
Cory Paradis, ADAC, Chief Operating Officer, VisitAble LLC

The Changing Litigation and Regulatory Environment for Corporate DEI Programs

Join us to discuss the spate of litigation over corporate DEI programs. Beginning with a brief discussion of the U.S. Supreme Court's recent ruling in affirmative action cases, the session will then move to a survey of specific challenges that have been launched against corporate DEI programs. It will conclude with some suggestions about how to risk-adjust these programs while maintaining corporate DEI goals.
Ishan K. Bhabha, Partner, Jenner & Block LLP
2:35 – 2:45 PM
Break & Transition to Second Strategy Session
2:45 – 3:30 PM
CONCURRENT STRATEGY SESSIONS
Attendees will choose a strategy session that will help your bank build a more robust DEI program.
Measuring Impact in Digital Banking

Banks are looking for new approaches to demonstrate their commitment to the financial health of customers and their communities. Varo Bank, the first nationally chartered (OCC) consumer techbank in the U.S., has set out to create a unique set of goals and metrics, which align with their mission to help people build financial prosperity and increase inclusivity. Learn about those goals in this session.
Marina Gracias, General Counsel and Corporate Secretary, Varo Money, Inc.

DEI: LGBTQ+ Perspectives

This panel of individuals, who work in or with banks, will talk about their experiences, good and bad, as a way to help bankers understand how LGBTQ+ people navigate the workplace. Learn what actions banks can take to be more inclusive of both their LGBTQ+ employees and customers.
Samantha Maston, CAMS, BSA – CTR Alert Analyst, Fulton Bank
Jacob Mowry, Vice President, Marketing Manager, F&M Bank
Sar Moon Rose, IT Data Quality Senior Engineer, Fulton Bank
Moderated By: Yokota Strong, CRCM, CAMS, CFE, EVP Chief Compliance Officer, Broadway Bank

Exploring Dynamics of Class

Class is defined by Felice Yeskel as a "relative social rank in terms of income, wealth, education, status and/or power." In this interactive session, participants will reflect on their own class backgrounds and consider similarities to and differences from others about the impact of class on their lives. They will also consider ways to ensure that class is not a barrier to full participation and engagement within their institution and sphere of influence.
Charm Bullard, Senior Advisor to the CEO, Virginia Center for Inclusive Communities
3:30 – 3:40 PM
Break
3:40 – 4:45 PM
Closing Keynote Session: "You Can Bank on Harmony"

Whether it's intergenerational dynamics, interpersonal communications or perceptions around gender, there is no greater time to appreciate "good differences" than now. Dr. Pam Confer will take participants on a journey through unconscious biases and provide pathways for elevating the attributes of everyone in the room. You can always "Bank on Harmony!"
Pam Confer, Ph.D., Corporate Humorist, Master HR Trainer, Jazz Artist, Confer Consulting and Communications, LLC
4:45 PM
Conference Adjourn
After the event, all registered attendees will have access to the full DEI Summit recording.