ABA/VBA/MBA Virtual Diversity, Equity and Inclusion Summit
Co-hosted by the American Bankers Association & the Maryland Bankers Association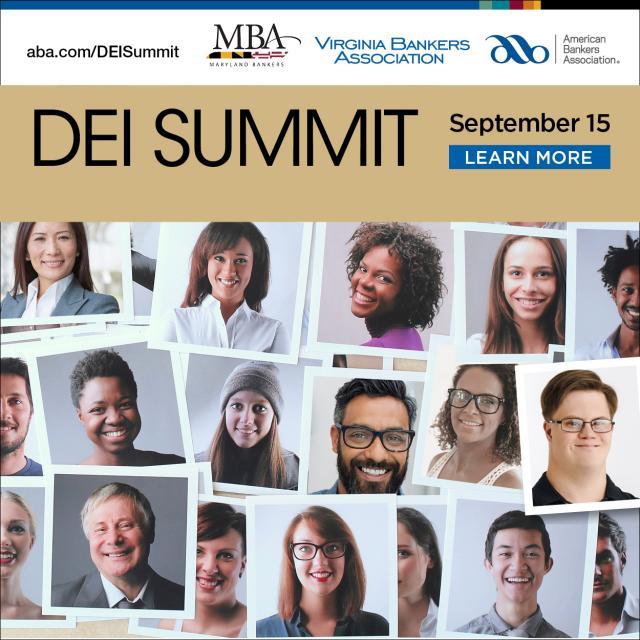 American Bankers Association (ABA), Virginia Bankers Association (VBA) and Maryland Bankers Association (MBA) are joining together to host the Diversity, Equity and Inclusion Summit for bankers nationwide. This virtual event is designed to help bankers become agents of change for the banking industry and for their communities. The DEI Summit will help bankers master the leading practices for mitigating the systemic barriers that disadvantage marginalized groups in the industry – and give actionable steps to implement change.
Registration & Fees
The Summit is a virtual event and will take place via Zoom.
Individual-$195
Team*-$495
*Three to five members from the same institution.
Agenda & Session Information
A full agenda and speakers will be announced soon.
All attendees will have access to the full DEI Summit recording. Sessions to include:
Two keynote general sessions
Concurrent Strategy Sessions – Attendees will choose from a variety of strategy sessions that will help your bank build a more robust DEI program. Strategy sessions will include:

Conscious Inclusion: Why Conscious Inclusion Matters
Supplier Diversity: How to Support the Diverse Communities that Banks Live and Work In
DEI Framework: Essential Components of Diversity, Equity, & Inclusion Framework(s)
Multicultural Banking: Making Yourself Matter to Multicultural Consumers
Leading DEI: Leading a Diverse Workforce
Why You Should Attend the DEI Summit
Be an Agent of Change
Master the leading practices to mitigate systemic biases that disadvantage marginalized groups.
DEI by Design
Pick sessions that will nurture your DEI efforts—whether you're looking to gain buy-in, draw awareness or address hiring practices.
Meet People on a Mission
Share stories and cultivate a network with your peers, and learn deeper insights from experts.