Virginia Banking

Virginia Banking is the official publication of the Virginia Bankers Association, whose mission is to enhance Virginia banking for the benefit of banks, their customers and their communities. Virginia Banking is an important part of this mission.
Virginia Banking Annual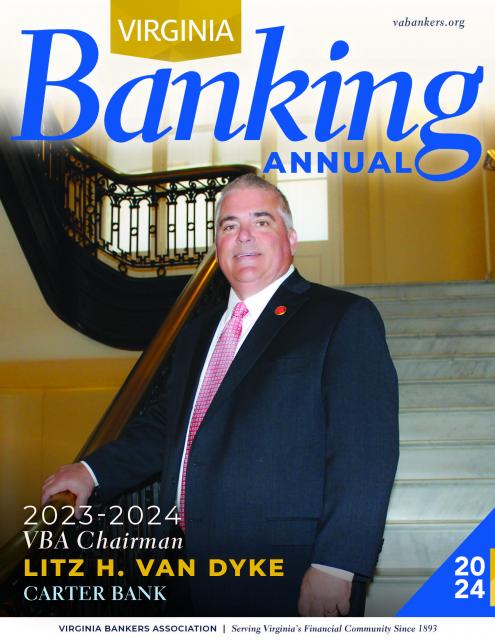 We are excited to share the 2021-2022 issue of Virginia Banking Annual. This publication serves as a "year in review," covering the Virginia banking industry and the VBA from June 2021-June 2022. Features include reflective thoughts on the year from VBA President & CEO Bruce Whitehurst and 2021-2022 VBA Chairman Leton Harding; a look back at advocacy efforts from VBA EVP Government & Member Relations Matt Bruning; legal and regulatory summary updates from VBA General Counsel DeMarion Johnston; a year in review from VBA Benefits Corporation President and COO Laurie Milligan; highlights and pictures from VBA education and training events; a recap of industry and VBA efforts in diversity, equity and inclusion, and more!
This commemorative keepsake is available in a select number of print copies for bank CEOs, VBA committee chairs, and VBA Associate Member CEOs and is distributed digitally to 5,900+ bankers, legislators and industry partners.
Read the digital issue here.
Download a PDF of the 2021-2022 Virginia Banking Annual here.
Download a PDF of the 2020-2021 Virginia Banking Annual here.
Virginia Banking annual - Advertising
Interested in advertising in the 2023 Virginia Banking Annual? View the rates and space availability here or contact Amy Binns for more information.
Virginia Banking Monthly
Newly reformatted, Virginia Banking Monthly is now published digitally and is circulated to more than 5,900 recipients, including CEOs, presidents, directors and other senior managers. It combines everything you enjoyed about our Virginia Banking magazine and its eNewsletter supplement. The new Virginia Banking Monthly is devoted to legal, legislative and informational articles related to the state banking industry, banker profiles and personnel updates. Virginia Banking Monthly also features articles compiled from top industry experts and organizations, containing industry knowledge via current trends data and insights into topics and challenges that affect banks such as fintech, talent retention and recruitment, risk management, compliance, cybersecurity and more.
Virginia Banking Monthly – Advertising & Contributing
Interested in advertising in Virginia Banking Monthly in 2023? Click here for rates and space availability. Interested in contributing an article for possible inclusion in the next digital issue? Contact Amy Binns for more information.
Past issues of Virginia Banking Monthly
View the past issues of Virginia Banking Monthly here.
Volume 4 2020 of Virginia Banking Magazine
Click here for a PDF of Volume 4 – our 125th Anniversary commemorative issue. Click here for past issues of Virginia Banking magazine.
Contact Information and Subscribing
Contact Monica McDearmon for more information. Complete the form below to sign up for Virginia Banking and other VBA publications.