VBA Diversity, Equity & Inclusion Efforts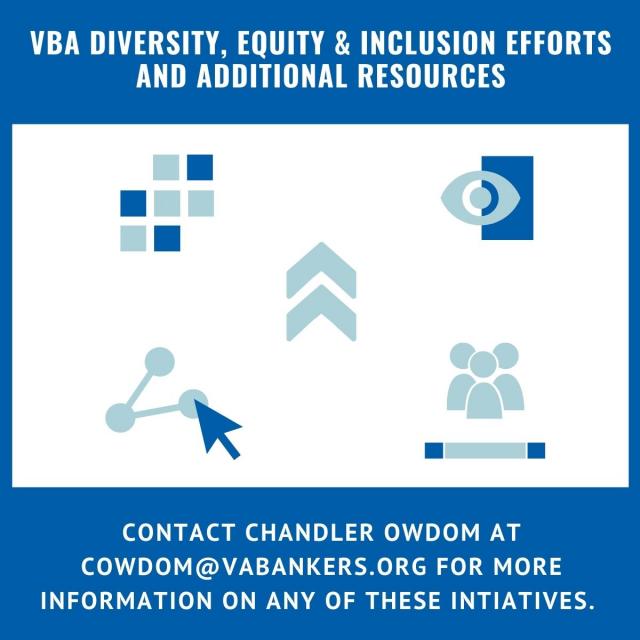 As a part of our 2019-2021 VBA Strategic Plan, the VBA created the goal of developing recommendations for how VBA can assist members in building a more diverse future leadership. The below efforts are a summary of the initiatives we have since started in this space, as well as resources for banks as they begin or further their diversity, equity and inclusion (DEI) programs and efforts at their own organizations.
This list highlights important initiatives and resources but is not comprehensive of VBA efforts in the DEI space.
ABA/VBA Diversity, Equity & Inclusion Summits
VBA and the American Bankers Association partnered to launch our first-ever virtual Diversity, Equity and Inclusion Summit for bankers on November 6, 2020, and held a second Summit on May 20, 2021. These events were an important part of continuing a meaningful dialogue on fostering positive change in the industry. The value-packed programs helped bankers cultivate a network of peers to share DEI leading practices and explore new opportunities and initiatives for their own institutions. The goal of these events was to equip bankers from all over the country with tools to mitigate systemic biases and foster greater inclusion for those disadvantaged by age, race, disability, sexual orientation, gender or other identity factors.
More than 275 people attended the 2020 Summit.
Four hundred people attended the 2021 Summit
2020 ABA/VBA DEI Summit Event Recap
2021 ABA/VBA DEI Summit Event Recap
VBA Diversity, Equity & Inclusion Council
The VBA created a Diversity, Equity & Inclusion Council in 2019 to help guide the creation of DEI initiatives and programming for member banks. The Council, made up of 24 member bankers, is a key driver of our DEI efforts. Since 2019, the Council has met six times and will continue to meet and be a sounding board for the VBA as we work to support our member banks in their DEI efforts.
Women in Banking Initiatives
The VBA piloted the Women's Mentorship Program in 2020, a turn-key experience for banks that want to provide senior level employees the opportunity to mentor high-potential women in their own banks. Fourteen mentor/mentee pairs from nine banks benefited from one-on-one interaction and discussion combined with training and networking opportunities.
VBA Women's Mentorship Pilot Program Recap
The 2021 Women's Mentorship Program will kick-off in December. More background on the program can be found here and information on how to participate in the program will be available soon.
Additionally, the VBA has continued to actively engage our Executive Women in Banking Peer Group. Members of this group hold a senior vice president title or higher and created and now serve as advisors for the Women's Mentorship Program.
The group also helped create a new communication for this demographic. In March 2021, in conjunction with Women's History Month, the VBA developed and distributed a new e-newsletter, ELEVATE, a quarterly publication for women in banking and those who support them. Sign up for ELEVATE here. Access the latest issue and links to previous issues here.
Our Women in Banking Conference will take place on December 3. This conference is designed for all women involved in the financial industry who would like to participate in engaging and thought provoking sessions on finding success in the industry.
Recruitment Solution Through BankTalentHQ
VBA's new career center partnership with BankTalentHQ includes access to America's Job Exchange (AJE) to make connecting even easier for your bank. Additionally, BankTalentHQ is excited to announce their latest partnership with Circa. The joining of these two great companies brings accelerated growth and expanded services for you. BankTalentHQ is committed to putting diversity and inclusion at the forefront of the recruiting process. Circa provides niche diversity sites and community-based recruiting to reach the candidates you need to succeed.
Cultivating a diverse candidate pool requires a diversity recruitment strategy. To develop a workforce rich in diversity, you should consider the quality and demographic sourcing of your candidates. Are you just posting a job on websites and hoping for the best? Is your current diversity recruitment activity driving results? Growing a diverse workforce will take more than putting jobs on ad-hoc websites.
Circa is a catalyst for 21st century companies to build high-performing diverse teams based on research that shows companies want to shift from diversity as a program to diversity as a business strategy. Circa's robust portfolio of software solutions and unparalleled industry expertise gives customers the tools and knowledge they need to radically change how they approach talent acquisition and management.
When you post an available position on BankTalentHQ, that job is automatically disseminated into Circa's network. Circa's Diversity Recruiting is comprised of a network of 15,500+ community-based organizations including:
Women
Minorities
Individuals with Disabilities
Veterans
Older Workers
LGBTQIA
Professional and Industry Organizations
College Students
One-Stop Career Centers
We know diversity and inclusion is important to your bank and VBA and BankTalentHQ are dedicated to making your recruitment activity easy and effective. Don't waste another minute – click here to post your available positions and reach 15,500+ community-based organizations automatically. Questions? Contact Amy Binns.
Internal DEI Efforts at the VBA
The VBA is committed to supporting our member banks in their DEI journeys, and we are equally committed to providing training, opportunities for conversation and continuous evaluation of our business practices.
The VBA conducts internal trainings for staff in this space, and various VBA staff members participate in, attend or speak at external DEI forums and events.
Related Events
View upcoming events here.
New for 2022: Virginia Banking Fellows Program in Partnership with the Virginia Foundation for Community College Education
Please contact Monica McDearmon for more information about this new partnership.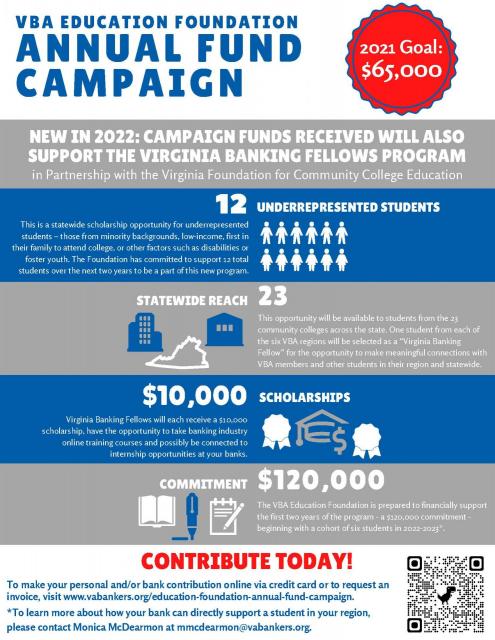 Additional Resources & Articles of Interest