Women in Banking Conference
One-day conference designed for women in the financial industry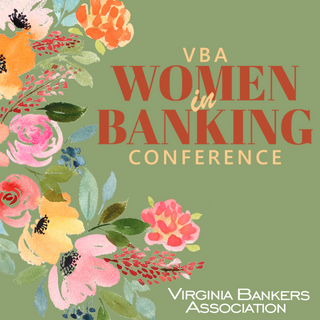 This conference is designed for all who would like to participate in engaging and thought-provoking sessions on assisting women in finding success in the banking industry. ​
2023 Agenda
8:00 - 8:30 a.m. Registration
8:30 – 8:40 a.m. Welcome and Announcements
Breakfast sponsored by VCDC
8:40 – 9:40a.m . Talking 9 to 5: Strategies for Effective Communication
Cathy Nestrick, American Bankers Association
While not all women communicate in the same way, we explore how people make assumptions about women's confidence, competencies, and leadership styles when we talk and write in styles most often associated with women. Gender, socioeconomic upbringing, race, ethnicity, culture, and generation all impact how we communicate and understand each other from informal conversations to presentations. Participants will learn strategies to overcome incorrect and harmful assumptions that we make about each other so that we can "see" and "hear" each other in a more equitable way.
9:40 – 10:00 a.m. Networking Break/Headshots
Break sponsored by VCDC
Headshots sponsored by Select Bank
10:00 – 11:00 a.m. Why Women are Positioned to Thrive in a Rapidly Changing Banking Industry
Ally Akins & Emma Metzler, Capital Performance Group, LLC
Women have unique talents that make them especially capable of leading in this time of great disruption to established business models in banking. Women have long been underrepresented in traditional power structures (which still exist in many banks). But here is a surprising twist: those barriers to leadership positions have actually helped to shape how women lead. Women lead in different ways than men – ways that are now in high demand as companies struggle to adapt to changes in workforce profiles, customer demands, and the digital marketplace. Generally, women tend to lead in ways that are more collaborative and empathetic and tend toward group problem-solving versus individual problem-solving. These leadership characteristics (and others we will discuss) are well suited to the wave of challenges facing the industry today, including the need for greater transparency, more customer‐centric business models, and the rapid rise of millennials in the workforce.
11:00 – 11:20 a.m. Networking Break/Headshots
Break sponsored by VCDC
11:20 a.m. – 12:20 p.m. Leading for Today and Tomorrow
Melissa Furman, Career Potential LLC
Banking leaders have been navigating uncertain times for over a year and many changes have occurred at an accelerated pace. As a result, leaders need to evaluate their leadership abilities to continue to successfully lead their organizations through this new era of uncertainty and constant flux. This engaging and interactive session will provide recommendations and strategies for navigating ongoing challenges such as recruiting talent, retaining talent, diversity, equity and inclusion (DEI), and workforce development to name a few.
12:20 – 1:30 p.m. Lunch | Head Shots
Lunch sponsored by FHLBank Atlanta
Headshots sponsored by Select Bank
1:30 – 2:30 p.m. Dare to Care™: How Leaders Inspire & Influence with Emotional
Intelligence
Sylvia Baffour, Dare to Care
Join Sylvia Baffour as she unveils her groundbreaking Dare to Care™ EI Framework which will empower you and your leaders with practical tools for immediate impact allowing you to transform leadership approach, cultivate robust relationships, and achieve outstanding business outcomes. Don't miss the opportunity to unlock your full potential and ignite unparalleled passion within your teams.
2:30 – 2:50 p.m. Networking Break | Headshots
Break sponsored by VCDC
Headshots sponsored by Select Bank
2:50 – 3:50 p.m. Creating Work-Life Balance in an Unbalanced World
Liz Fletcher Brown
Speaker sponsored by DCMI Mid-Atlantic
In times of uncertainty more is required of us than ever before to balance all our commitments both at work and at home. Liz takes a contrarian view of work-life balance as the very concept assumes that your work and your life are two separate entities and that you somehow must juggle them both to be happy.
The true secret to fulfillment is work-life integration. When your work and your life are integrated, it's easier to keep your balance, no matter how many challenges you have to face. It's only when we live and lead in alignment with our sense of purpose, our strengths and our deepest values that we experience life at high levels of energy and enthusiasm, and live and work with Full Wattage!
Creating a balanced life is not just knowing what changes are needed. More importantly it's about how to effectively make the changes that are difficult. Liz will also address that in this session. She will skillfully blend cutting edge neuroscience with practical tools, humor, and thought-provoking insights to support participants in being grounded, purposeful, and having the right attitude for success, even in challenging times.
3:50 – 4:00 p.m. Closing Remarks | Adjourn
Registration Information
| | Member | Non-Member |
| --- | --- | --- |
| Through November 1, 2023 | $425 | $925 |
| November 2 – November 28, 2023 | $475 | $975 |
VBA EVENT POLICIES
By registering for this event, you are agreeing to the VBA Event Policies.
CANCELLATION POLICY
All cancellations will be charged a $25.00 administrative fee. Cancellations received less than 72 business hours before the program will be charged a $75.00 administrative fee plus any additional fees associated with the training. Substitutions are allowed prior to the beginning of the conference.
SPECIAL NEEDS & AMERICANS WITH DISABILITIES NOTICE
If you have special needs that may affect your participation in this event, please contact Kristen Reid to discuss accommodations.
Location
Hermitage Country Club
1248 Hermitage Rd
Manakin Sabot, VA 23103
Update Your Headshot!
The VBA is very excited to offer you the opportunity to update your headshot (or provide you the opportunity for your first headshot!). These are being generously sponsored by Select Bank and times will be assigned during networking breaks and over lunch.
Sign up during the registration process to reserve your spot!
Thank You to Our Sponsors!
Interested in sponsoring this event? View the 2023 sponsorship brochure here or contact Amy Binns for more information.