2021 Management Development Program Resource Portal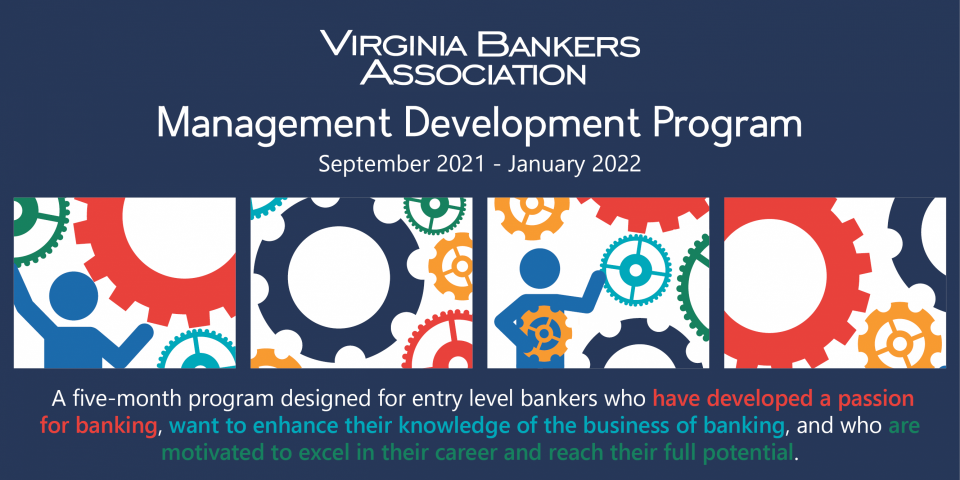 Newsletters
Zoom & Session Links
Zoom Instructions
Click the Zoom Instructional Guide to find helpful hints on using this platform.
Zoom has enhanced their security features in recent months. Learn more here.
Participant/Instructor/Panelist/Staff Profiles
Click here to view MDP Profiles
Instructor Contact Information
Nathalia Artus, Director of Community Development & Reinvestment, CRA Officer
Atlantic Union Bank
Phone: (804) 482-8408
nathalia.artus@atlanticunionbank.com
Michelle Austin, SVP & CFO
Bank of Botetourt
Phone: 540-580-3927
maustin@bankofbotetourt.com
Andy Davies, President & CEO
The Marathon Organization, Inc.
Phone: 757-434-2710
adavies@marathonorg.com
Serena Fulton, Consultant & Facilitator
Floricane
Phone: 570-709-4743
Serena@floricane.com
Vicki Kraai, CEO
InterAction Training
Phone: 402-984-9297
vicki@interaction-training.com
Bruce Whitehurst, President & CEO
Virginia Bankers Association
Phone: (804) 241-3223
bwhitehurst@vabankers.org
Hunter Young, Founder & President
HIFI Agency
Phone: 919-210-4501
hunter@hifiagency.com
Pre-Work and Post-Work Information
You will be assigned pre-work and post-work for each session of the VBA Management Development Program. All assignments will be turned into Gail Queen on the due date unless you have been asked to something differently from your instructor and/or Andy and Courtney. Please read through all pre-work and post-work assignments outlined under each session header. Some of the assignments will require you to meet with various colleagues in your bank. Please make sure you plan ahead and schedule these meetings in coordination with your coworkers who are in the program with you (if applicable) so you can have your assignments complete on time. This is especially important for your final meeting with your CEO/senior leader. If you have a circumstance that will prevent you from completing an assignment on time, please email Gail Queen in advance to let her know.
Orientation
Facilitators: Andy Davies | Courtney Fleming
September 27, 2020 – 1:00pm to 4:00pm
In Part One of the opening session, Andy Davies and Courtney Fleming will explain the learning outcomes for the Management Development Program, walk the participants through the format for a virtual experience, review the pre and post-work schedule and assignments, and facilitate an exercise to promote relationship building and networking. Part Two of this session, the participants will hear from Bruce Whitehurst on his philosophy on leadership, followed by a discussion on bank regulation, the history and challenging periods of modern banking and the history of the VBA. In Part Three of the opening session, the participants will hear from Matt Bruning on advocacy and Chandler Owdom about VBA Emerging Bank Leaders. This session will set the stage for what is to come in the months ahead.
Orientation Slide Deck updated 9/27/21
Virginia Banking Magazine (September 21)
Emerging Banking Leaders Portal (Chandler Owdom)
Emerging Bank Leaders Slide Deck
Evaluation
Orientation Survey (closed)
Session 1: Introduction to Banking and Understanding Bank Financials and Profitability
Instructors: Bruce Whitehurst | Andy Davies | Michelle Austin
October 12, 2021 – 9:00am to 4:30pm (time updated)
Part One: Part One of Session One will begin with an opening exercise focused on the history of the participants' banks. Bruce Whitehurst will then provide an industry and regulatory forecast.
Part Two: Part Two of Session One will have a dual focus. First, a group discussion of key concepts, including core values, vision strategy, CAMELS rating system, 'peer groups', risk management and components of deposit and loan portfolios. Second, "ALCO in 90 Minutes", a roadmap of the components of a basic Asset Liability Management Process.
Pre-Work
Due Date: October 8, 2021 (Submit to gqueen@vabankers.org)
Session One Pre-Work - Andy Davies Please see updated submission information (9/28/21)
Due Date: October 12, 2021 (Bring completed assignment with you to Session One)
Orientation Post-Work/Session One Pre-Work - Bruce Whitehurst
Post-Work
Due Date: October 20, 2021 (Submit to gqueen@vabankers.org)
Session One Post-Work - Andy Davies
Session One Post-Work - Michelle Austin
session one Materials
Bruce Whitehurst
Session One PowerPoint-Bruce Whitehurst
Andy Davies
Andy Davies-Session One PowerPoint
MDP Notes Page
Michelle Austin
Michelle Austin-Session One PowerPoint
Bank A UBPR
Bank B UBPR
Financials for MDP Bank
My Bank UBPR
Management Development Worksheet You may want to print out this attachment.
MDP Notes Page
Andy's session one communications
evaluation
Session One Evaluation (closed)
Session 2: Leadership & Management
Instructor: Serena Fulton
October 13, 2021 – 9:00am to 4:30pm
Good working relationships: we need them to sustain an organization, foster employee engagement and a healthy culture, and drive results. Insights® is a tool that helps you start, sustain, and grow in those crucial relationships by promoting self-awareness. By helping individuals deepen their sense of self – and their approach to work – Insights® helps to improve communication, decision making, performance, and understanding of one's leadership styles. Through understanding your own preferences for engagement, decision making, and taking information in, Insights® helps you understand how others may experience you at work, how to appreciate different styles, and how to adapt your preferences when needed.
Pre-work
Due Date: October 8, 2021
Session Two Pre-Work - Serena Fulton Complete Steps 1-2
Serena will send you your personal profile and a reminder of your additional pre-work steps on October 11.
Due Date: October 13, 2021
Session Two Pre-Work - Serena Fulton Complete Steps 3-6 by the start of your Introduction to Insights session.
POST-WORK
Due Date: October 21, 2021 (Submit to gqueen@vabanker.org)
Session Two Post-Work - Serena Fulton
session two Materials
Session Two Agenda
Serena Fulton-Session Two PowerPoint
​Reflection Prompts You can either download this as a Word document and type in, print and write on, or just use as a reference for questions.
MDP Notes Page
Evaluation
Session Two Evaluation (closed)
Session 2: Leadership and Management Optional Virtual Webinar
Instructor: Serena Fulton
November 9, 2021 – 12:30pm to 1:30pm
The optional follow-up to Session Two on November 9th from 12:30pm-1:30pm. This optional follow-up webinar is a space time to get your questions about Insights® answered, clarify concepts, and offer additional opportunities to leverage Insights® as a tool to build self-awareness and improve relationships with others. We will check-in around ways you have been applying Insights® in your day-to-day, hear what questions have surfaced, and do a brief refresher on the color energies. Then we will discuss and practice strategies for adapting and connecting with the different color energies in service to more effective relationships. You will leave with several ideas for how to put your Insights® learning into practice.

If you would like to participate, please let Gail know by the COB on November 8th.
Session 3: Banking Lines of Business and Bank Management
Instructor: Vicki Kraai
November 17, 2021 - 9:00am to 4:30pm
Session Three is designed to provide you with some insight into leading and managing a bank – from the seat of a President/CEO focusing on the broad spectrum of the key fundamental areas of asset/liability management, lending portfolio management, and managing the customer experience. This session will be very interactive and will incorporate small group activities, case studies and roundtable discussion. Below are some of the focus areas of this session:
Asset/Liability Management
Explore the bank's balance sheet in relation to rate sensitivity
Discuss key profitability ratios
Role of the investment portfolio
Examine liquidity and funding sources – managing a bank's cash position
Lending Portfolio Management
Review the different loan types
Understand the impact the lending area has on bank earnings
Understand the factors involved in a credit decision
Review the components of managing a loan portfolio
Customer Experience Management
Current economic landscape
History of regulations vs. customer perception
Professional maturity
Ordinary vs. extraordinary experiences
Investing in our people portfolio
Pre-work
Due Date: November 10, 2021 (Complete via the link on the assignment.)
Session Three Pre-Work - Vicki Kraai
Post-work
Due Date: November 29, 2021 (Submit to gqueen@vabankers.org)
Session Three Post-Work - Vicki Kraai
Session Three Materials
Vicki Kraai-Session Three Outline (Print this out and bring with you to the session.)
Session Three Agenda
SHOP/Pre-Session Survey Results
Customer Expectation
Lending Case Study
MDP Notes Page
Evaluation
Session Three evaluation (closed)
Virtual Session: CRA, Community Development and Networking 101
Instructor: Nathalia Artus
December 8, 2021 - 2:00pm to 3:30pm
Bankers and Community Reinvestment Act (CRA): Drivers of Opportunity for Thriving Communities – This session will cover the banking industry's meaningful work strengthening communities, and the participants will explore how community engagement impacts their careers and goals.
Innovative Ways to Connect and Engage with Individuals, Businesses and Communities - This session will cover the post-pandemic connection opportunities that can influence and impact professional goals.
Pre-work
No Pre-Work for this session.
Post-work
No Post-Work for this session.
Virtual Session Materials
PowerPoint-Innovative Ways to Connect & Engage
PowerPoint-Bankers & CRA: Drivers of Opportunity for Thriving Communities
MDP Notes Page
Evaluation
Virtual Session Evaluation (closed)
Session 4: The Modern Bank Marketing Department: Brand, Digital, Data, and Experience
Instructor: Hunter Young
December 14, 2020 -9:00am to 4:30pm
For decades, bank marketing was limited to quarterly campaigns and arranging the next customer appreciation day at the local branch. But progressive banks are changing how marketing becomes a center force for changing your customers' experience, the financial products you offer, technology decisions you make, and the channels through which you serve your clients' needs. This session will take you through four key tenets of a modern bank marketing department: brand communication, digital marketing, data analytics, and experiential product and service development.
Pre-work
Due Date: December 7, 2021
To complete the pre-work visit https://www.surveymonkey.com/r/Z68SR9V.
Post-work
Due Date: December 22, 2021 (Submit to gqueen@vabankers.org)
Session Four Post-Work - Hunter Young
Session Four Materials
Session Four Agenda
Hunter Young-Session Four PowerPoint
MDP Notes Page
Evaluation
Session Four Evaluation (closed)
Session 5, Part 1: Introduction to Strategic Planning and Perspectives on Career Development
Instructors: Andy Davies | Tom Rasey
session five important information
December 17 Communication to MDP Participants (This was emailed on December 17.)
Part One: January 11, 2022 - 9:00am to 4:30pm
Participants will gain an understanding of why strategic planning is important to regulators, management and the bank's board of directors. Participants will work together with two facilitators to create a sample table of contents of a community bank three-year plan to demonstrate the process and the importance of having a plan to steer the bank forward. Participants will also learn how to enhance their careers by taking active roles within the banking industry and within their communities.
Pre-work
Due Date: January 4, 2022 (Send a memo to gqueen@vabankers.org summarizing the content of your discussion. Type in the subject line of your email Session 5 Pre-Work Assignment.)
Session Five Pre-Work-Andy Davies
Post-work
Due Date: January 28, 2022 (Submit to gqueen@vabankers.org)
Session Five Post-Work - Andy Davies updated 12/20/21
Session five, part 1 Materials
January 11 Agenda
Andy Davies-Session Five PowerPoint
Four Strategic Growth Alternatives
First Coastal Bank Strategic Business Plan, 2022-2024
Group Break Outs Exercise
MDP Notes Page
Session 5, Part 2: Building Relationships, Dealing with Change in the Workplace, and Staying Abreast of Issues Affecting Your Bank and the Banking Industry
Instructor: Andy Davies and Tom Rasey
Presenter: Cody Florence
Leadership Panel: Pat Lewis | Tom Rasey | Taylor Harrell | Sherri Sackett
Part Two: January 12, 2022 - 9:00am to 3:00pm
Participants will first hear from a Virginia bank retail executive on developing an understanding of the importance of building valued relationships among your peers within the bank. The group will then interact with a panel of senior bank executives and discuss how to deal with change in the workplace. Panelists will offer guidance on dealing with change and examples of challenges panelists have met in their careers. The session will close with a recap of the advocacy discussion from Session I and the networking discussion from the virtual session, followed by some time for Banker Day prep.
Session Five, Part 2 Materials
January 12 Agenda
Career Highlights: Cody Florence
Building Valued Relationships PowerPoint
Career Highlights of 4 Leadership Panelists
Memo: Recommended Reading/Listening
Session Five Post-Work in 2 Parts - Andy Davies Due date: January 28, 2022 (Submit to gqueen@vabankers.org)
MDP Notes Page
Evaluation
Full Program Evaluation (coming soon!)
Graduation & Additional Information About Session Five
Graduation Date: January 12, 2022 | 4:00pm to 5:00pm
Graduation will now be virtual due to the increase in COVID cases across Virginia. You have received an updated Outlook invitation from Gail with the Zoom access information for the January 11th and January 12th sessions. Please make sure you test the Zoom links, your camera and your audio before January 11th so you are sure to have functionality. You also received a separate invitation via email for Graduation and you must register in Zoom for graduation via the email you receive. You also received an Outlook invite for Graduation so it is on your calendar.
Now that the ceremony is virtual, you are able to invite even more guests. Please send them this link and they can register to attend.
Additional Resources/Articles
Andy Davies
September 30, 2021
Defining Current Generations
Smart, Curious, Work Ethic
In a Life-or-Death Crisis, Humility is Everything
A Detailed Guide to How Cryptocurrencies Workz
October 25, 2021
MEMO-Session One Post-Work
News of Potential Interest: Human Events
November 1, 2021
MEMO-Summary: Your Core Values You Created During Session One
November 3, 2021
US Economy Needs the Retirees Who Fled COVID-19
C-Suite Strategies: Women, Men and Deadlines
C-Suite: Which Works Need Mentoring? The Ones Who Don't Want It
The New Bucket List
November 8, 2021
America's Economy is Strong, Even if it Doesn't Feel That Way
November 30, 2021
Bank Chief Faces Changed Economy
Variant Upends Bets on Fed Moves
Jobless Claims Fall to 52-Year Low
Mortgage Burnout Looms for Lenders
Franklin Roosevelt's Turkey of an Idea to Boost Christmas Sales
For Those of You Who Enjoy Your History Trivia!
It's Time for a History Lesson-One that Doesn't Leave Out Native Americans
Online Retailers Demand Real Store Locations
December 9, 2021
The Problem with Shaming Employees
Do You Speak Cybersecurity?
Election Recap
VBA Legislative Bulletin: November Election Recap
Serena Fulton
October 8, 2021
​Insightful Strategies
Insights Color Energies
Intro to Insights Quick Reference
Bruce Whitehurst's Recommended Reading – The New Psychology of Success by Carol Dweck
Matt Bruning's Recommended Newsletter Links: