2021 Pathways to Protect & Connect
An Event for Marketing, Human Resources, Retail Banking, Training, Security, Enterprise Risk Management, Operations and Technology, and Compliance Professionals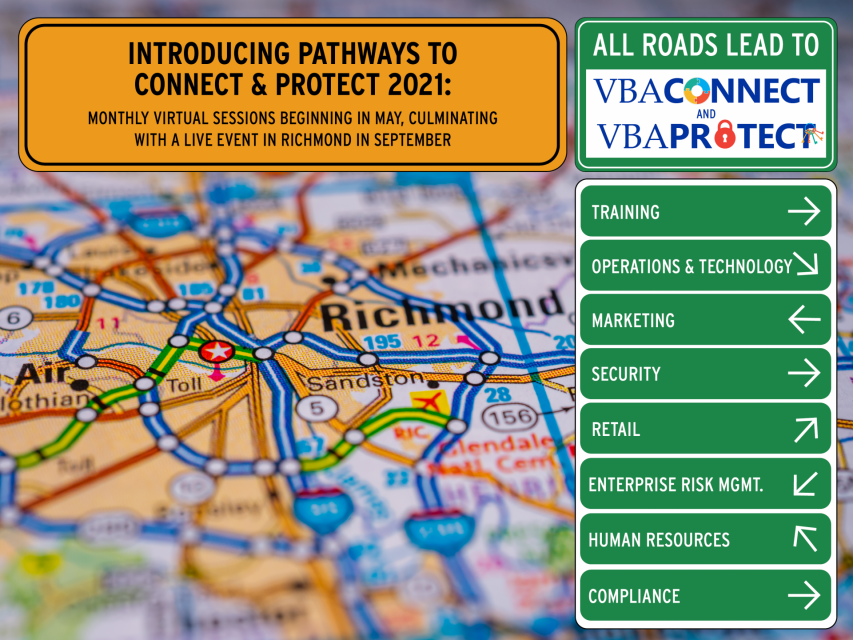 Grab your map and join us on a journey of learning and discovery on the Pathways to Connect & Protect 2021. Choose your destination (track) and hit the road (Zoom). At each pit stop (session) in your journey, you will connect with other travelers (attendees) and tour guides (industry experts) and uncover new ideas, trends and developments in banking. All roads lead to your final destination – an in-person (COVID rules permitting) block party at the Greater Richmond Convention Center in September. There will be food, music, business sessions and the opportunity to see your friends and colleagues in person from a safe physical distance.
Session Dates & Information
Pathways to Protect & Connect will include a virtual kickoff event, virtual monthly sessions from May through August for each functional area of the bank, and a culminating in-person event in Richmond in September. Your registration will provide access to ALL sessions.
Virtual Kickoff Event:
April 22, 2021
Monthly Sessions (Virtual, by function area):
Function Area
Dates
Marketing
May 3
June 7
July 6
August 9
Human Resources
May 24
June 28
July 26
August 20
Training
May 17
June 21
July 19
August 26
Retail Banking
May 10
June 14
July 12
August 16
Enterprise Risk Management
May 18
June 22
July 20
August 27
Operations & Technology
May 4
June 8
July 7
August 10
Security
May 11
June 15
July 13
August 17
Compliance
May 25
June 29
July 27
August 31
In-Person closing event:
September 9-10, 2021 | Greater Richmond Convention Center
Session Agendas & Speaker Information
More information will be available soon!
Registration
More information will be available soon!
Thank You to Our Sponsors!
Interested in sponsoring Pathways to Protect & Connect? Contact Amy Binns for more information.