VIRTUAL Leadership Conference LIVE
Premier educational event for emerging bank leaders in Virginia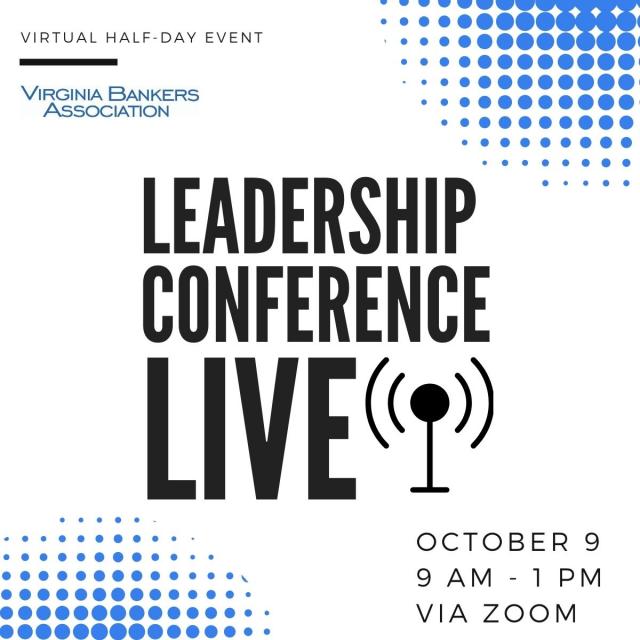 This conference is designed for emerging banking leaders and members of the Virginia Bankers Association Emerging Bank Leaders (EBL) group. This conference will give Emerging Bank Leaders the opportunity to share ideas and network with peers from across the state. You do not have to be an EBL member to attend.
If you are a bank professional looking to gain new skills and interested in growing and progressing within your banking career, this is the event for you. You will hear from leadership speakers and learn ways to engage with the banking industry as you network with individuals from all over the Commonwealth.
Agenda & Speakers
Due to the pandemic, we have switched the Leadership Conference originally planned for October 8-9th in Harrisonburg to a half-day, virtual event on October 9th from 9:00 a.m. – 1:00 p.m. We hope you will plan to join us for a morning of conversation with leadership speakers and networking opportunities with bankers from around the Commonwealth.
Keynote speaker: Karen Conrad, President & Owner | Karen Conrad and Associates, LLC
Building Resilience in Uncertain Times
Today's climate is described as VUCA – Volatile, Uncertain, Complex and Ambiguous. Our ability to manage challenging situations or setbacks is vital to success. The goal of this session is to assist attendees in not just recovering and learning from these situations, but to also thrive through understanding and creating personal resilience. This program explores the current research on resiliency and the three characteristics that define it.
Renee Haltom, Vice president and regional executive | The federal reserve bank of richmond
Leading and Learning: An Economic Update and Perspectives from the Federal Reserve's Renee Haltom
Renee Haltom will provide an economic update and share what she's learning personally about leadership during COVID-19. In her position, she is constantly communicating with businesses around Virginia to provide more insight around economic issues, while also balancing her roles as a parent, wife, employee and leader in uncharted territory.
Learn more about the conference: Leadership Conference LIVE Brochure
Registration Fees
Member/Non-member rate
$175
VBA Event Cancellation Policy
All cancellations will be charged a $25.00 administrative fee. Cancellations received less than 72 business hours before the program will be charged a $75.00 administrative fee plus any additional fees associated with the training. Substitutions are allowed prior to the beginning of course.
Special Needs & Americans with Disabilities Notice
If you have special needs that may affect your participation in this event, please contact Chandler Owdom to discuss accommodations.
Sponsors
Interested in sponsorship opportunities available for the Leadership Conference? Contact Amy Binns at 804.819.4726.