VBA Leadership Conference
Premier educational event for emerging bank leaders in Virginia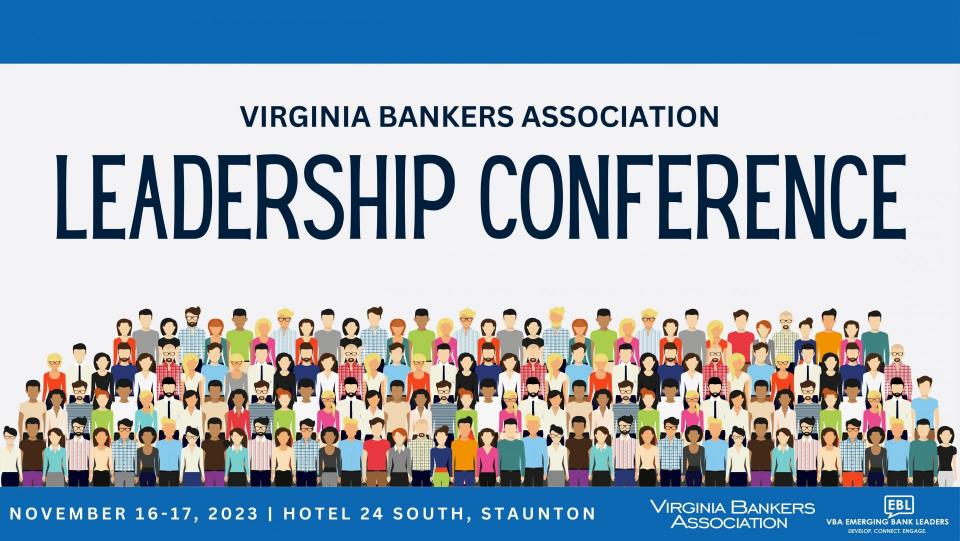 This conference is designed for emerging banking leaders and members of the Virginia Bankers Association Emerging Bank Leaders (EBL) group. This conference will give Emerging Bank Leaders the opportunity to share ideas and network with peers from across the state. You do not have to be an EBL member to attend.
If you are a bank professional looking to gain new skills and interested in growing and progressing within your banking career, this is the event for you. Every year, attendees hear from leadership speakers and learn ways to engage with the banking industry as they network with individuals from all over the Commonwealth.
Conference Agenda*
thursday, november 16, 2023
9:00 – 9:00 a.m. Registration & Continental Breakfast
9:30 – 9:45 a.m. Welcome & Announcements Amy Mellinger | Powell Valley National Bank | 2023 EBL Chair
9:45 – 10:45 a.m. Economic Outlook Kartik Athreya | Federal Reserve Bank of Richmond
10:45 – 11:00 a.m. Networking Break
11:00 a.m. – 12:15 p.m. Bank CEO/Bank Executives Panel
Litz Van Dyke | Carter Bank & Trust
Moderated by Amy Mellinger | Powell Valley National Bank | 2023 EBL Chair
This esteemed group of bankers will share perspectives and insight on leadership and their banks' role in the community. Additionally, the panelists will discuss key themes that we will be addressing throughout the Leadership Conference this year and why they are important.
12:15 – 1:15 p.m. Lunch
1:15 – 2:00 p.m. Session TBD
2:00 – 3:15 p.m. Five Bucket Principle: The Science of Work-Life Balance Heather Dunning | Anthem EAP
Is it possible to meet the competing demands of finances, friends and family, work, health, and community? The resounding answer is yes! In this fun, interactive seminar, we will learn the 5 Buckets Principle of work/life balance to get the tools to prioritize what is and should be important to us. We will learn how to think about the BIG PICTURE without ignoring the little things that matter. Heather Dunning (see included bio) will show our team how to find the time to manage it all, including time for ourselves, and for fun, by identifying priorities, making choices, and managing expectations.
3:15 – 3:30 p.m. Networking Break
3:30 – 4:30 p.m. Compounding Influence: How To Sell Your Ideas, Grow Your Influence & Earn The Right To Be Heard By Decision-Makers Alyson Van Hooser | Van Hooser Associates, Inc.
In order to influence people — those people who are like you and those who are vastly different from you — you must be able to think like them. Earning The Right To Be Heard is about more than just getting what you want. It's about approaching key players and decision-makers in a way that sparks their interest and causes them to want to listen to you both now and down the road. This process shows you the sweet spot of strategic communication that gains you more respect and influence while increasing your professional opportunities. Earning The Right To Be Heard uncovers the five key questions you must have answers for. You'll learn the process of answering these questions with the right answers every time. Moreover, you'll discover how to present yourself and your ideas in a way that decision-makers and prime stakeholders respect, trust, and regularly seek out. Originally developed by Phillip Van Hooser, and taught and practiced by professionals across the country for more than three decades, this proven process will open your eyes to a clear path for success…and it all starts with you! In this session, you will learn how to:
Strategically position your mindset to take full control of your success.
Captivate the interest of key people and decision-makers.
Demonstrate your capabilities and credibility.
Earn a voice in future conversations and decisions.
Increase your access to key players through growing influence and authority.
4:30 - 4:45 p.m. Announcements & Adjourn for the Day
6:00 – 8:00 p.m. Reception & Stations Style Dinner
friday, november 17, 2023
7:30 – 8:45 a.m. Breakfast
8:45 – 9:30 a.m. Session TBD
9:30 – 10:30 a.m. It's Your Career: Grab the Wheel and Let's Go Places! Paul Carney | Carter Bank & Trust
Learning Objectives:
Guide you to understand the total value you add to an organization
Learn how to use a framework to help you increase your value to the organization, especially through skill and career development
Apply the 70-20-10 rule in your career development
Why knowing your story and telling your story are keys to your career success
Use the 4 P's of Workforce Management to build effective and engaged teams
10:30 – 10:45 a.m. Networking Break
10:45 a.m. – 12:00 p.m. A Leader Worth Following Chris Barras | Second Story Partnership
This is a true statement. At the end of the day how your organization goes over the next few years will be driven by the leaders on the team. Are they good at what they do? Can they influence others to bring out their greatness? If you have great leaders, it is highly likely your organization will navigate whatever challenges come your way and thrive. If you have poor leaders, you are likely to flounder or fail.
There are plenty of books and articles that give techniques and tips for being a great leader. Usually those things are focused on behaviors that anyone can implement to influence other people on the team and get them to perform at a high level. However, a missing piece that is not talked about enough is how we can actually be the kind of people that are worth following. People may have the job title in the organization of team lead or CFO or manager, but at the end of the day people follow people, not job titles. In this talk we will look at the character qualities needed to be people of integrity that are worth following and look at ways we can grow in these qualities.
12:00 p.m. Adjourn
*Agenda topics and speakers are subject to change
Hotel Information
Hotel 24 South
24 South Market Street
Staunton, VA 24401
The VBA has negotiated a room rate of $129/night, plus applicable taxes and fees. To take advantage of the negotiated rate, reservations must be made by October 23rd, 2023. Click here to make your reservation or call 540-885-4848 and mention the 2023 Leadership Conference. Overnight parking is included in the room rate.
About Our Keynote Speakers
Chris Barras, Speaker | Second Story Partnership
Chris is a leader who has decades of leadership experience in business, non profits and even the church world. He was worked with teams of various sizes and has helped bring the best out of those around him. A talented communicator- Chris pulls from psychology, business, history, and research to engage audiences and help challenge the way they think. Chris does this with a lot of humor and some very straight talk. When Chris isn't teaching, writing or coaching, he loves to support his three sons with their music and basketball. He also enjoys spending time with his wife Abby of 25 years exploring the city of Richmond or traveling to the fun far away places. Chris loves football, soccer, reading and cooking.
Paul Carney, Chief Human Resources Officer | Carter Bank & Trust
Paul Carney helps leaders harness the power of people as the Chief Human Resources Officer at Carter Bank & Trust, a $4B community bank with locations in Virginia and North Carolina. He is an accomplished author and speaker and has more than 30 years of experience in business, IT, and as a human resources professional and career advocate.
Paul often explains that he is a business person who manages HR while being a trusted advisor to his business partners. He wrote and published his first book, "Move Your Æ(ash): Know, Grow, and Show Your Career Value" in 2018.
Paul and Lisa, his wife, live in Oak Ridge, NC, and have achieved their Level 2 Award in Wine. They enjoy spending time with their two adult children, visiting the beach, and stopping by wineries along the way.
Heather Dunning | Anthem EAP
Heather has been a solopreneur in the Health and Wellness field for 20 years. Her passion is providing individuals, corporate groups and families with the tools they need to create balance, joy, renewed health, effective communication, solution finding and stress management. Heather is very present, empathetic and enthusiastic in delivering trainings that she has provided for networking groups, corporations, government organization, private family groups, girls scouts, primary schools, and various non-profits.
She has a degree in Business Management and numerous certifications encompassing physical, mental and emotional wellbeing. Her love for humanity and all forms and styles of communication with yourself, your work group & your home life is what drives her to keep learning and sharing supportive knowledge with others. Steadfast in the belief that Knowledge is Power, she encourages others to embrace change, stay present, be willing to actively listen and begin enjoying the process of learning and growing as a business and as an individual.
Alyson Van Hooser, Keynote Speaker, Author, Leadership Trainer & Consultant | Van Hooser Associates, Inc.
Leaders and business professionals need help reframing and redefining leadership in today's diverse, multi-generation workforce. Alyson Van Hooser is on a sold-out mission to show them the way. Tough beginnings taught Alyson the radical power of an ownership mindset–one that transforms the trajectory of personal lives and leadership careers.
Earning rapid success in the food, retail, finance industries, and as a City Councilwoman — all by the age of 30 — helped her discover the immense power that comes when leaders own the responsibility of truly understanding and intentionally connecting with the people they serve.
Her books LEVEL UP and ACCELERATE YOUR SUCCESS unveil powerful stories of lessons learned through struggles and practical strategies needed to be successful at home and at work. With these strategies in tow, individuals and teams everywhere discover the way to successfully work better together.
Alyson's audiences return to work inspired to take ownership of their success and equipped with future-proof practical, tactical strategies to level up the way they lead themselves, their team, and their entire organization!
Registration Information
Click here to register now.
| VBA Member Registration* | |
| --- | --- |
| Through October 17, 2023 | $545 |
| October 18 – November 16, 2023 | $595 |
| Non-Member Registration* | |
| --- | --- |
| Through October 17, 2023 | $1,045 |
| October 18 – November 16, 2023 | $1,095 |
Sponsorship Opportunities
Interested in sponsoring or exhibiting at this event? View the 2023 sponsorship brochure here or contact Amy Binns for more information.
VBA EVENT POLICIES
By registering for this event, you are agreeing to the VBA Event Policies.
VBA Event Cancellation Policy
All cancellations will be charged a $25.00 administrative fee. Cancellations received less than 72 business hours before the program will be charged a $75.00 administrative fee plus any additional fees associated with the training. Substitutions are allowed prior to the beginning of course.
Special Needs
Please share any specific needs that should be considered as we plan for the conference (i.e. hearing impaired, sight impaired, etc). Please contact Chandler Owdom with any details.