2022 Virginia Reads One Book Resources
Sponsored by the VBA Education Foundation and Banks Across Virginia
Thank you for sponsoring Virginia Reads One Book in your community!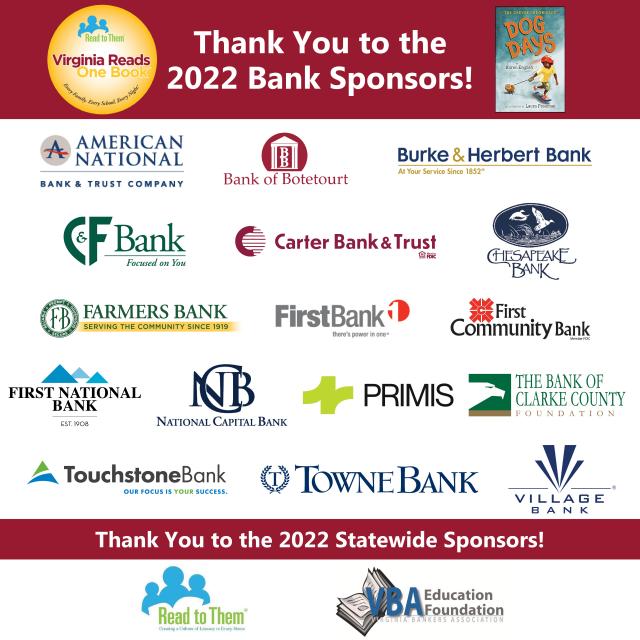 Program Overview & Timeline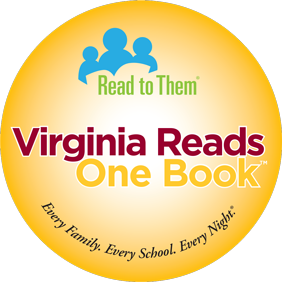 During the Virginia Reads One Book (VAROB) program, the entire school community, including bus drivers, resource teachers, facilities staff, office personnel, students and their families, read the same book on the same schedule. Students participate in financial literacy activities that correlate with the state standards of learning and each chapter of the book.
Program Timeline
By January 7, 2022 - School/bank partnerships will be secured and orders will be placed for books/materials.
January 20, 2022 at 9:00 a.m. – Zoom meeting for bank sponsors to go over timeline, next steps and resources for the 2022 program. View the recording of that meeting here.
January 27, 2022 – Schools will receive access to the program resources.
By first week of February 2022 – Schools receive their posters, stickers and bookmarks.
By second week of February 2022 – Schools receive their books*.
On or around March 7 - VAROB begins, immediately following Read Across America Week. The program is designed to last about two weeks.
*Some schools may receive their books earlier than others - book orders were placed in the order that they were received.
How Can Your Bank be Involved During the Program at the School?
Some ways that bankers have been involved in the past are:
Attending and helping at school kick-off ceremonies (virtually or in person).
Helping to pass out books at kick-off ceremonies.
Provide promotional giveaways or bank logo items to students/staff as trivia question prizes.
Serving as guest readers throughout the program in classrooms or with small groups (virtually or in-person).
Presenting financial literacy lessons that correlate with the chapters of the book (virtually or in person).
Tie the program with youth savings programs/accounts that already exist at your bank (providing students with a bookmark voucher worth $X when they bring it in to open a savings account with their family).
Providing recordings of the chapters being read by members of the bank staff.
Templates & Resources for Bankers
Before the Program Begins:
During the Program:
Classroom Activity Ideas:
By Chapter Activities:
Family engagement activities:
2022 Program videos
VAROB Press Kit
Social Media Information:
Be sure to tag @vabankers, @readtothem and use the hashtags #vabankers, and #VAROB2022 in your social media posts on Facebook and Instagram.
Link to the VBA's VAROB page: https://www.vabankers.org/post/virginia-reads-one-book
Link to Read to Them's VAROB page: https://readtothem.org/virginia/
(for use with below images)
Social Media Post Images (square):
*Banks have permission to use the book cover for any promotional materials - print or video. If you plan to use the cover image in print, please use the following courtesy credit:
DOG DAYS by Karen English, illustrated by Laura Freeman (New York: Clarion Books, 2014)
2022 VAROB Poster
Media alert and press release templates:
Chapter Reading Recordings from the VBA
You can find chapter reading recordings made by VBA staff members here. Please feel free to share this link with your sponsored school(s)!
Chapter Reading Recordings from Village Bank - including Spanish Recordings
*Please note that this link will expire on March 31, 2022.
What Resources do the Schools Receive?
When you sponsor a school for VAROB, they will receive a wealth of resources to ensure the success of the program. You can find links to the 2022 resources below.
Resources include:
Book Packet

Assembly ideas
By chapter activities
Trivia and discussion questions
Financial literacy and math activities
…and more!

Family Engagement Packet

Read-aloud tips for parents
Reading schedule
Family engagement cards
…and more!

Implementation Packet

Tips for making the event FUN
Ideas for community involvement
Benefits of VAROB
Keys for distance learning
Trivia and vocabulary guide
…and more!

Media Kit

Connection guide
Press release template
Title reveal teasers
…and more!

Post Event Packet

Survey templates for families and students
Ideas for next books

Digital Features

Kahoot!
Flipgrid conversations
Blog posts
…and more!
Read to Them Contact Information
Anne Curry
Read to Them Regional Outreach Manager
anne.curry@readtothem.org