2021 Virginia Reads One Book Program Recap
March 2021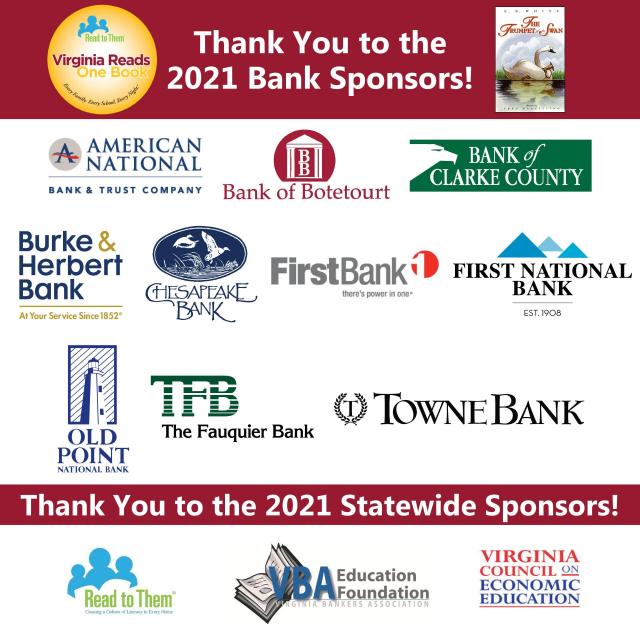 More than 14,100 Virginia students and their families read the same book on the same schedule during the month of March thanks to more than $61,000 of financial support from Virginia's banking industry. The Virginia Bankers Association Education Foundation (VBA), supported by Virginia banks, is one of several sponsors of this initiative, a program from Richmond-based Read to Them.
With the support of the VBA and banks across Virginia, the schools received a book for every student and complimentary staff copies, both family literacy and financial literacy activities, school assembly suggestions, teacher resources, and both family and community engagement tools. These resources turn a book into a community experience so everyone can enjoy and share the story.
"Our students loved the book and the ability to connect with others inside of our school and across Virginia. It was a very special project!" – 2021 Program Participant
Be on the lookout for 2022 program details in September!
Thank You to the 2021 Bank Sponsors
American National Bank & Trust Company
Bank of Botetourt
Bank of Clarke County
Burke & Herbert Bank
Chesapeake Bank
First Bank, Virginia
First National Bank
Old Point National Bank
The Fauquier Bank
TowneBank
2021 Virginia Schools and School Systems Supported by the VBA Education Foundation and Virginia Banks
Boyce Elementary School, Clarke County
Buchanan Elementary School, Botetourt County
Buckingham County Elementary School, Buckingham County
Camelot Elementary School, Chesapeake City
Carrsville Elementary School, Isle of Wight County
Dale City Elementary School, Prince William County
DG Cooley Elementary School, Clarke County
Featherstone Elementary School, Prince William County
Forest Hills Elementary School, Danville City
G.H. Reid Elementary School, Richmond City
Ginter Park Elementary School, Richmond City
Greenfield Elementary School, Botetourt County
Hampton City Schools
Heritage Elementary School, Lynchburg City
Holladay Elementary School, Henrico County
Kentuck Elementary School, Pittsylvania County
Morningside Elementary School, Roanoke City
Norge Elementary School, Williamsburg-James City County
Occoquan Elementary School, Prince William County
Salem Church Elementary School, Chesterfield County
Pictures from this Year's Program