2022-2023 Virginia Banking Fellows Program
Bank Sponsor Resources

Thank you for your support of the 2022-2023 Virginia Banking Fellows Program, in partnership with the Virginia Foundation for Community College Education (VFCCE). We are excited to partner with your bank for the pilot year of this program.
On this page, bank sponsors will find all of the information they need to know leading up to and during the 2022-2023 program.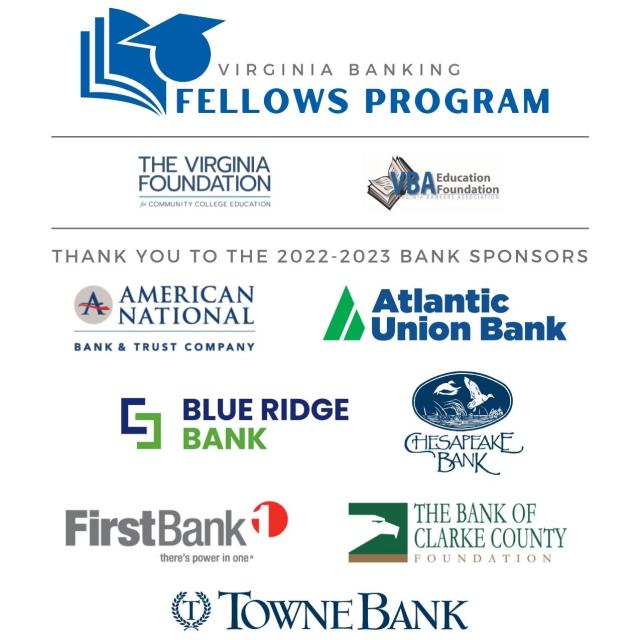 Bank Sponsor Orientation – May 3rd
The Bank Sponsor Orientation took place on May 3rd at 1PM via Zoom.
Program Timeline
Through May 30, 2022 – Application period open for students
By the end of June 2022 – Fellows are selected, selected students will be notified and banks will be notified of selected students
Beginning in June 2022 – Banks begin planning for specific engagement opportunities
August 2022 – Banks will receive a customizable press release announcing the partnership to share with media contacts (see in Press Kit section below for more information)
September 15-16 – Fellows Program Orientation, including a Virginia Banking Fellows Program Orientation for all students/bankers
September 2022-May 2023 – Fellows Program Official Window
June 2023-August 2023 – VBA Internship Program (if applicable)
2022-2023 Virginia Banking Fellows – Student Information
Initial Outreach to students
Banks – please use the below templates as your initial outreach to students. Feel free to customize as you see fit to use in your email communication.
Ideas for Bank Engagement
Below are some ideas of ways to engage with the Fellows beginning in the fall of 2022. Please note that all engagement opportunities should be presented as optional and once we have Fellows identified and learn more about each of the students, a variety of other opportunities may become clear. Have an idea to share with the group? Please email it to Monica!
Invite Fellows to attend VBA sponsored events with your team (see list below)
Invite Fellows to join bank leadership/emerging bank leaders for lunch, dinner, virtual coffee hour, etc.
Invite Fellows to an "all employee day" or other bank-wide event
Invite Fellows to attend community event where your bank may be sponsoring, working a booth, etc. (this could also help the student complete their community service requirement)
In the spring of 2023, explore possible internship opportunities with the Fellows (if available)
VBA Sponsored Events
Fellows will be invited to attend the following VBA events* from September 2022-May 2023 as a way to learn more about the industry and the career opportunities in banking. Attendance at all of these events is completely optional!
*Event details are subject to change.
VFCCE Fellows Program General Information & Important Dates
The Virginia Banking Fellows Program is part of the overall VFCCE Fellows Program. Virginia Banking Fellows will have access the following opportunities through the VFCCE Fellows Program*:
Program Orientation – September 15-16, Omni Richmond Hotel
Virtual Mental Health is Health: Building Your Toolkit – October 14, 21 and 28th
VCCS Student Leadership Conference – November 18-20, 2022, Roanoke
1st Community Service Report Due – December 5, 2022
Winter Program: Annual Legislative Event & Reception – January 17-18, 2023, Richmond
Virtual Session: How Will Your Story Change the World? – March 2023, date TBD
2nd Community Service Report Due – April 24, 2023
Spring Leadership Finale – May 18-19, 2023, Richmond
*More details about these events will be available later this year. Specific programs are subject to change.
ABA Course Information
As part of their experience, Virginia Banking Fellows will have the opportunity to take online training through the American Bankers Association. There are a variety of self-paced and facilitated course options for many different function areas of banking as well as general industry training as well.
Students will learn more about these options during their Orientation and will make a selection for a course to take in the spring 2023. More details about the schedule of facilitated course options will be available later this year.
Bank Sponsor Press Kit
bank sponsor customizable press release
2022 Virginia Banking Fellows Press Release - Bank Template
Virginia Banking Fellows Program Logos:
Bank Sponsor Program Logos:
Social media posts – 2022 application period:
Share these images with your marketing team for use on social media to promote your sponsorship of the 2022-2023 program!
VFCCE & Bank Sponsor Contact Information
| Bank Sponsors – Main Contacts | | |
| --- | --- | --- |
| American National Bank & Trust Co. | Lutheria Smith | |
| Atlantic Union Bank | Nathalia Artus | |
| Blue Ridge Bank | Dorothy Welch | dorothy.welch@mybrb.bank |
| Chesapeake Bank | Paula Milsted | |
| Chesapeake Bank | Pat Lewis | plewis@chesbank.com |
| Chesapeake Bank | Amy Mitchem | amitchem@chesbank.com |
| First Bank, Virginia | Candace Davenport | |
| The Bank of Clarke County Foundation | Brandon Lorey | |
| The Bank of Clarke County Foundation | Chris Rieley | |
| The Bank of Clarke County Foundation | Kaley Crosen | |
| The Bank of Clarke County Foundation | John Hudson | |
| The Bank of Clarke County Foundation | Marianne Schmidt | mschmidt@bankofclarke.com |
| TowneBank | Meredith Elliott | |