The VBA Connect & Protect Experience
An Event for Marketing, Human Resources, Retail Banking, Training, Security, Enterprise Risk Management, Operations and Technology, and Compliance Professionals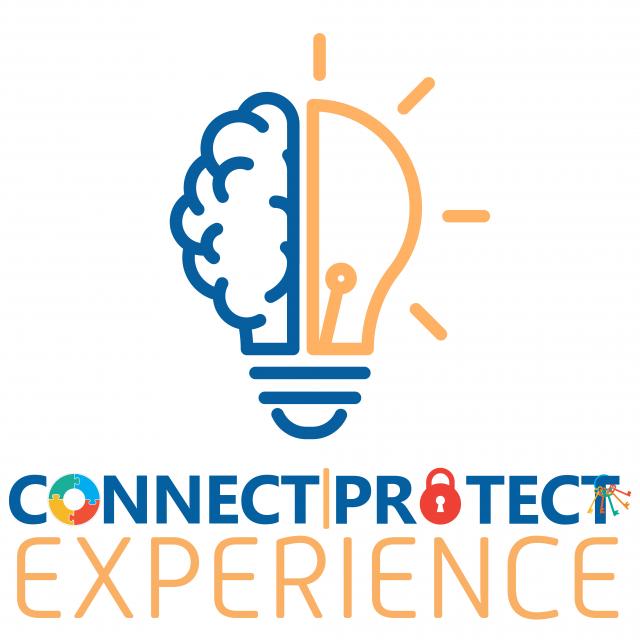 The VBA Connect|Protect Experience will uncover new ideas, trends and developments in banking.
Registered attendees will have access to the in-person experience March 3-4 in Richmond followed by 34 virtual sessions that will be held from mid-March through mid-June that covers specific function area training.
In-Person Experience
The Connect|Protect In-Person Experience will be held March 3-4 at the Greater Richmond Convention Center. Details on session specifics will be posted in early January.
VBA Connect|Protect Experience Launch Event Agenda
Wednesday, March 2, 2022
5:30-6:30 pm | Dutch Treat Reception at the Marriott Hotel Bar
6:30 pm | Dinner on your own!
Thursday, March 3, 2022
9:00 am | Registration Opens
9:30-10:45 am | Why Projects Fail at the Start, Not the End
Esther Bogin, Atlantic Union Bank
10:45-11:00 am | Break
11:00 am-12:15 pm | Well-Being Trends and Management Support
Laura Moore, Marsh McLennan Agency LLC
Join Laura Moore as she explores well-being and mental health trends. During this session, she will dive into the six realities of 2022 with a focus on mental health and how managers can best support their branch locations and their teams.
12:15-1:00 pm | Lunch (for those attending optional sessions)
1:00 pm | Launch Event Kick-off & Welcome
1:10-2:10 pm | "A Goal Without a Plan Is Just a Wish" – How to Create a Great Action Plan That Will Make All Your Wishes Come True
Joe Micallef, GrowUP Sales
Bankers and bank leaders will learn how to create a simple action P.L.A.N. that will
help them more effectively achieve both their bank and personal goals while also further developing their skills and confidence.
2:10-2:30 pm | Break
2:30-3:30 pm | FinTech and Disruption in Financial Services
Hunter Young, HIFI Agency
There has been no shortage of changes in the financial services industry over the last decade. 2022 continues to see the rise of more advanced consumer and business fintech offerings, cryptocurrency protocols, Banking-as-a-Service, and decentralized finance. It's a whirlwind of change, risk, and opportunity.
What do these technology advancements mean for banking in the next five to ten years? We'll discuss how we got here, what consumers want in a financial partner amidst this disruption, and what trends have staying power.
3:30-3:50 pm | Break
3:50-4:50 pm | Diversity, Equity and Inclusion – Time for a Meaningful Discussion
Richard Harvey | Beneficial State Bank
This session will include simple definitions to assist with a general understanding of what Diversity, Equity, and Inclusion (DEI) really mean. We will discuss why these concepts are important to the overall health and profitability of organizations and will engage in an open and honest discussion of some of the impediments to organization's adoption of DEI.
4:00 – 6:30 pm | Networking Reception in the Exhibit Hall
7:00 pm | Dinner on your own!
Friday, March 4, 2022
8:30 am | Welcome
8:35-9:05 am | Industry Update
Bruce Whitehurst, Virginia Bankers Association
9:05-10:05 am | Building Resilient Cultures and Winning Bank Teams
Dave Martin | Bankmechanics
Leaders are always "on stage" within their organizations. They display the behaviors, demeanor, and values their teams inevitably copy. Building resilient cultures and winning teams requires more than charismatic personalities. Effective bank leaders must focus on communicating, modeling, and enforcing values that make a place of business one that good people want to remain a part of.
Bank technology gets better and more ubiquitous over time. In the long run, however, it is table stakes. It will not differentiate. Companies who attract, develop, and retain the best people will win. Always.
Dave Martin will give his unique perspectives on the current state of banking and share clear and actionable practices to build resilient cultures and lead winning teams for the future.
10:05-10:25 am | Break
10:25-10:40 am | Sponsor Drawings
10:40-11:40 am | Engineering Success by Engineering a New Mindset
Nikki Dixon-Foley, FutureSync
The world of how we work is in a constant state of change and uncertainty. How we manage change comes down to our chosen state of mind. This interactive workshop will prepare you with new tools and practices to manage yourself while leading others and your organizations through change. Discover how embracing a new state of mind that focuses on solutions, collaboration, creativity, and communication will help drive yourself and others to successful results. During this session, participants will:
Discover how to create new patterns of thinking during challenging times.
Uncover the importance of collaborative efforts to solve unique organizational issues
Learn how to unify teams with intentional communication practices
11:40 am-Noon | Closing Remarks & Adjourn
Virtual Experience
The schedule for the virtual sessions is as follows:
| | | | | | | | | | |
| --- | --- | --- | --- | --- | --- | --- | --- | --- | --- |
| Marketing | Retail | Training | HR | Ops | Tech | Ops & Tech | Security | ERM | Compliance |
| 3/9/2022 | 3/11/2022 | 3/23/2022 | 3/29/2022 | | | 3/10/2022 | 3/22/2022 | 3/24/2022 | 3/30/2022 |
| 4/12/2022 | 4/14/2022 | 4/20/2022 | 4/26/2022 | | | 4/13/2022 | 4/19/2022 | 4/21/2022 | 4/27/2022 |
| 5/10/2022 | 5/12/2022 | 5/18/2022 | 5/24/2022 | 5/11/2022 | 5/13/2022 | | 5/17/2022 | 5/19/2022 | 5/25/2022 |
| 5/31/2022 | 6/2/2022 | 6/8/2022 | 6/15/2022 | 6/1/2022 | 6/7/2022 | | 6/9/2022 | 6/14/2022 | 6/16/2022 |
Session Topics*
Marketing
March 9: Keys to Marketing Success
Jim Perry, Market Insights
The social and economic impact of the coronavirus pandemic is a jarring example of how one crisis, one new trend or one new technology can turn your marketing, and your financial institution, upside down. Only the creative, agile marketer will be able to help their institution stay competitive and connected. This session explores emerging consumer behaviors and marketing trends and sets out three ways to keep your marketing less susceptible to emerging threats in the future. This session is designed to inspire innovative thinking and help bank marketers:
Identify the consumer behaviors that have changed as a result of the crisis
Modify their approach to marketing technology and messaging to align with new consumer behaviors
Reimagine the role of marketing in the next normal.
April 12: Creating a Culture of Marketing/Making Everyone a Marketer
Shelly Loftin, CFMP, ABA
May 10: Crossing the Sonic Color Line: Strategies for Sonic Diversity
Steve Keller, SiriusXM
Diversity in digital marketing shouldn't be limited to what consumers see. It should be represented in what they hear, too. In a world where screenless devices are growing exponentially, audio-only and audio-first communications are becoming an increasingly prominent form of digital advertising. While brands and advertisers work to avoid visual symbols and language that can perpetuate racism, there are sonic markers that are just as powerful in defining how we hear (and represent) the world around us. These are sonic color lines: invisible but pervasive barriers that can impact our marketing and messaging decisions, particularly when it comes to the voices we hear representing our brands. In this thought-provoking presentation, Steve Keller (Sonic Strategy Director | Studio Resonate | SXM Media) makes the case that practicing sonic diversity isn't just the right thing to do – it's sound business practice, too. He'll share best practices, based on ground breaking new research, that can help you cross the sonic color line, improve your ad favorability and effectiveness, and strengthen your brand connections with diverse audiences.
May 31: Bridging the Experience Gap Between Account Opening and a Fully Engaged Customer
Tricia Hrotko, Digital Onboarding
Banks spend a LOT of money trying to acquire new customers. It's been an integral part of growth strategies forever. If you're lucky, you wind up with a new account holder. But that "win" should never be confused with establishing a relationship, nor a profitable one at that. Why? Because switching banks is perceived to be difficult. And statistics show that if a customer doesn't start using their new account within a 60 day time period, they likely never will. What you do to engage that new account holder has a direct impact on profitability, both short and long term. Yet financial institutions still struggle with creating effective onboarding programs. We'll dig into what works, and what doesn't.
Retail
March 11: Getting Top Performance from Employees
Chris DiLorenzo, James Paul Group
April 14: Educating Customers on Crypto/Bitcoin
Stephen Gannon, Murphy & McGonigle
May 12: Changing Culture for Digital Transformation
Joe Sullivan, Market Insights
In banking, one of the biggest roadblocks to successful digital transformation is culture. The best strategies and newest technologies will fail if they conflict with how individuals or groups already believe or behave. Culture change requires intense effort and is often the most challenging part of digital transformation; but successful companies are meeting the challenge by enhancing cultural characteristics that support success in digital space. This session will share a framework for creating and cultivating a culture that both understands and advances digital transformation. With examples from throughout the financial services industry, participants will learn:
Five ways to assess and evaluate your current culture
Steps to remove cultural aspects that inhibit digital transformation
Four digital culture characteristics, and practical ways to build and sustain them
The role of effective internal communication in creating one unified culture
June 2: Detecting the Proceeds of Human Trafficking
Noel Thomas outlines how the financial industry can disrupt human trafficking using real world examples of criminal organizations. Noel gives tips and tricks on utilizing data to identify traffickers and the flow of illicit funds. Noel's company, Zero Trafficking, is bringing innovative solutions to the frontlines of the anti-trafficking fight with digital intelligence. As a nexus crime, human trafficking is inextricably linked to other criminal organizations from drug trafficking to terrorists and money launderers. With this intelligence commercial banks can save their organization from fines and increase goodwill with customers.
Training
March 23: Impact of the Pandemic on Training & the Evolution of Training Within an Organization
Clare Marsch, American Bankers Association
April 20: Training Tools
May 18: Varied Voices and Viewpoints Enrich Training Design
David Paredes
June 8: Learning Transfer and Making Learning "Stick"
Andrew Jefferson, The 6Ds Company
HR
March 29: HR Legal Hot Topics As it Relates to COVID
Christy Kiely & Ryan Glasgow, Hunton Andrews Kurth
April 26: Dealing with HR Burnout
Dr. Allessandria Polizzi, PhD, SHRM
May 24: Talent Attraction & Retention
Stephen Hoy, Paycor
June 15: HR Legal Hot Topics (non-COVID related)
Steve Brown, Isler Dare
Ops & Tech
March 10 (Operations & Technology): Securing Office 365 – A Roadmap
Dylan Kreutzfeldt, SBS Cyber
Office 365 is now utilized by over 650,000 companies and boasts more than 258 million users globally. 61% of Office 365 organizations are small businesses. Microsoft Office has long been a staple of the business world, but as we shift from hosting our data on-premise to the cloud, both the risks and rewards have changed.
One thing is for sure, your software is only as good as the security controls you implement to protect your organization. While Office 365 introduces new and unique threats, new and innovative controls are also a strong benefit of this cloud-based productivity suite.
This presentation will cover:
An overview of Office 365 and components
Threats to Office 365 and your organization
Security Controls to consider deploying in Office 365, including Securing User Accounts, Logging/Monitoring, Threat Management, Alert Policies, Conditional Access, and more
Testing your Office 365 implementation
April 13 (Operations & Technology): Faster Payments - Episode IV – A New Hope
DJ Seeterlin, Chesapeake Bank
It is a period of rapid change in the Payments Galaxy. The Clearing House striking a blow with RTP, have won their first victory with Faster Payments. FedNow announces plans to launch. Zelle, Venmo, CashApp, CHUCK, all in the mix. Only Virginia Banker's Payments professionals stand a chance as they learn what's coming. Join us as the Payments Force Awakens…
May 11 (Operations): Upping Your (Vendor Engagement) Game
David Saylor, Genesys
The partnership between a bank and their core vendor is a two-way street. Are you doing enough to keep up your end of the bargain? How attending conferences, participating in advisory groups, chairing user panels, and other forms of engagement can provide additional leverage during contract negotiations or during an unpleasant operational event.
May 13 (Technology): The Next Digital Frontier: The Digital Bank of the Future
Ryan Canin, DoxFox
Digital banking is the latest buzz: fintechs, neo-banks and digital bank offerings are everywhere you look. Tech giants have entered the banking world and financial services has seen total disruption over the past 5 years. In order to best serve clients, business bankers need to tap into what is happening on the cutting edge, discern what is real and harness that to inform strategy over the next few years. In this presentation we will unpack, in an accessible way, technology, risks and opportunities that lie ahead through sharing the big ideas transforming financial services. We'll dive into the latest tech and trends in digital banking, and how they influence what our clients will expect from us as digital transformation impacts every area of our lives, growing at breakneck pace. We will demystify daunting topics like cryptocurrency, APIs and digital onboarding and help to frame what these technologies are, how they are being used and how banking leaders should evaluate their utility in each of their organizations.
June 1 (Operations): The Everchanging World of Bank Fees
June 7 (Technology): The Cloud - Is Banking Ready?
Security
March 22: The State of Fraud
Jim Hitchcock, American Bankers Association
April 19: ATM Security Attacks: How Safe is Your Safe?
May 17: Information Security
Brendan McGowan, SafeSystems
June 9: Security Awareness Training – Best Practices for Keeping Your Employees Engaged
Shane Daniel, SBS Cyber
It's time to shift our thinking when it comes to security awareness training. Yearly education and testing just doesn't cut it in today's cyber world. Security awareness is a topic we should have in front of our people on a much more consistent basis.
However, as we all know, creating an engaging Security Awareness Training program is more than words or flipping a switch – it involves thoughtful and deliberate action across the organization, as well as accountability for building a culture of cybersecurity. Culture changes and engagement also has to start at the TOP of the organization, or it will be meaningless downstream.
Join us for this session on creating a Security Awareness Program that keeps people engaged, including:
Cyber Threat's New Normal
People, Process, and Technology – which is the weakest link?
Compliance-based vs. Proactive Security Awareness Training
Building an Effective Security Awareness Training Program (for all areas of your organization)
Topical Training Ideas
Why Accountability Matters Most
ERM
March 24: What Banks Should Know about Cryptocurrencies in 2021 | Paving the Way for Blockchain
Strategic Resource Management
This session will review the year in crypto in 2021, highlighting the developments that matter the most to financial institutions. SRM will look ahead to this year, including the latest market trends and predictions for speed of adoption and new solutions.
April 21: Environmental Social Governance (ESG)
Elizabeth Wilson, Atlantic Union Bank
May 19: Strategic Plans, Capital Plans & Risk Appetites – How They Fit Together
Heather Eastep, Hunton Andrews Kurth
Strategic plans have multiple audiences. These documents should enhance shareholder value, provide management with roadmaps and address regulatory expectations. Recent supervisory thinking is that such plans should work together with capital plans and risk assessments. Those three documents create the framework for compliance management systems and enterprise risk management as well as meeting regulatory expectations for board oversight.
June 14: Cybersecurity Risk & BCP – What You Need to Know
Monica Bolin, nContracts
Business continuity planning is about more than natural disasters. Cyberattacks and breaches pose huge risks to operations, and most business applications are dependent on IT. That makes cybersecurity risk an important consideration in any business continuity plan.
In this program you'll learn about:
Best practices in handling departmental interdependencies for business continuity planning and cybersecurity
Managing business impact analysis in light of cybersecurity issues
Regulatory mandates that hold executives and board members responsible with cyber risks
How the FFIEC's Cybersecurity Assessment Tool is impacted by business continuity planning
Third-party vendor contract management to decrease risk
Compliance
March 30: Overdraft Programs
Compliance Alliance
April 27: Legal Update
DeMarion Johnston, Virginia Bankers Association
May 25: Fair Lending
Margaret Dollinger & Steve Houchens, TCA
June 16: Cryptocurrency – AML/KYC, Compliance and Forensic Investigations
Pamela Clegg, CipherTrace
Size does not matter when it comes to compliance. Regulatory expectations are the same, regardless of the size and complexity of any financial institution that wishes to provide banking services to virtual currency exchanges. Creating banking procedures for an emerging trend is a difficult task, and with regulators nearly a decade behind the technology, it complicates the matter even further. The best place to start is to build procedures based on existing requirements and best practices used for accounts with a higher risk of money laundering. This session will explain the dos and don'ts that banks should understand in this current environment.
*Session topics & speakers are subject to change.
Registration Options
| Registration Type | Member | Non-Member |
| --- | --- | --- |
| Individual (March Launch Event & All Virtual Sessions) | $575 | $1,075 |
| License up to 10 (March Launch Event & All Virtual Sessions) | $4,500 | $7,500 |
| License up to 20 (March Launch Event & All Virtual Sessions) | $6,000 | $9,000 |
| March Launch Event Only | $395 | $895 |
VBA EVENT POLICIES
By registering for this event, you are agreeing to the VBA Event Policies.
CANCELLATION POLICY
All cancellations will be charged a $25.00 administrative fee. Cancellations received less than 72 business hours before the program will be charged a $75.00 administrative fee plus any additional fees associated with the training. Substitutions are allowed prior to the beginning of the conference.
SPECIAL NEEDS & AMERICANS WITH DISABILITIES NOTICE
If you have special needs that may affect your participation in this event, please contact Walt Lyons or Kristen Reid to discuss accommodations.
Hotel Information
NEW HOTEL ADDED – DELTA RICHMOND DOWNTOWN
Delta Hotels Richmond Downtown: The room rate at the Delta Hotels Richmond Downtown is $179/night (plus taxes/fees). To secure a room at that rate, reservations must be made by February 21, 2022. Reservations can be made here.

Hilton Richmond Downtown: The room block at the Hilton Richmond Downtown is sold out. The hotel may have additional rooms at a higher rate – rates and availability can be checked here.

Richmond Marriott: The room block at the Richmond Marriott is sold out. The hotel may have additional rooms at a higher rate – rates and availability can be checked here.
Thank You to Our Sponsors!
Thank you to our Sponsors!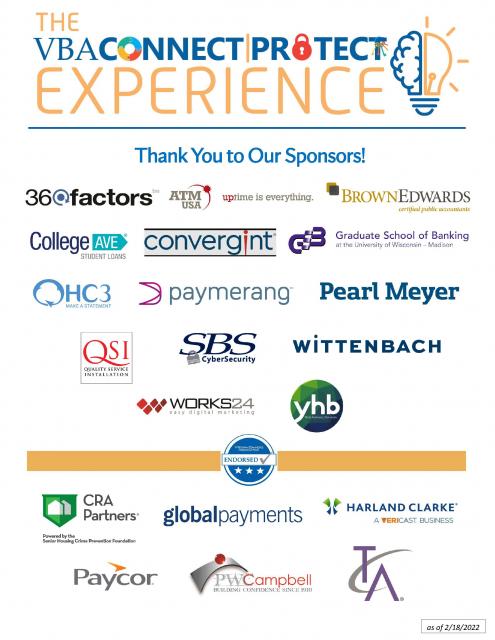 Interested in sponsoring the VBA Connect|Protect Experience? Click here to review the available opportunities (page 5) or contact Amy Binns for more information.