VBA Banker Day
Your Opportunity to Meet with Your Virginia Delegates and Senators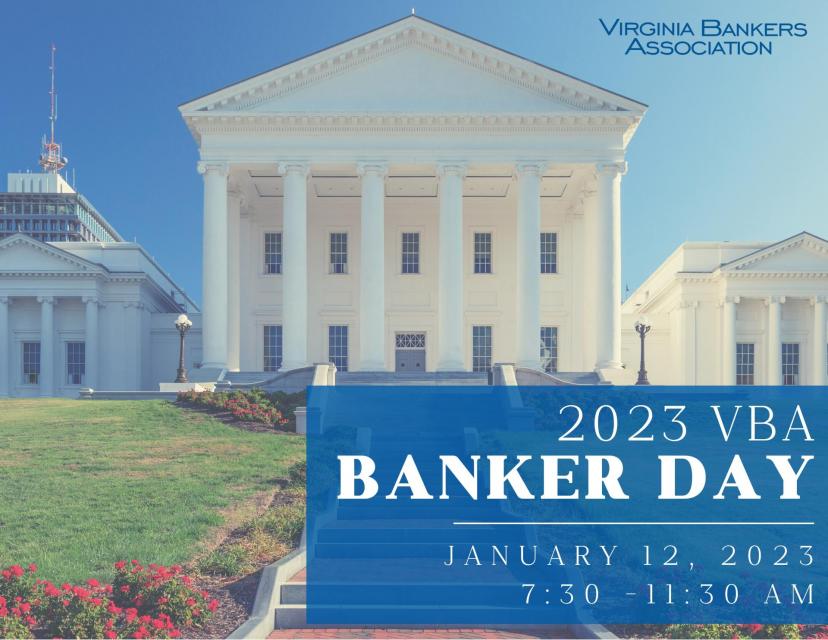 The Big Picture: VBA Banker Day is your chance each year to join bankers from across the Commonwealth to advocate on behalf of our industry before your elected state representatives.
Why It Matters: This is a critical opportunity to meet your local legislators and let your voice be heard and to share success stories and concerns with your state legislators as they make policy decisions impacting your bank and our industry in the 2023 General Assembly legislative session.
Agenda
Over breakfast at the Greater Richmond Convention Center, we will have a formal program and issue briefings from the VBA. After breakfast, bankers will visit legislators at the Pocahontas Building (the temporary office location of the General Assembly at 900 E Main Street).
A full agenda will be announced later this year.
Registration
Registration is $45 per person*.
Register Online for Banker Day Here!
Download the PDF registration form here. Forms should be returned to Megan Darmanin by January 6th.
*Please note that if you plan to attend the 2023 VBA Financial Forecast, that is a separate registration and information for that event can be found here.
VBA EVent policies
By registering for this event, you are agreeing to the VBA Event Policies.
CANCELLATIOm policy
In order to receive a full refund, cancellations must be received in the VBA office by close of business on Tuesday, January 3rd.
Dietary Restrictions, Special Needs & Americans with Disabilities Notice
Please send any dietary restrictions or special needs that may affect your participation in this event to Megan Darmanin to discuss accommodations.
Hotel Information
Richmond Marriott Downtown
500 East Broad Street
Richmond, VA 23219
Phone: (804) 643-3400
We have reserved a block of rooms for Wednesday night, January 11th, at the Richmond Marriott Downtown which is adjacent to the Greater Richmond Convention Center and a 0.4 mile walk to the Pocahontas Building where legislative meetings will be taking place. Rooms are $169.00 per night. Click here to make your reservation. This rate expires on December 21, 2022.
Important Reminders for Planning Your Banker Day
A representative from your bank is responsible for setting meetings with the local legislators you would like to meet with during Banker Day. We recommend reaching out to your legislators at their district offices or via email prior to the end of the year to request a meeting.
You can find the names of your state legislators to help determine who to schedule your visits with here. The VBA staff is also able to assist in connecting you with other local bankers attending Banker Day, in order to consolidate meetings for the legislators who have multiple groups of bankers attending the event. Please reach out to Heather Derflinger for more information on scheduling your meetings.
Virtual Pre-Banker Day Briefing – January 10th at 10:00 a.m.
Please save the date for a virtual briefing on January 10th at 10am. The purpose of this call is to brief you in advance of Banker Day on logistics, how to make the most of your time with legislator meetings and the issues of importance to the banking industry in the 2023 General Assembly session. More information on this briefing will be sent to registered attendees later this year.
Join Us for a Pre-Banker Day Reception Hosted by the VBA Emerging Bank Leaders – January 11th at 5:30 p.m.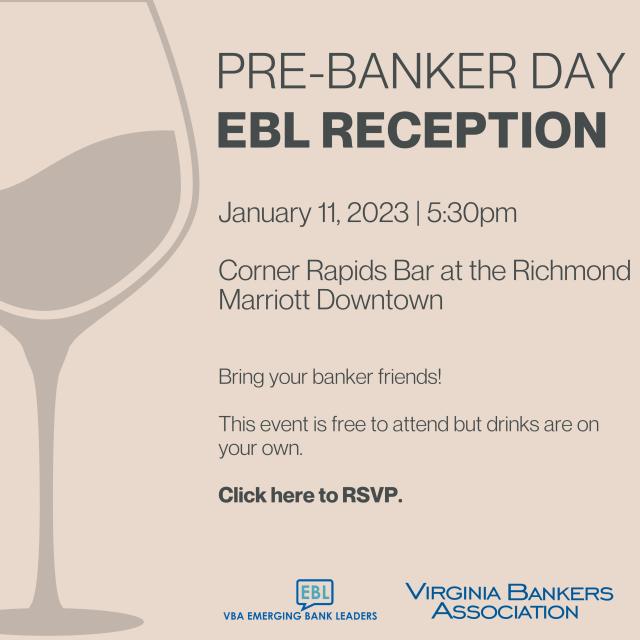 Please join our EBL members for a Pre-Banker Day Reception on January 11th from 5:30 – 6:30 p.m. at the Corner Rapids Bar in the Richmond Marriott Downtown. Click here to learn more about the EBL. Please RSVP here if you plan to attend the reception.