VBA/ABA Washington Summit
Advance the Policy Discussion and Hear from Key Policymakers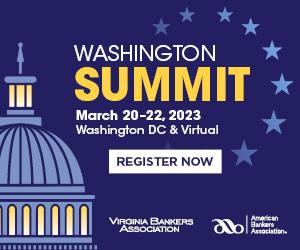 The annual VBA/ABA Washington Summit brings together bankers from Virginia and across the country for an opportunity to be the first to hear perspectives from key policymakers; updates on financial inclusion and other industry hot topics; and the policy outlook and priorities for Congress from ABA's experts.
All of us are obligated to provide our real world expertise, perspective and assistance where needed. Your participation can have a direct impact on public policy discussions that affect our industry, customers and communities. A strong banking industry is central to our nation's economic recovery. Let's deliver a unified and amplified voice when it matters most.
Summit Agenda
This year's event will include the Mutual Community Bank Forum, Women and Allies Forum, Emerging Leaders Forum, and networking receptions.
You can view the full program details and agenda here.
Agenda Overview
Sunday, March 19th
Mutual Community Bank Forum Registration, Reception and Dinner
Monday, March 20th
Washington Summit Registration
Mutual Community Bank Forum General Sessions
Women and Allies Forum (morning)
Emerging Leaders Forum (morning, beginning after the Women and Allies Forum, and afternoon)
Orientation for Capital Hill Visits (afternoon)
Opening Reception
Tuesday, March 21st
Washington Summit Registration
Washing Summit General Session (morning)
Capital Hill Visits (afternoon)
5:00-7:00 p.m. – VBA/MBA Joint Capitol Reception, sponsored by FHLBank Atlanta
Alcove Room at Charlie Palmer Steak – 101 Constitution Ave NW
Wednesday, March 22nd
Washington Summit General Session
Registration Information
Registration for the Summit is free – click here to register today. Registered attendees will have access to both the in-person sessions as well as the virtual Emerging Leaders Forum and Washing Summit General Sessions.
By registering for this event, you are agreeing to the ABA event policies.
Hotel Information
Marriott Marquis Washington, DC
901 Massachusetts Avenue, NW
Washington, DC 20001
Rooms are available for $352 per night. Click here to make your hotel reservation.