Virginia Banking Fellows Resources Portal
2022-2023 Virginia Banking Fellows Program

Congratulations for being selected as a 2022-2023 Virginia Banking Fellow. The VBA Education Foundation is excited to partner with the Virginia Foundation for Community College Education (VFCCE) for the pilot year of this program. We are looking forward to working with you over the coming months.
On this page, you will find all of the information you need to know during the 2022-2023 program.
Bank Sponsor Information
Thank you to the following Virginia banks for being sponsors of the 2022-2023 Virginia Banking Fellows Program.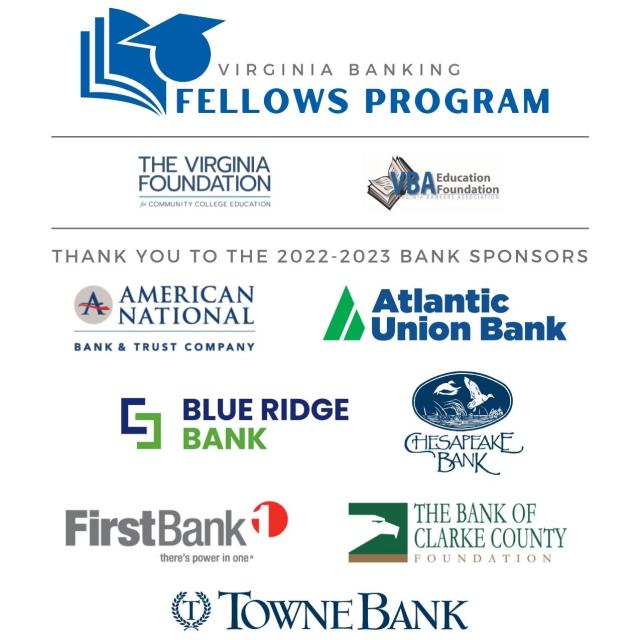 | Virginia Banking Fellows Sponsored by the VBA Education Foundation | College |
| --- | --- |
| Fallon Fox | Mountain Empire |
| Sheila Guox | Laurel Ridge |
| Caleb Murphy | Patrick & Henry |
| Kernard Thomas | Germanna |
| Jonathan Wrenn | Germanna |
| Latesha Washington | Rappahannock |
| Bank Sponsored Virginia Banking Fellows | Bank Sponsor | College |
| --- | --- | --- |
| Rachel Absolu | The Bank of Clarke County Foundation | Northern Virginia |
| Madison Brantley | First Bank, Virginia | Laurel Ridge |
| Brooke Cook | Blue Ridge Bank | Blue Ridge |
| Catherine Culbertson | Atlantic Union Bank | Northern Virginia |
| Kevin Nguyen | Chesapeake Bank | Reynolds |
| Cullen Shortt | TowneBank | Tidewater |
| Erica Wekony | American National Bank & Trust Co. | Virginia Western |
VFCCE Fellows Program General Information & Important Dates
The Virginia Banking Fellows Program is part of the overall VFCCE Fellows Program. Virginia Banking Fellows will have access the following opportunities through the VFCCE Fellows Program*:
*More details about these events will be available later this year. Specific programs are subject to change.
VBA Sponsored Events
Virginia Banking Fellows will also be invited to attend the following VBA events* from September 2022-May 2023 as a way to learn more about the industry and the career opportunities in banking.
Attendance at all of these events is completely optional! Fellows will hear from the VBA and/or their bank sponsor during the year with more information about the below opportunities and more information on how to register to attend.
Click on the events below to learn more! Specific event details will be added as they become available.
*Event details are subject to change.
ABA Course Information
As part of the Virginia Banking Fellows Program, Fellows will have the opportunity to take online training through the American Bankers Association (ABA). There are a variety of self-paced and facilitated course options for many different function areas of banking as well as general industry training as well.
Fellows will make a selection for a course to take in the spring 2023. More information will be sent to Fellows later this fall about registering for these courses.
Additional Resources: Read, Listen, Watch
be sure to follow the vba on social media!

Resources: read
Resources: listen
Resources: watch