Payments Fraud Resources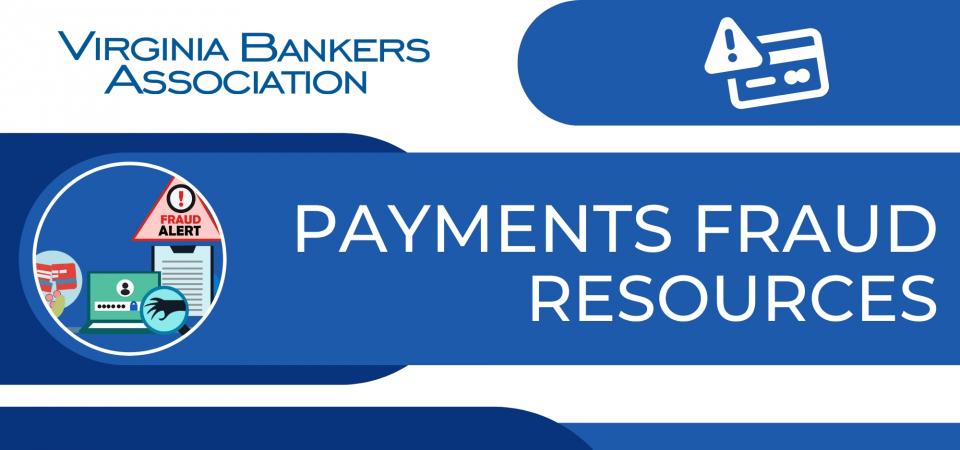 In recent years, fraud and theft have exploded in older types of payments, like bank wire transfers and Electronic Benefits Transfer (EBT) cards, as well as new payment types like person-to-person payments (Zelle, Paypal, Venmo, etc.). These instant P2P payments are an increasingly popular platform for scammers seeking to take advantage of consumers, yet check fraud remains a focus of bank risk professionals. On this page, VBA members will find payments fraud resources.
Education & Training
Addressing Check Fraud: Exploring Tools to Protect Your Customers
Hosted by the ABA, March 15, 2023 – 1:00-2:00 p.m.
Check fraud attempts continue to rise and nearly every bank has had to deal with it in one form or another. Banks are exploring all the tools at their disposal to push back against this trend, to protect their customers and their brand. Hear ABA's Paul Benda (SVP, Operational Risk & Cyber Security) moderate a discussion of three bankers who will talk about the tools they use, their internal controls, and how they work with their cores to access the data they need in tackling check fraud in their communities.
Presenters:
Paul Benda (SVP, Operational Risk & Cyber Security, American Bankers Association)
Denise McChesney (Fraud Risk Management Supervisor, Fulton Bank)
Morgan LeClair (Vice President & Fraud Manager, Camden National Bank)
Phillip Bailey (Senior Vice President, Director of Fraud Prevention, Associated Bank)
Click here to learn more and register.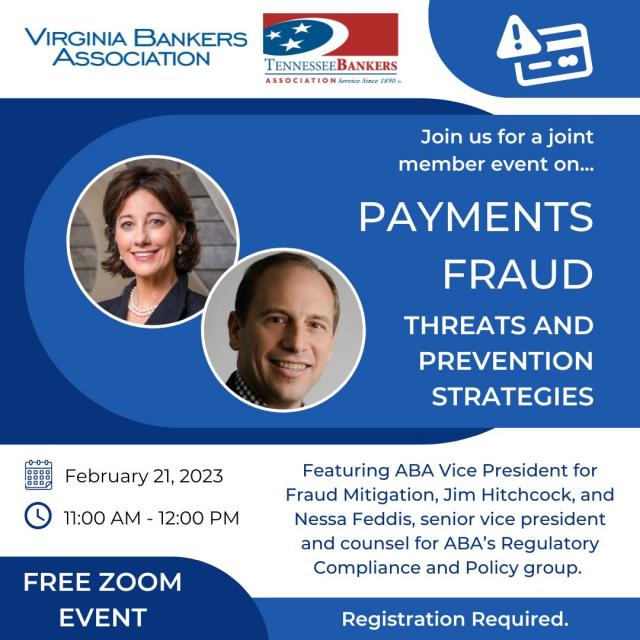 Payments Fraud: Threats and Prevention Strategies Virtual Event
The VBA and the Tennessee Bankers Association held this joint event on February 21st, which featured ABA Vice President for Fraud Mitigation, Jim Hitchcock, who serves as the Association's primary expert on fraud mitigation activities and programs. Nessa Feddis, senior vice president and counsel for ABA's Regulatory Compliance and Policy group, also presented during the event.
Check Fraud webinars from OnCourse/BankWebinars.com
View different webinar options from OnCourse/BankWebinars.com here.
Fraud Recognition and Prevention self-paced ABA training
This self-paced course (free to ABA member banks) describes check fraud, check kiting and other check scams. It also discusses how bank products, services, and information security can be vulnerable to identity theft activity and explains types of credit fraud such as application fraud, personal loan information fraud, mortgage lending fraud, and lines of credit fraud. Learn more here.
ABA Resources
Tackling Check Fraud Challenges Presentation

- This presentation covers which regulations apply to particular types of check fraud and who is liable.
Check Fraud and ACH Loss Reporting Working Group - This reporting group tracks quarterly check-related losses from forgeries, counterfeits, alterations, kiting, and seven return reasons. Also reported are new account losses, identity fraud losses, organized customer scams, losses by deposit channel, and ACH losses. Losses are scaled by the number of transaction accounts.

Contact James Hitchcock, ABA, at jhitchcock@aba.com to learn more and sign up for the group.
To view a full list of other ABA working groups, including others focused on different types of fraud, click here.

Article: Combating Check Fraud: Still A Major Challenge in the Digital Age: ABA Risk and Compliance
Podcast: Something Old, Something New in Payments Fraud: ABA Banking Journal Podcast
Consumer Tips: Prevent Fake Check Scams
Below, you'll find a set of check fraud consumer tips from the ABA:
Bank systems prevent the majority of check fraud attempts.

Banks' prevention systems stopped about 89 percent or $22 billion in fraud attempts in 2018, according to ABA's Deposit Account Fraud Survey Report (2019).
Attempted check fraud at U.S. banks totaled $15 billion in 2018. Actual bank losses totaled $1.3 billion in the same year, up from $789 million in 2016.
Banks use a wide range of approaches to counter-check fraud including deposit review, fraud detection tools, hold policy, teller/branch controls, and customer education.

​Even if the check has "cleared," you may not be in the clear.

​Under federal law, banks must make money from deposited checks available quickly – usually within two days. But just because you can withdraw the money doesn't mean the check is good, even if it's a cashier's check or money order. Forgeries and fakes can take weeks to be discovered.
Consumers and businesses are responsible for the checks they deposit because they know best the origin of the check. It can take weeks for a check to be returned as fraudulent. If you withdraw money and the check is returned, you are responsible for paying back the bank.
If you are uncertain that a check is good, talk to your banker before withdrawing the money.

Beware of fake check scams.

Scams that rely on getting people to deposit a fake check, withdraw the money, and then send the money to the fraudster – by wire, gift card, or money order, continue to grow.
Here's an example of how it works: A fraudulent buyer offers to send a cashier's check or money order for an amount much larger than the value of the item and asks the seller to wire back the difference. The seller deposits the check, withdraws cash as soon as the funds are available, and then wires the leftover sum to the fraudulent buyer. Days later, the bank learns that the cashier's check was fraudulent. Unfortunately, by then the seller has lost his or her money and merchandise to a scam.
There are many variations of check fraud schemes including romance scams, work-from-home scams, fake lotteries, and more. Many ask the victim to wire the money, but some ask for gift cards or money orders.
No legitimate company will offer to pay by arranging to send a check and asking the seller to send some of the money back, whether by wire, gift card, or money order. If that's the pitch, it's a scam.
Consumer Tips to Prevent Fraud:
Don't share your secrets. Don't provide your Social Security number or bank account information to anyone who contacts you online or over the phone. Protect your PINs and passwords and do not share them with anyone. Use a combination of letters and numbers for your passwords and change them periodically. Do not reveal sensitive or personal information on social networking sites.
Watch out for phishing emails. Sometimes fraudsters send very legitimate-looking emails that appear to come from a financial institution, e-commerce site, government agency or any other service or business. Often, the email urges you to act quickly because your account has been compromised in some way. If you are unsure whether an email request is legitimate, don't reply, and don't click on links or call phone numbers provided in the message.
Use online banking to protect yourself. Monitor your financial accounts regularly for fraudulent transactions. Sign up for text or email alerts from your bank for certain types of transactions, such as online purchases or transactions of more than $500.
Shred sensitive papers. Shred receipts, banks statements and unused credit card offers before throwing them away.
Keep an eye out for missing mail. Fraudsters look for monthly bank or credit card statements or other mail containing your financial information. Consider enrolling in online banking to reduce the likelihood of paper statements being stolen. Also, don't mail bills from your own mailbox with the flag up.
Monitor your credit report. Order a free copy of your credit report every four months from one of the three credit reporting agencies at annualcreditreport.com.
Report any suspected fraud to your bank immediately. Bank staff are experts in spotting fraudulent checks. If you think someone is trying to pull a fake check scam, don't deposit it—report it. Contact your bank and report it to the Federal Trade Commission or The Better Business Bureau's Scam Tracker.
Regulator/Governmental Resources
Federal Reserve Bank Take on Payments Blog - this blog is intended to foster dialogue on emerging risks in retail payment systems and enhance collaborative efforts to improve risk detection and mitigation

Your Complete Guide to Check Fraud: How to Identify Different Types of Check Fraud Before it Harms Your Bank

– a recommended resource from the Federal Reserve Bank of Atlanta
Consumer Tips from the FDIC: What to Do If You Are Scammed

Check scams can be reported to the following agencies:

The U.S. Postal Inspection Service www.uspis.gov (if you received the check in the mail).

The U.S. Postal Inspection Service has a fraud complaint webpage on its website. You may fill out and submit the Mail Fraud Complaint Form online. You may also call the U.S. Postal Inspection Service hotline at 1-800-372-8347 to file a complaint about suspected mail fraud. See related information on Mail Theft, Credit Card Fraud, and Identity Theft.

Your state or local consumer protection agencies.
For possible online crimes involving counterfeit checks and money orders, file an online complaint with the Internet Crime Complaint Center (www.ic3.gov) (a joint project of the FBI and National White Collar Crime Center).
In addition to notifying the bank whose name is on the check, you can notify the website or online service where you encountered the scammer (for example, the online auction website or job posting website), so they can block them from utilizing their services in the future.
FINCEN
Information on Filing a Suspicious Activity Report (SAR):
Virginia Law & Resources
The Virginia Attorney General's Office Consumer Protection Section investigates and creates awareness of fraud. This division also investigates and responds to consumer complaints on matters such as bad checks, bank fraud, mortgage fraud, and phone scams. They have a hotline for Virginia residents to report such cases.
As a violation of Virginia's laws on fraud, check fraud may involve making, passing, or possessing an altered/fake check with the intent to defraud an entity or a person. Most check fraud offenses are committed with the goal of gaining monetary gain. Check fraud can be committed through means such as forging checks and issuing bad checks. Check forgery involves using someone else's legitimate checks (that have been stolen) or altering a check by adding digits or words to increase the amount. Virginia Code 18.2-172 considers forging as a crime that involves obtaining someone else's signature with the intent to defraud the person.
VBA Solutions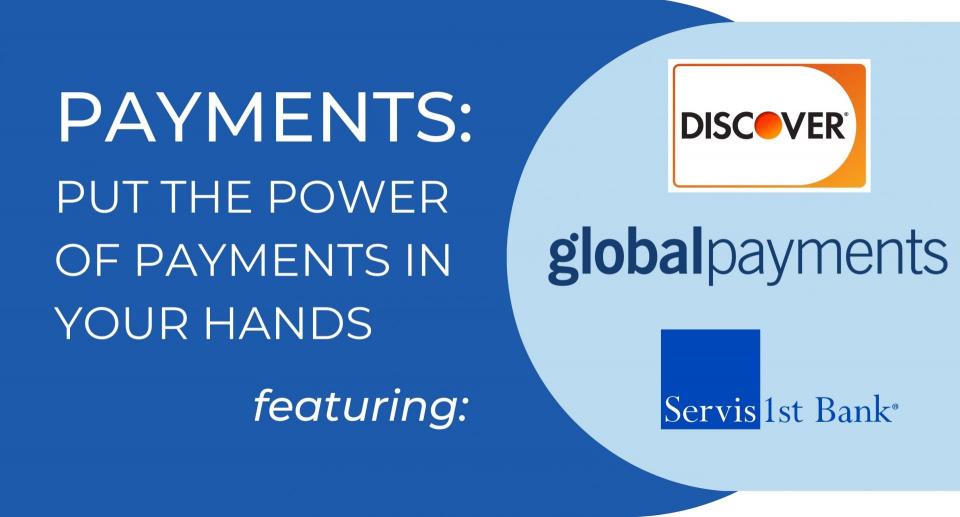 vba endorsed provider payments vendor virtual showcase
You can view the recording of the March 1st virtual payments vendor showcase here.
Download each of the companies' presentations from the showcase below:
other vba solutions
Thumbprint Signature: The Thumbprint Signature Program was created to provide a simple, effective and inexpensive method for preventing and deterring check fraud. The natural deterrent aspect of the program is its strongest advantage.
FraudFighter Counterfeit Detection and Identity Authentication: With over 20 years of experience in the anti-fraud marketplace, UVeritech's FraudFighter line of ID document hardware scanners, money counters, and anti-fraud software are accurate, easy to use, and protects against fraud risks and losses.
Additional Resources & Solutions