Bank Directors' Symposium Attendee Portal
Co-sponsored by the Virginia Bankers Association and the Virginia Association of Community Banks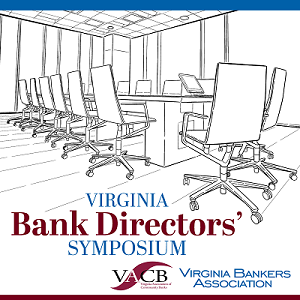 The Directors' Symposium, co-sponsored by the Virginia Association of Community Banks, provides bank board members with current data, thought-provoking industry trends and networking opportunities with other directors and regulators. The program is designed to benefit both new directors and seasoned veterans on the Board.
Hotel Info & Meeting Rooms
April 18, 2023 – Blacksburg, VA
The Inn at Virginia Tech
901 Prices Fork Rd
Blacksburg, VA 24061
The Blacksburg Directors' Symposium will meet in Assembly Hall (on the lower level of the conference center.
April 19, 2023 – Richmond, VA
The Westin Richmond
6631 W Broad St
Richmond, VA 23230
The Richmond Directors' Symposium will meet in Chesapeake Ballroom.
Agenda
8:30 a.m. Breakfast/Registration
9:00 – 9:05am Welcome
9:05 – 9:55am – Economic Update
April 18: Dr. Raman Kumar | Pamplin College of Business, Virginia Tech
April 19: Kartik Athreya | Federal Reserve Bank of Richmond
Our economic update will provide an assessment of the trends driving the economy and its impact on community banking from a local, state and nation-wide perspective.
9:55 – 10:10am Networking Break
10:10 – 11:00am Regulator Panel​
Moderator: DeMarion Johnston | Virginia Bankers Association
Panelists:
Kameron Booker | Federal Reserve Bank of Richmond
Amanda Edwards |OCC
Deona Payne |FDIC
Daniel Tucker | Bureau of Financial Institutions
11:00 – 11:50am Establishing a Cybersecure Organization – Best Practices for Mitigating Business & Organizational Risk in the Audit Process
Mark Scholl | WipFli, LLP
Your financial institution can't have an effective cybersecurity strategy if you don't know what you're up against. Without technical jargon, this session will discuss the latest threats to your customer information and the threat actors behind them. We will also cover payment fraud and tips for spotting these scams. We will wrap up our discussion focusing on the top key controls for preventing fraud and the role of the board of directors in the bank's cybersecurity program
11:50am – 12:50pm – Lunch
12:50 – 1:40pm – Dynamic Shifts in Bank Boards & Executive Leadership
Dr. Julie Bell | Chartwell Partners
With CEO retirement and talent volatility at an all-time high, is your bank proactively seeking leaders and board members with the abilities required for long-term success? In this session, we discuss the key skill sets needed in the board and C-Suite to thrive and remain independent. Dr. Bell will also share how diversity, equity and inclusion are all musts when searching for leaders and board members.
1:40 – 1:50pm – Networking Break
1:50 – 2:40pm – Deposit Growth: How to Outmaneuver the Land of Giants
Adam Thompson | StrategyCorps
The 3% of banks own 83% of the deposits leaving the remaining 97% to battle it out over the rest. Only 11% of the market is looking to change banks this year and, if the first sentence is any indicator, most of those will choose a large FI. Have I mentioned the challenges from Walmart, Fintechs, and Amazon?
In this session you'll gain insights from new market research on today's liquidity challenges and what's in store for the next 12 months. You'll discover what checking lineup structure re-engages non-primary, unengaged customers to drive growth. Finally, you'll learn how modern, mobile-first checking benefits fit into how consumers prefer to buy things increasing your relevance to the modern consumer, shopping for a new bank.
2:40 – 3:30 pm The Case for Credit Risk Management
David Ruffin | IntelliCredit
When the unknowns can be scarier than the knowns, it's best to be prepared. This goes beyond simply providing data tables and charts, but really understanding credit risk management from a holistic view. This session provides organizations from the board to senior management at financial institutions several key credit best practices in managing their credit risk while managing growth.
*Topics and speakers subject to change.
Session Materials
Session materials will be provided as they become available from the speaker.
Economic Update
April 18: Dr. Raman Kumar | Pamplin College of Business, Virginia Tech: Economic Outlook (Kumar)
April 19: Kartik Athreya | Federal Reserve Bank of Richmond Economic Outlook (Athreya)
Regulator Panel​ - No Materials Will be Provided for This Session
Establishing a Cybersecure Organization – Best Practices for Mitigating Business & Organizational Risk in the Audit Process Presentation
Dynamic Shifts in Bank Boards & Executive Leadership Presentation
Deposit Growth: How to Outmaneuver the Land of Giants - No presentation will be provided for this session
The Case for Credit Risk Management Presentation
Speaker Bios
Kartik Athreya | Federal Reserve Bank of Richmond (Richmond Symposium Only)
Kartik Athreya is executive vice president and director of research at the Federal Reserve Bank of Richmond. Athreya's work has been published in a variety of academic journals, including the Journal of Monetary Economics, American Economic Journal: Macroeconomics, and International Economic Review. He is also an associate editor at the Journal of Economic Dynamics and Control. In recent years, Athreya has taught a doctoral course in macroeconomics at the University of Virginia and authored a book entitled Big Ideas in Macroeconomics (2013, MIT Press). He earned his doctorate from the University of Iowa in 2000. Athreya's research interests are in macroeconomics and consumer finance. His current research aims to measure and understand household financial distress and debt repayment decisions, to quantify the links between household investments in human capital and in the stock market, and to assess the importance of risks associated with college enrollment for educational attainment and inequality.
Julie Bell, PhD | Chartwell Partners
Dr. Julie earned her Bachelor of Science in Psychology from Oklahoma State University and a Master and Doctorate of Sport Psychology from the University of Virginia. She has worked with a variety of individuals, teams, and organizations to improve their mindset through principles she developed to help business professionals and athletes deliver their best performance when it matters most. Combining 20 years experience as an entrepreneur with lessons from coaching top athletes and executives, Dr. Julie is able to coach her clients to move to the next level through coaching, keynote speaking, and workshops. Her book, Performance Intelligence at Work, was published in 2009 by McGraw-Hill. Dr Julie lives in Dallas with her husband, Nelson, and their three children.
Kameron Booker | Federal Reserve Bank of Richmond
Kameron Booker has been in the Supervision, Regulation and Credit department at the Federal Reserve Bank of Richmond for over 30 years. During this time, she has had various roles in the department serving as an Examiner and Supervisory Examiner in the Safety and Soundness division, a Senior Manager over Workforce Practices and Development, a Managing Examiner in the Consumer Affairs division, and a Senior Manager in the Large Financial Institutions division where she led a group providing operational support for the team. In 2022, she returned to community bank supervision as an Assistant Vice President with responsibility for member banks in North Carolina and all bank holding companies with total assets less the $10 billion without a state member bank subsidiary. Additionally, she oversees the legal risk unit and leads the industry relations efforts. Kameron received a BA degree in Economics from Randolph-Macon Woman's College in 1991 and is a 1999 graduate of the Virginia Bankers School of Bank Management.
Amanda Edwards | Office of the Comptroller of the Currency
Amanda Edwards is the Assistant Deputy Comptroller for the OCC in the Roanoke office. In this role, she is responsible for managing approximately $22 billion in assets across 20 institutions in the VA, WV, and KY footprint. Amanda began her career with the OCC in 2005. In prior agency roles, she specialized in problem bank rehabilitation, having worked with many struggling banks during the commercial real estate crisis of 2008, and later became the Problem Bank Specialist in the OCC's Northeastern District. Amanda also has experience in fintech risk management, large bank supervision, merger and acquisition activities, legal, and licensing applications. She is a Certified Fraud Examiner and received a FinTech certificate through the Harvard VPAL program. She is a graduate of Winthrop University.
DeMarion Johnston | Virginia Bankers Association
DeMarion Johnston serves as the General Counsel of the Virginia Bankers Association where she provides legal representation to the Association and its subsidiaries. Prior to joining the VBA, she served as Associate General Counsel in the Office of General Counsel of the Virginia State Corporation Commission advising and representing the Commission and its divisions, primarily the Bureau of Financial Institutions and Bureau of Insurance. She has also worked for a federal banking regulator and in the private practice of law. DeMarion possesses expertise in banking, non-depository financial institutions and services, and insurance, as well as state and federal regulation of those industries.
Dr. Raman Kumar | Pamplin College of Business, Virginia Tech
Dr. Kumar teaches courses in Investments, Derivative Securities, and International Finance in the undergraduate and MBA programs at Virginia Tech's Department of Finance, in the Pamplin College of Business. Dr. Kumar's areas of research include Investments, Derivative Securities, Financial Markets, Market Microstructure, and Empirical Research Methods in Finance. He has published research articles in several Finance journals including journals such as the Journal of Finance, Journal of Financial Economics, Journal of Financial and Quantitative Analysis, and Journal of Banking and Finance.
Deona Payne | FDIC
Deona Payne is a risk management Assistant Regional Director with the Federal Deposit Insurance Corporation (FDIC) in Atlanta, Georgia. Ms. Payne currently oversees the Raleigh Territory, which includes West Virginia, Virginia, and the eastern half of North Carolina. She began her FDIC career in 1990, and served as an examiner, supervisory examiner, field supervisor, and case manager in various locations throughout the FDIC's seven state Atlanta Region. She is a graduate of Minot State University, Minot, North Dakota, and holds an Anti-Money Laundering Certified Associate certificate from Florida International University and the Florida International Bankers Association, Miami, Florida.
David Ruffin | IntelliCredit
David's extensive experience in the financial industry includes a long and pronounced emphasis on credit risk in a variety of roles that range from bank lender and senior credit officer to co-founder of the successful Credit Risk Management, LLC consultancy and professor at several banking schools. A prolific publisher of credit-focused articles, he is a frequent speaker at trade association forums, where he shares insights gained helping lending institutions evaluate credit risk—in both its traditional, transactional form as well as the risk associated with portfolios based on a more emergent macro strategy. David is an expert in assessing all aspects of the credit process and culture. Over the course of decades, he has led teams providing thousands of loan reviews and performed hundreds of due diligence engagements focused on M&A and capital raising. Most recently he headed the DHG-Credit Risk Management division at the Dixon Hughes Goodman accounting firm. David holds a B.A. from the University of North Carolina-Chapel Hill, a M.S. from East Carolina University, and multiple degrees from the American Bankers Association's graduate lending schools.
​Mark Scholl | WipFli, LLP
Mark Scholl, partner for Wipfli, LLP, leads this program. He specializes in all aspects of information-security services including information-system security auditing and Internet intrusion-testing services. Scholl has over 40 years of technology experience with the last 25 years providing consulting services such as network design and installation, information systems support, IT auditing, perimeter-intrusion testing, IT training and many other information-security services. Scholl earned a bachelor of science degree at Illinois State University, Normal, and has IT certifications as Certified Information Systems Security Professional (CISSP), Microsoft Certified Systems Engineer (MCSE), Certified Information Systems Auditor (CISA), and Certified Ethical Hacker (CEH).
Adam Thompson | StrategyCorps
Adam is responsible for guiding financial institutions through the logical evolution of their product strategy to drive deposit, wallet share, and revenue growth. Adam has been with the StrategyCorps for 8 years, guiding over 60 financial institutions through retail checking improvements. Prior to joining StrategyCorps, Adam worked with the online sports news service Rivals.com, gaining a deep understanding of subscription strategies that drive engagement. Adam graduated from Lipscomb University with a BS in Organizational Communications and has spoken at countless state and national banking conferences like the ABA Marketing Conference. Adam is a self-proclaimed checking account nerd driven to take data analytics and market research to guide clients to the right product strategy to deepen relationships in their marketplace. When not building the next great checking account, you'll find Adam on the golf course, basketball court, or dragging his family to the closest museum, battlefield, or other historical sites.
Daniel Tucker | Bureau of Financial Institutions
Daniel is an Assistant Deputy Commissioner at the Virginia Bureau of Financial Institutions. In this position, he directs examiners analyzing the safety and soundness of State chartered financial institutions. He joined the Bureau in 2004, as a field examiner. He holds a CFE certification and graduated from Roanoke College, the Virginia Bankers School of Bank Management, and the Graduate School of Banking at Colorado University.
Attendee Rosters
Click here for the Blacksburg attendee roster
Click here for the Richmond attendee roster
Sponsors

Chartwell Partners
Julie Bell, Leadership Advisory
jbell@chartwellpartners.com | (214) 704-1099
chartwellpartners.com

Chartwell Partners is a retained Executive Search and Leadership Advisory Firm dedicated to identifying and equipping exceptional leaders. The Leadership Advisory team partners with their industry experts to offer Succession Planning, Board Advisory, Executive Assessment and Executive Coaching. Their reputation and success are validated by the business they conduct with repeat clients.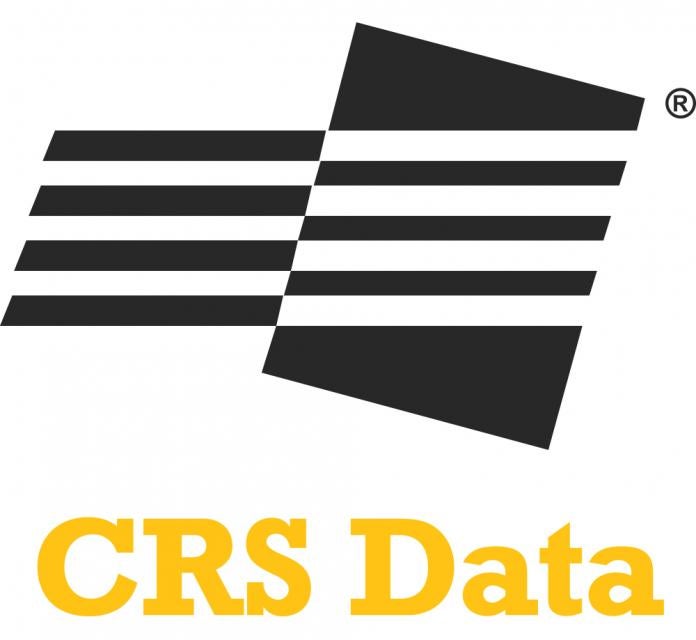 CRS Data
Alwyn Staley, Partner
abstaley@crsdata.com | (800) 374-7488 x150
www.crsdata.com

For over 30 years, CRS Data has been dedicated to delivering powerful, accurate property data backed by superior customer service. Their Financial Suite product is tailored made for financial institutions. Offering public tax records, sales and mortgage histories, property comparables, warranty deeds, interactive GIS plat maps, area demographics. CRS helps banks manage their commercial loan portfolio and generate non-interest income. They offer the power of clear and current property information to help you make sound decisions.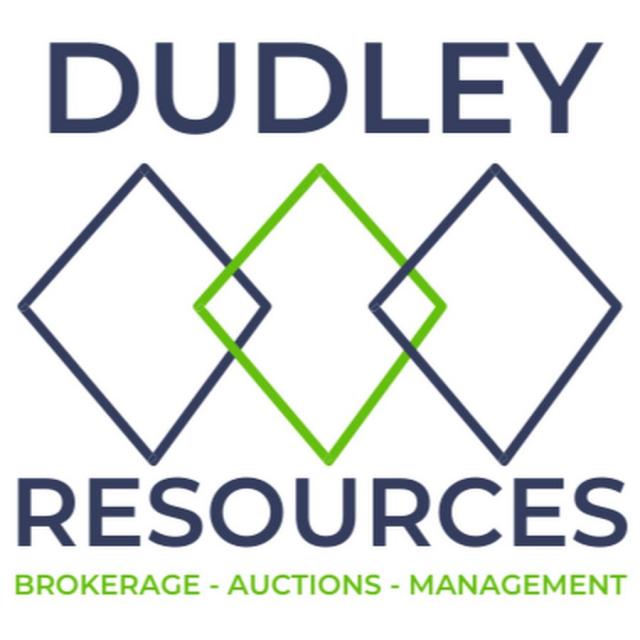 Dudley Resources
Tim Dudley, President
tdudley@dudleyresources.com | (757) 288-1854
Chip Jones, Senior Advisor
cjones@dudleyresources.com | (804) 873-8593
www.dudleyresources.auction

Dudley Resources provides flexible remarketing solutions, empowering their clients with the ability to put the focus back on banking. Their firm offers over 40 years of experience supporting regional banks and institutional sellers with asset management services and programs which enable their clients to achieve maximum values across an array of asset classes. Their services include Senior Accredited (ASA) approved appraisals, online and simulcast auctions for real estate, machinery & equipment, business assets, and automobiles. They offer proprietary surge pricing platforms, trustee & repo services, foreclosure sales, note sales, and buyout options. They are equipped with industry leading technology, knowledge, and experience to provide the best customer service in the business. Dudley Resources….a resource to banks offering dependable and reliable results for all your asset remarketing needs.

PWCampbell
Marshall Jett, Regional Vice President
marshall.jett@pwcampbell.com | (412) 737-2508
www.pwcampbell.com

PWCampbell is the hands down Best in Class full-service, multi-award-winning design-build
firm serving financial institutions throughout Virginia and beyond. With four generations of leadership and over 112+ years of experience, PWCampbell is widely known as true experts in
the industry, specializing in new builds, renovations, operation centers and main offices, branded retail environments, and in-branch technology solutions – all under one roof.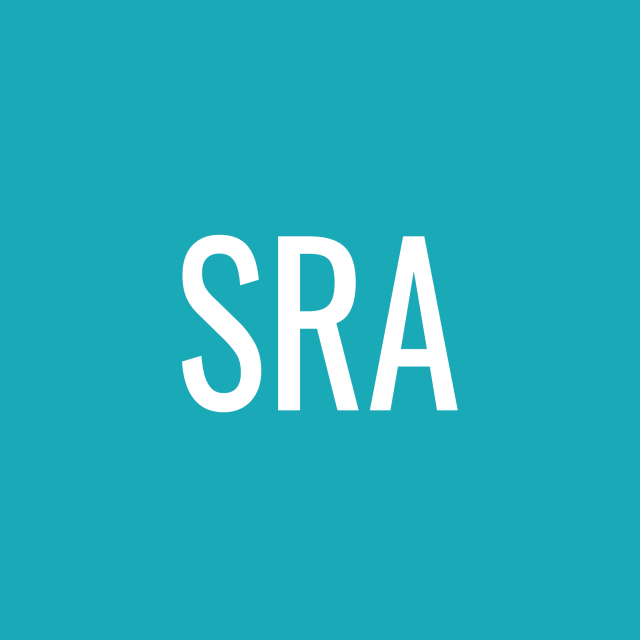 Strategic Risk Associates, LLC
Rob Mitchell, Partner
rmitchell@srarisk.com | (804) 366-1584
www.srarisk.com

Financial Services and Technology Industries. Our team of former senior bankers and regulators has the credentials and experience to help solve issues and improve processes. Key services include: Enterprise Risk Management, Merger & Acquisition Due Diligence, Loan Review, Stress Tests, Fintech Risk Management and Fractional Support.

Wipfli LLP
Tim Merrell, CTP, Senior Manager
tim.merrell@wipfli.com | (267) 608-1753
www.wipfli.com

Wipfli's Financial Institutions Practice serves over 900 financial institutions across the country. Their mission is to educate, advise, and assist financial institutions in successfully navigating the complex environment they face. Let their professionals assist with regulatory compliance, profit improvement, risk management, strategic planning, human resources, information technology, thought leadership, or audit needs.
Questions? Contact Amy Binns.