Careers in Banking Toolkit
Banker Resource Page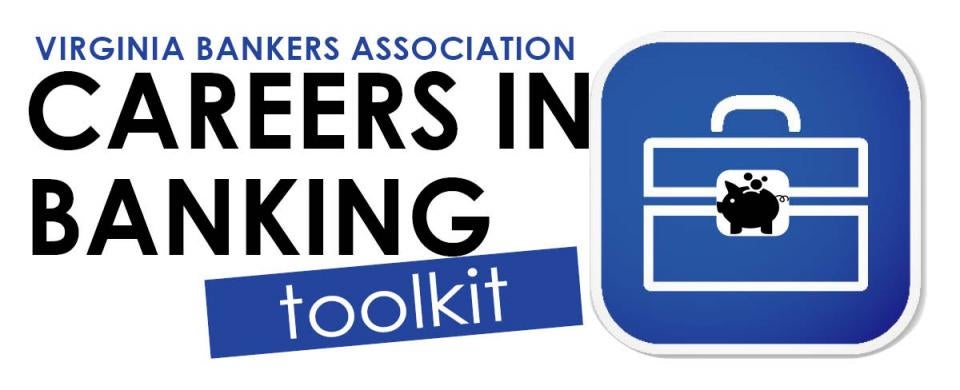 On this page, you'll find resources to share with students and anyone interested in a career in banking.
Resources: Watch & Present
Careers in Banking Video Series
Presenters: Nathalia Artus, Atlantic Union Bank; Ryan Eisenberg, TowneBank; Jamie Johnson, Farmers Bank; Nicole Martin, Benchmark Community Bank; Amy Mellinger, Powell Valley National Bank; and Marcus Wade, Bank of Botetourt
In this series of videos, you will learn about different careers in banking and what personality traits, skills and courses support each of the job functions at a bank.
Careers in Banking Presentations
community engagement panel
Panelists: Terry Parker, TowneBank; Dale Schuurman, Blue Ridge Bank; and Sherry Williams, Chesapeake Bank
In this video, Terry, Dale and Sherry discuss the variety of ways banks across Virginia support the communities they serve. They discuss the industry's role in financial education, diversity, equity and inclusion, and other partnerships with community organizations.
View their discussion here.
other video resources
Resources: Read & Share
Virginia: Banks' Economic Impact

On this site, part of the American Bankers Association's America's Banks website, you'll learn how Virginia's banks are supporting our state's economy with consumer, business and other loans, how bankers are safely serving their customers and communities, and how banks are providing more than 45,000 people with a rewarding place to work.

State Economic Impact Map – See the median compensation for bank employees in VA
Check out the VBA Newsroom and In the News sections of our website to read about bankers making an impact across the Commonwealth.​
Resources: Listen & Promote
Resources: Training Opportunities
American Bankers Association (ABA) Training: