2021 ABA/VBA DEI Summit Recap
May 20, 2021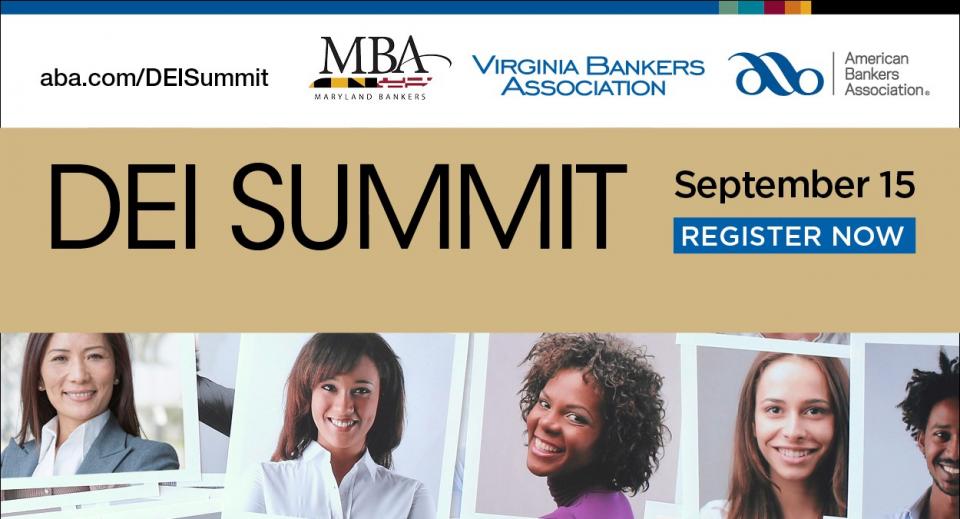 VBA and the American Bankers Association partnered to host the second-annual virtual Diversity, Equity and Inclusion Summit for bankers on May 20, 2021. Four hundred people attended nationwide from 42 states and Washington DC. This event was an important part of continuing a meaningful dialogue on fostering positive change in the industry. Sponsored by The Council of FHLBanks, the value-packed program helped bankers become agents of change by building their "DEI Playbook" through eight strategy sessions, giving bankers the tangible tools needed to make a difference.

"Truly insightful and eye opening to see DEI professionals explain that this journey is never ending. There is always an opportunity to grow in your understanding of others and how to grow together to improve an organization." – 2021 Summit Attendee
2021 Strategy Sessions
Gaining Buy-In Strategy Session: Inclusion Matters: Strategies for Stakeholder Buy-In
Calandra Jarrell, Senior Vice President, Diversity & Inclusion Executive, Bank of America
Victor Branch, Richmond Market President, Bank of America
Awareness Strategy Session: Building Belonging: Understanding Microaggressions, Micro-affirmations and Inclusion
Dee McDougal, US Head of DEI, Capco
Internal Conversations Strategy Session: Facilitating Team-Building Conversations around DEI in Today's Environment
Naomi Mercer, Senior Vice President, Diversity, Equity and Inclusion, American Bankers Association
Culture Strategy Session: Building and Maintaining a Culture of Inclusivity
Shannan Herbert, Executive Vice President, Chief Credit Officer, City First Bank
Francis Janes, Industry Relations and Partnerships Director, PNW, Beneficial State Foundation
Darrin Williams, Chief Executive Officer, Southern Bancorp, Inc.
Moderator
John Holdsclaw IV, EVP, Strategic Initiatives, National Cooperative Bank
Organizing Efforts Strategy Session: Moving from Awareness to Action to Accountability
Markita Jack, Senior Vice President, Sr. Manager, Diversity, Equity and Inclusion, First Horizon National Corporation
Hiring Practices Strategy Session: Creating and Implementing a Talent Acquisition and Retention Strategy
Brian Hoffman, Chief Evangelist and Co-Creator, BankTalentHQ
Roselle Rogers, SPHR, SHRM-SCP, Vice President for Diversity, Equity and Inclusion, Circa
External Communications Strategy Session: Building DEI Into Your Bank's Corporate Communications Strategy
Monica R. Sylvain, PhD, Founder & Chief Executive Officer, Monica Sylvain Consulting LLC
Inclusion Strategy Session: Gracism: The Art of Inclusion
Dr. David Anderson, Founder and President, BridgeLeader Network (BLN)
Bruce Whitehurst, President and CEO, Virginia Bankers Association
Photos from the 2021 DEI Summit