Leadership Conference LIVE!
Attendee Resource Page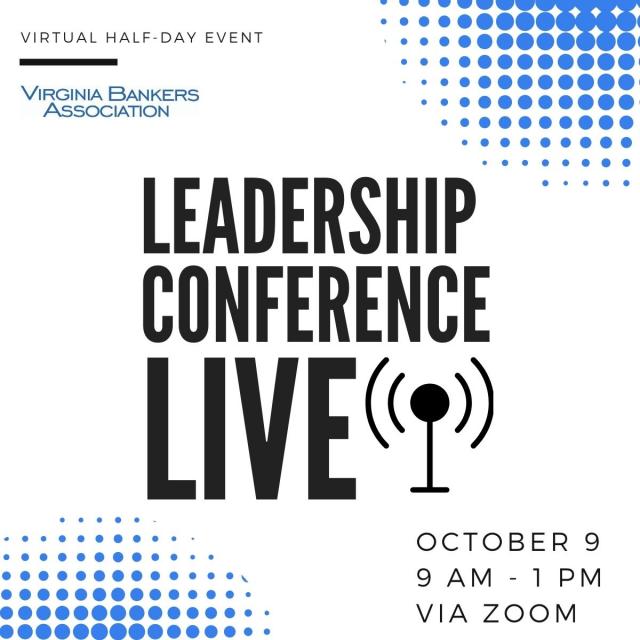 Thank you for attending Leadership Conference LIVE! This webpage houses all of the conference information.
CPE information and more can be found in the confirmation email.
Up Next
Attended Leadership Conference LIVE and looking for the next educational opportunity? Look to the ABA-Wharton Emerging Leaders Certificates. ABA has joined with the prestigious University of Pennsylvania's Wharton School to offer three leadership certificate programs featuring preeminent Wharton faculty that provide top-notch training for emerging leaders in an accessible online format.
The challenging content helps develop critical thinking and requires participants to demonstrate understanding of key points. Certificates cover leadership strategy, employee motivation and engagement and advanced leadership skills. Read more in our VBA Virtual enewsletter.
Conference Agenda
Leadership Conference LIVE Agenda
Conference Roster
Leadership Conference LIVE Roster
Leadership Conference Roster with Contact Information
About the Speakers and Sessions
Keynote Speaker: Karen Conrad | Karen Conrad and Associates, LLC
Building Resilience in Uncertain Times
Today's climate is described as VUCA – Volatile, Uncertain, Complex and Ambiguous. Our ability to manage challenging situations or setbacks is vital to success. The goal of this session is to assist attendees in not just recovering and learning from these situations, but to also thrive through understanding and creating personal resilience. This program explores the current research on resiliency and the three characteristics that define it.
About Karen:
Karen Conrad is the president and owner of Karen Conrad and Associates, LLC and serves as an executive coach and leadership and sales management consultant to banks, healthcare organizations, law firms, and the Federal Executive Institute in Charlottesville, among other organizations. Karen also teaches for the Federal Executive Institute. Karen is a former senior vice president with Wachovia, now Wells Fargo, where she designed and delivered enterprise-wide leadership and management development programs, sales and sales management programs, and organizational development interventions. She served as an executive coach in the Executive Leadership Institute at UNC Chapel Hill.
Renee Haltom | The Federal Reserve Bank of Richmond
Leading and Learning: An Economic Update and Perspectives from the Federal Reserve's Renee Haltom
Renee Haltom will provide an economic update and share what she's learning personally about leadership during COVID-19. In her position, she is constantly communicating with businesses around Virginia to provide more insight around economic issues, while also balancing her roles as a parent, wife, employee and leader in uncharted territory.
About Renee:
Renee Haltom is a vice president and regional executive at the Federal Reserve Bank of Richmond. Her work involves engaging business, banking, and community leaders on local economic conditions to inform the monetary policymaking process, as well as sharing information about the Federal Reserve System. Haltom is based at the Richmond office and has responsibility for public outreach and engagement in Virginia, as well as for the Community Depository Institutions Advisory Council.
Haltom joined the Richmond Fed in 2009 as an economic writer in the Research department, often with a focus on monetary policy, macroeconomics, and the Federal Reserve. She most recently served as editorial content manager for the Research Publications team, and was editor of Econ Focus magazine from 2015 to 2018. She previously worked in the Research and Public Information departments of the Federal Reserve Bank of San Francisco providing education on monetary policy and the Fed System to a variety of audiences.
Haltom has a bachelor's degree in economics from Michigan State University and a master's degree in economics from the University of San Francisco.
Dave Waller | Q2
Trends Mini Session: Change is Good – How to Pivot with Your Digital Banking Vendor During the Pandemic
Like all companies, Q2 had to shift quite a bit due to the global pandemic. The changes we made for our employees were as big as our customers. Dave will tell you how Q2 pivoted to support their customers and share some trends they are now seeing in the "new normal." You'll leave this session with ideas your bank can consider and how you should challenge your digital banking vendor.
About Dave:
Dave Waller is a Regional Sales Manager covering Virginia for Q2. In his role, Dave helps community banks understand how digital technology is transforming distribution and sales models for consumers and businesses. Dave's background is working with executives to determine how to make data usable to their organizations and in digital transformation. A native Virginian and Virginia Tech grad, Dave now lives in Austin, TX with his wife, 2 kids, and 2 dogs.
Matt Bruning | Virginia Bankers Association
Trends Mini Session: Advocacy
Matt will provide a high-level General Assembly update on the Special Session and a preview of the upcoming 2021 Regular Session. He will present information on the federal landscape and share key take-aways from the ABA Virtual Washington Fly-In, which included important meetings with all the regulatory agencies.
About Matt:
Matt joined the Virginia Bankers Association in December 2010 and currently serves as Senior Vice President for Government & Member Relations. In that role, he represents the Virginia banking industry at the Virginia state and federal levels, oversees the VBA BankPAC and coordinates grassroots advocacy. He also coordinates VBA's member relations efforts, including bank outreach and engagement as well as the endorsed provider program.
Prior to joining the VBA, Matt served as Legislative Liaison in the Policy Office of Virginia Governor Robert F. McDonnell. He also worked as the Policy Director for Virginia House of Delegates Speaker William J. Howell. He serves on the Lewis Ginter Botanical Gardens Board of Directors where he is a member of the Executive Committee and Co-Chair of the Horticulture, Education and Engagement Committee. He also serves on the Church Council of Trinity Lutheran Church in Henrico.
Matt received his Bachelor of Arts degree in Leadership Studies and Political Science from the University of Richmond in 2003. He is a graduate of the VBA's Executive Leadership Institute and the Virginia Bankers School of Bank Management at the University of Virginia. He lives in Glen Allen, Virginia with his wife Jennifer and daughters Charlotte and Caroline.
Seth Winter | Troutman Pepper
Trends Mini Session: Using Data to Your Advantage in Uncertain Times
Seth will provide high level trend information about what he and Troutman Pepper have seen changing and accelerating as a result of the pandemic, especially in terms of data trends and regulator expectations. From a legal and regulatory perspective, the pandemic is making it even more necessary for banks to use the data they have – in the right ways. With all the uncertainty bankers and regulators alike are feeling, regulators are asking even more questions – and bankers need to be ready to provide answers via good forecasting and good risk management models.
About Seth:
Seth Winter represents publicly traded companies and financial institutions, including banks and bank holding companies, nonbank lenders and other fintech and financial services companies, on regulatory, compliance, strategic, corporate law, securities law and disclosure matters.
Seth regularly represents financial institutions in mergers and acquisitions, including bank mergers and acquisitions of non-bank institutions. State and nationally chartered community banks, and their boards of directors and executive officers, rely on him to handle a variety of regulatory, compliance and corporate governance issues, and Seth advises boards of directors on legal issues and fiduciary duties in the context of complex strategic transactions. He also represents financial institutions in connection with applications to federal and state regulatory agencies, including applications related to organic and M&A growth, new lines of business, and entry into new geographic markets.
Seth has significant experience advising clients on periodic and current public disclosure obligations, corporate governance issues, annual and special meetings of shareholders, securities exchange listing and compliance issues, and equity and debt offerings.
Seth has served as a faculty member for the Virginia Bankers Association School of Bank Management and presents on M&A and capital markets issues relevant to his clients.
CEO/Senior Leadership Panel
Moderated By Bruce Whitehurst, Virginia Bankers Association

Following a 10-year career in retail and commercial banking, Bruce joined the Virginia Bankers Association in 1993, its 100th anniversary year. He has served as president and chief executive officer of the association since 2007 and was previously executive vice president. While at the VBA, Bruce has worked with member banks in a variety of areas, to include government relations, education and training, financial literacy, and partnering with banks in a number of innovative ways to help them enter new lines of business. He also speaks about and on behalf of the industry on a regular basis. As a banking industry advocate, Bruce is active at the national level. He served on the American Bankers Association's Regulatory Reform Task Force during the 2008-2009 financial crisis and served as an ABA Board member and chairman of the Alliance of State Bankers Associations in 2012-2013. He has also served on the ABA Community Bankers Council and the ABA Government Relations Council. Committed to serving his community, Bruce is a director of and has chaired United Methodist Family Services in Richmond, VA and the Virginia Council on Economic Education. He also serves on the Board of Trustees at Ferrum College. Bruce received his Bachelor of Arts degree from the College of William & Mary, his MBA from the University of Richmond and is a graduate of the Virginia Bankers School of Bank Management.

John Asbury, Atlantic Union Bankshares

In June, John was named chairman of the VBA. Asbury has served as president and CEO of Atlantic Union Bankshares Corp. since October 2016. He has served as CEO of the holding company since January 2017. Before returning to Virginia, Asbury served as president and CEO of privately held First National Bank of Santa Fe in New Mexico. Prior to that, he was senior executive vice president and head of the business services group at Regions Financial Corp., based in Birmingham, AL. Asbury also spent 17 years at Bank of America and began his banking career in the management training program at Wachovia Bank & Trust in Winston-Salem, N.C. Asbury graduated from Virginia Tech in 1987 and holds a graduate business degree from The College of William & Mary. Active in many professional and civic organizations, he currently serves as a board member of ChamberRVA, the Virginia Foundation for Independent Colleges and the Virginia Chamber of Commerce.

Michelle Gaydica, American National Bank

Michelle Gaydica is a career banker who has worked in the community banking industry for the past 22 of her 27 years in financial services. She graduated from the University of North Carolina at Chapel Hill with bachelors degrees in Business Administration and Journalism and Mass Communication. She also graduated the NCBA School of Banking, and she has completed various leadership programs throughout the years. She holds a SPHR-CP certification through the Society of Human Resources Management. She has extensive management experience in retail banking, mortgage, marketing, human resources, strategic planning, and lending. Currently Michelle works as a Senior Vice President and Director of Banking Services for American National Bank and Trust Company. She also serves as a mentor in the VBA's Women's Mentorship Pilot Program and as a member of the VBA Executive Women in Banking Peer Group. She is an avid reader, long-standing community volunteer, and Michelle and her husband live in Winston-Salem, NC with their two children.

Joe Thomas, Freedom Bank of Virginia

Joe Thomas is president and CEO of Freedom Bank of Virginia. Thomas was appointed in August, 2018. He was previously President and CEO of Bay Bancorp (NASDAQ: BYBK), a community bank with $700 million in total assets based in Columbia, Maryland, before its successful sale to Old Line Bancshares. He was formerly Managing Director of Hovde Private Equity Advisors and had a distinguished 20+ year banking career with Wachovia Corporation, most recently as Managing Director and Head of Financial Institutions Investment Banking. Mr. Thomas holds a BA from the University of Virginia and an MBA from Fuqua School of Business at Duke University.
Session Recordings & Presentations
The session recordings and presentations will be available here after the event.
Karen Conrad's Presentation: Building Resilience in Uncertain Times
Renee Haltom's Presentation: Leading and Learning-An Economic Update and Perspectives from the Richmond Fed's Renee Haltom
Dave Waller's Presentation: Trends Mini Session-Change is good: How to pivot with your digital banking vendor during the pandemic
Recordings:
Renee Haltom & Dave Waller's Sessions - Dave starts around minute 50
Please contact Chandler at cowdom@vabankers.org for the recording of Karen Conrad & Seth Winter's sessions.
Matt Bruning & the CEO/Senior Leadership Panel Sessions - Panel starts around minute 16.
Join the VBA Emerging Bank Leaders
The Emerging Bank Leaders (EBL) is a group that connects Virginia's emerging bank leaders to engage them in the future of the banking industry. More than 500 bankers are members of the EBL, which is split into six regions within the state.
It is free to join the group, and there are no age or participation requirements. You must be an employee of a VBA member bank to join. Learn more here.
EBL Facebook Page
Be sure to join the VBA Emerging Bank Leaders group on Facebook!