2023 VBA Banker Day Portal
Attendee Portal

Thank you for registering for the annual VBA Banker Day on January 12th, 2023. We look forward to your participation in this important grassroots advocacy event, bringing hundreds of bankers from across Virginia to interact with their state legislators at the start of the 2023 Virginia General Assembly.
Pre-Banker Day Briefing Recording
You can access the recording of the pre-Banker Day briefing here.
Banker Day Agenda & Materials
Download the 2023 VBA Banker Day pocket brochure here.
Download the VBA's 2023 General Assembly legislative priority list here.
| January 12, 2023 | |
| --- | --- |
| 7:30 a.m. – Registration and Continental Breakfast | Greater Richmond Convention Center, Grand Ballroom AB on the 2nd floor |
| 8:00 a.m. – Keynote Speaker – Virginia Secretary of Finance Stephen Cummings | Greater Richmond Convention Center |
| 8:30 – 9:00 a.m. – VBA Issues & Logistics Briefing | Greater Richmond Convention Center |
| 9:00 – 11:30 a.m. – Legislative Visits | Pocahontas Building |
Information for Scheduling Meetings with Legislators
You can view the list of scheduled meetings with legislators here.
Now that you have registered, you or a representative from your bank is responsible for setting meetings with the local legislators you would like to meet with during Banker Day.
We recommend reaching out to your legislators at their district offices or via email as soon as possible to request a meeting (see below for a template email).
Meetings should ideally be set between 9:00 and 11:30 a.m.
The VBA has contacted legislators to make them aware you will be reaching out to schedule visits.
Please follow the steps below for setting up a meeting with your legislator:
Tips for Visits
It is a ½ mile walk to the Pocahontas Building from the Greater Richmond Convention Center and you must go through security at the public entrance on Main Street. Please allow enough time before your first legislative meeting.

It is always best to limit the your belongings as you will need to go through security.

If you have made an advance appointment, you should be able to see your Delegate or Senator at the scheduled meeting time. (See section above for more information about scheduling your Banker Day visits.)

Be on time (or early) for your appointments – arriving late to an appointment could mean losing your slot all together. Similarly, don't exceed the scheduled time.

If you have not made an appointment, go to the legislators office and tell them you are a constituent from the district and would like to see the Delegate or the Senator.

If you are told he or she is not in, ask if there is a time you can come back prior to your departure time. Otherwise ask if you can go to the Committee meeting that your legislator may be in and give you an opportunity to speak to him or her briefly.
You can also ask to meet with the legislative aide to discuss your bank and our key issues.

Keep it simple. You don't need to be a lobbyist – that's why the VBA is here. Review the talking points provided and be ready to speak about them, but also talk about what is going on in your local community and your role at the bank.
When meeting as a group, make sure to designate a spokesperson for your group and clarify who the legislator should follow-up with on any questions.
Ask questions. The members of the General Assembly will have no problem answering any questions you have, and many times a good question is a great conversation starter.
Connect by remembering to bring your business cards to give to legislators and offer to serve as a banking industry resource.
Don't bring gifts. This side of ethics reform, many legislators will not accept any gifts at all.
If you have any questions on how you should prepare for your meeting with your legislator, you can access some more tips and tricks here. For further questions, please contact Heather Derflinger.
Speaker Bios
Secretary Stephen Cummings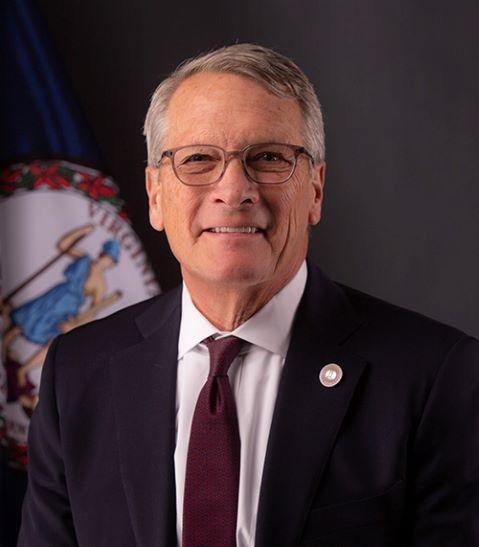 The Virginia Secretary of Finance, Stephen Cummings, will be the 2023 VBA Banker Day keynote speaker, providing insight into Governor Youngkin's proposed budget and tax policy proposals and the overall priorities for this Administration.
Secretary Cummings was a leader in the domestic and international financial services industry before joining the Governor's cabinet. He most recently served as president and CEO of Mitsubishi UFJ Financial Group (MUFG) in the Americas. Secretary Cummings also previously has served as Chairman of UBS's Investment Banking division in the Americas and Global Head of Corporate and Investment Banking at Wachovia Bank.
You can read more about Secretary Stephen Cummings here.
Roster & Event Attire
Please view the full roster here.
The attire is business professional.
Hotel & Parking Information
The VBA room block at the Richmond Marriott Downtown (across the street from the Convention Center) has closed; however you may still call the Marriott at (804) 643-3400 or visit their website linked here to check availability.
Richmond Marriott Downtown
500 East Broad Street
Richmond, VA 23219
Phone: (804) 643-3400
Parking information
For commuters, daily parking is available at the Greater Richmond Convention Center for $7 per day. Please note that overnight parking is not available at the Convention Center. Additional parking information can be found here and parking rules and regulations can be found here.
If you are staying at the Marriott, self-parking is available for $20 a day.
Pre-Banker Day Reception Hosted by the VBA Emerging Bank Leaders (EBL) – January 11th at 5:30 p.m.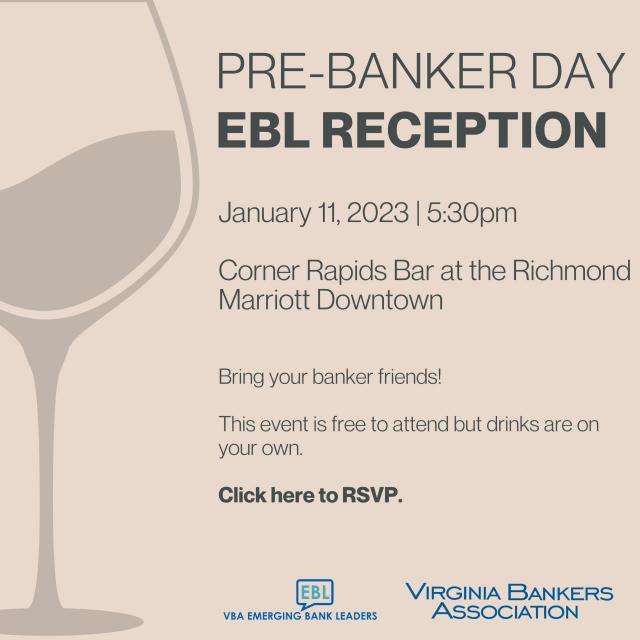 Please join our EBL members for a Pre-Banker Day Reception on January 11th from 5:30 – 6:30 p.m. at the Corner Rapids Bar in the Richmond Marriott Downtown. Please RSVP here if you plan to attend the reception.
Dietary Restrictions, Special Needs & Americans with Disabilities Notice
Please send any dietary restrictions or special needs that may affect your participation in this event to Megan Darmanin to discuss accommodations.
Share Your Banker Day Pictures with the VBA!
Please remember to take photos of your group with your legislator(s). Submit them to Monica McDearmon via email (mcdearmon@vabankers.org) or text (804-363-9347) so we can highlight our advocacy efforts in future VBA publications and on social media. Please also tag the VBA on Instagram and Twitter – @vabankers.