VBA/VA Chamber Financial Forecast
Premier economic forecasting event in Virginia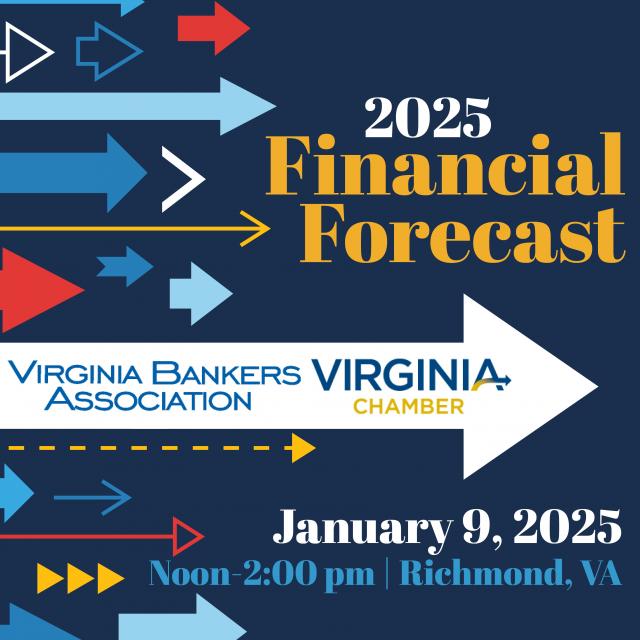 The Virginia Bankers Association and the Virginia Chamber of Commerce partner each year for the Financial Forecast, the premier event of its kind, attracting hundreds of members of the business community at the first of the year to learn what lies ahead for the state and national economy.
Location & Time
Greater Richmond Convention Center
403 N 3rd St.
Richmond, VA 23219
Registration will open at 11:30 a.m. and the 2024 Financial Forecast will begin at 12:00 p.m.
Agenda
11:30 a.m. Registration & Check-in
12:00 p.m. Welcome
12:05 p.m. Lunch
12:40 p.m. Economic Update Thomas I. Barkin, President & CEO | Federal Reserve Bank of Richmond
Richmond Fed President Tom Barkin reflects on 2023 and gives his thoughts on what's ahead for 2024.
1:20 p.m. State of the Healthcare Industry in Virginia Nancy Howell Agee, CEO | Carilion Clinic
1:55 p.m. Closing Remarks
2:00 p.m. Event Adjourns
Meet the Speakers
Nancy Howell Agee, Chief Executive Officer
Carilion Clinic
Nancy is Chief Executive Officer (CEO) of Carilion Clinic, a $2.4B not-for-profit integrated health system headquartered in Roanoke, Virginia, serving more than one million people in Virginia and West Virginia. She previously served as President and CEO, Executive Vice President and Chief Operating Officer (COO). During her tenure as COO, she co-led Carilion's reorganization from a collection of hospitals to a fully integrated, physician-led clinic. The reorganization resulted in a partnership with Virginia Tech to create an allopathic medical school and research institute.

Ms. Agee is a nationally recognized health care leader and past Chair of the American Hospital Association. She was recently named one of Modern Healthcare's 50 Most Influential Clinical Executives. Modern Healthcare also named her one of 2021's Women Leaders Luminaries. She was first named to Modern Healthcare's biennial list of Top 25 Women Leaders in 2017 and is perennially among its 100 Most Influential People in Healthcare. She is a former member of The Joint Commission's Board of Commissioners and past Chair of the Virginia Hospital & Healthcare Association and the Virginia Center for Health Innovation.

Ms. Agee was named Virginia Business Person of the year in 2017 by Virginia Business and has been on the list of most influential persons in Virginia for the past ten years. She was also named among Virginia Business Magazine's Virginia 500 – the Power List (2020, 2021, 2022, 2023). Ms. Agee serves on several boards including American National Bank & Trust, (NASDAQ:AMNB), RGC Resources, Inc., (NASDAQ:RGCO) and Healthcare Realty:(NYSE:HR). She is chair of the Virginia Foundation for Independent Colleges and GO Virginia. She's a member of Virginia Business Council, Virginia Business Higher Education Council and on the Governor's Advisory Council on Revenue Estimates. She is a Fellow in the National Association of Corporate Directors.

In January 2022, Ms. Agee was selected by newly inaugurated Virginia Governor Glenn Youngkin to serve on his Medical Advisory Team and has received many awards over her career including the 2022 Virginia Business Magazine's "Women in Leadership" award, the Total Action for Progress (TAP) 2021 Cabell Brand Hope Award, 2020 University of Virginia Maxine Platzer Lynn Women's Center Distinguished Alumna Award, Emory School of Nursing's Nurses Alumni Association Distinguished Nursing Achievement Award, Multiple Sclerosis Silver Hope Award, the Carilion Paladin Award for Quality, and the National Center for Healthcare Leadership's Gail L. Warden Leadership Excellence Award.

She holds degrees with Honors from the University of Virginia (Bachelor of Science in Nursing) and Emory University (Master of Science in Nursing) and attended the Kellogg School of Business, Northwestern University. She's received honorary doctorate degrees from Roanoke College, Jefferson College of Health Sciences and the Virginia College of Osteopathic Medicine.
Thomas I. Barkin, President & CEO
Federal Reserve Bank of Richmond
Tom Barkin is the president and CEO of the Federal Reserve Bank of Richmond. He has held this position since 2018.
Tom serves on the Fed's chief monetary policy body, the Federal Open Market Committee, and is also responsible for bank supervision and the Federal Reserve's technology organization. He is "on the ground" continually in the Fed's Fifth District, which covers South Carolina, North Carolina, Virginia, D.C., West Virginia and Maryland. His engagement in the region has brought real attention to areas facing economic challenges.
Prior to joining the Richmond Fed, Tom was a senior partner and CFO at McKinsey & Company, a worldwide management consulting firm, where he also oversaw McKinsey's offices in the southern United States.
Individual Registrations
For those who are not planning to sponsor a table, you can register for an individual seat here.
The registration fee for an individual registration is $95.00
Cancellation Policy – Individual Registrations
Registrations may be transferred to another attendee at any time. Cancellations will be fully refunded through January 3rd. From January 4-11, 2024, refunds will not be issued.
Become a Sponsor for the 2024 Financial Forecast!
There are numerous opportunities for an organization to sponsor at the 2024 Financial Forecast!
| | Sponsorship | What's Included? |
| --- | --- | --- |
| Platinum Sponsorship | $7,500 | 4 tables of 10 attendees |
| Gold Sponsorship | $5,000 | 3 tables of 10 attendees |
| Silver Sponsorship | $3,000 | 2 tables of 10 attendees |
| Patron Sponsorship | $1,000 | 1 table of 10 attendees |
| Co-Patron Sponsorship | $750 | 5 attendees (1/2 of a table) |
Please contact Kristen Reid for more information about Financial Forecast sponsorship opportunities.