2021 Virtual VBA Internship Program
Mentor Resources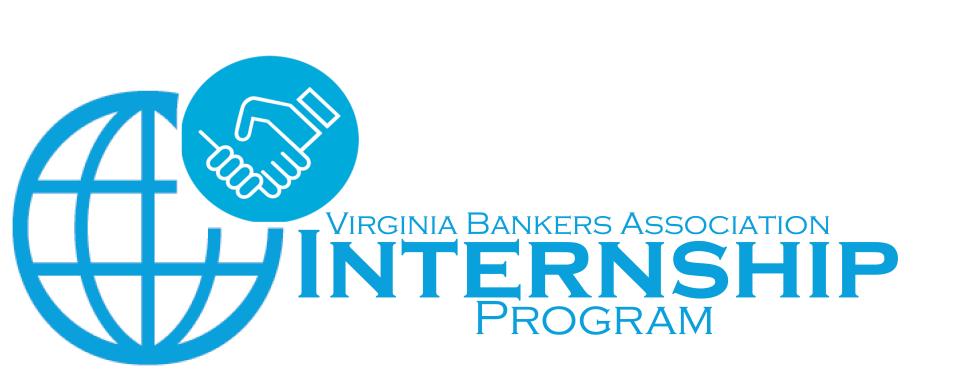 You will find all 2021 VBA Internship Program materials, resources and templates on this page. The interns will also be given a link to their own resource webpage for use throughout the summer. Please contact Monica McDearmon with questions.
Intern Registration Information
Banks are asked to register their interns by May 21, 2021. Please see the PDF below to complete the registration. Please note – you'll need to copy pages 2 and 3 to register more than one intern for the program. Please contact Monica if you have any questions about this form.
2021 Mentor Orientation
VBA Certificate of Completion Requirements
Interns participating in the VBA Internship Program will be eligible to receive the Certificate of Completion if they meet the following requirements. Mentors are asked to send the certificate checklist and all necessary documentation to Monica no later than August 31st.
2021 Certificate of Completion Checklist - Fillable PDF
2021 Certificate of Completion Checklist - PDF
Complete an American Bankers Association (ABA) online training course OR equivalent online banking industry training (must be approved by the VBA). See below for more information on the ABA course options.
Complete a capstone project and presentation.
Participate in at least four of the virtual VBA events (Intern Orientation and at least three of the weekly Zoom meetings OR at least four of the weekly Zoom meetings).
Involvement in a community support or volunteer opportunity (banks will determine specifics of this based on opportunities throughout the summer).
Complete the VBA Internship Program self-evaluation.
ABA Online Course Information
Interns are required to complete an ABA online course OR equivalent online banking industry training (must be approved by the VBA*) to earn the VBA Certificate of Completion.
*To have an equivalent online banking industry training approved, please email Monica the following information:
Name of training provider.
Name of online course.
Brief course description.
Estimated amount of time spent to complete course.
Sample Banking Fundamental course schedules (four weeks, facilitated):
Capstone Project & Presentation
Throughout the summer, interns will complete a capstone project and presentation on a banking industry topic. This project will be due by a date agreed upon by the bank and intern, no later than August 6, 2021. Interns can either research one of the topic options listed below or a topic selected by the bank. Mentors will complete the capstone project and presentation rubrics at the conclusion of the project.
Weekly Zoom Meetings
The VBA will hold weekly Zoom meetings for all interns participating in the program. We hope this provides a platform for our interns to get to know one another, learn about the industry, and hear from banking professionals from across the Commonwealth.
These meetings will occur every Thursday at 10:00 a.m. starting June 10th and ending July 29th.
Meeting Schedule & Guest Speaker Information:
Thursday, June 10th – Business Etiquette & Other HR Best Practices
Suzie Allen, VBA, and Amy Mellinger, Powell Valley National Bank
Thursday, June 17th* – Enneagram Workshop
Katie West (see below for more information)
Thursday June 24th - Q&A with Realworld Founder & CEO
Genevieve Ryan Bellaire
EBL Guests: Terry Parker, TowneBank, and Brody Rotzoll, The Bank of Southside Virginia
Thursday, July 1st - VBA Emerging Bank Leaders Panel Discussion
Panelists: Melissa Crawford, Chesapeake Bank; Scott Griffin, Skyline National Bank; and Dorothy Welch, Blue Ridge Bank
Thursday, July 8th - Capstone Project Rotation Discussions with VBA Emerging Bank Leaders
Thursday, July 15th – Presentation from the Federal Reserve Bank of Richmond
JM Nemish & Brian Thompson, Federal Reserve Bank of Richmond
EBL Guests: Jamie Johnson and Kari VanWassen, Farmers Bank
Thursday, July 22nd -
LinkedIn
Caitlin Croswell, American Bankers Association
Interview Skills & Resume Tips
Suzie Allen, VBA, and Justin Kimlel, Essex Bank
Thursday, July 29th – Capstone Project Discussions & Mini-Presentations
Guests: EBL Members & VBA Staff
​Enneagram Workshop with Katie West | June 17th, 10am – noon
*This session will run from 10 a.m. – noon and is designed for both the interns and their mentors.
During this session, interns and mentors will become familiar with the Enneagram to identify with one of the nine personality types so they can be aware of their own personality and use it in the best way possible while understanding general characteristics of other's personality types. During the session, we will discuss:
Emotional Intelligence – position it as a core leadership competency to continually develop (good for professional and personal life) and the Enneagram as the tool to assist with that
Take away an understanding of the Enneagram personality typing system and how it operates as a fluid and dynamic system
Know ways to develop more effective connections with others based on their Enneagram type
Become familiar with the general characteristics of the 9 types
Become familiar with how each of the 9 types responds to stress and security
Assignment for post workshop learning experience
Enneagram Test Information
Before the session, mentors and interns may want to take a test to determine their Enneagram type. Below are two test options:
The RHETI from the Enneagram Institute. This test is one of the oldest in the market place have been available for over 20 years. Katie recommends this test because it comes with a comprehensive report and the website is robust and full of good information too. The test is $12. www.enneagraminstitute.com
EnneaApp. The EnneaApp has good information about the 9 types and makes for a nice, quick reference. Simply search "EnneaApp" in the App Store on your phone to download the free app.
About Katie West:
Katie West is a 35+ year veteran of the banking industry beginning as a part time teller with First Tennessee Bank through her role most previous role as Chief Talent Officer with Metropolitan Bank. She has spent the majority of her career leading various strategic learning and organizational development initiatives to facilitate change in the respective business and its people.
She has always believed that organizations must utilize various techniques to reach associates and assist them in ways to develop their career paths that are both beneficial to the organization and to the associates. She also believes in developing younger colleagues with strategic leadership competencies in the very beginning of their careers and helping seasoned leaders to continue to refine their skills throughout their career. She knows personal growth and development begins with understanding one's own personality and knowing how to appropriately use it in interaction with others. This leads to exceptional career success.
Currently Katie works with businesses, non-profits, and individuals that want to develop strong competency for emotional and intelligence through the development of keen self-awareness and social awareness, along with self-management and relationship management. The Enneagram is her favorite tool to use with developing these essential life and leadership skills.
She graduated from the University of Mississippi with a BBA in Management She holds a professional degree from the Consumer Bankers Association's Graduate School of Retail Bank Management. Katie currently enjoys spending time volunteering with Memphis Gridiron Ministries, Second Presbyterian Church and serving on the Board of Nexus Leaders.
Templates
Evaluation Templates
Template - Competencies


This template can be used at a mid-summer and/or final intern evaluation and includes a list of recommended competencies against which you can evaluate the performance of your intern using a scale of 1-5.

Template - Final Evaluation by Supervisor


This comprehensive evaluation template can be used at the end of the summer and includes a variety of opportunities for the mentor to provide specific feedback on the intern's overall performance.

Template - Mid Summer or Final Eval with Competencies


This evaluation template can be used at a mid-summer and/or final intern evaluation and includes summary of performance for specific learning objectives as well as a list of recommended competencies against which you can evaluate the performance of your intern using a scale of 1-5.
Additional Learning Opportunities for Interns
Pathways to VBA Connect & Protect
As an additional educational opportunity, interns will have access to the monthly virtual sessions of Pathways to VBA Connect & Protect. The monthly Pathways sessions are by function area. Interns will register for each session they'd like to attend beginning in June.
Interns will also have access to the recordings and materials from all sessions, including the May sessions, which they will not have had the chance to attend live. Topics and sessions include:
Function Area
Dates/Topics (All sessions will be held from 2:00-3:00 p.m. via Zoom; )
Marketing

May 3: Reimagining Your Marketing Strategy in the Post-COVID World
June 7: The Magic of Marketing Automation is Doing More with Less
July 6: Making Your Digital Marketing Dollar Count
August 9: Mining for Gold: Driving Results with Your Data

Human Resources

May 24: Legal Hot Topics
June 28: Attracting and Retaining Talend in the Post-COVID World: Lessons Learned and Best Practices
July 26: Building Culture by Intention Amid Remote & Hybrid Workforce Model Shifts
August 30: HR Must Influence the Strategy, Not Just Implement It

Training

May 17: Creating a Culture of Agility
June 21: Integrating DEI into Onboarding Learning Activities
July 19: Making Micro Work: 4 Approaches to Microlearning and Tips to Add Value for your Learners
August 26: Learning & Development Roles Re-imagined

Retail Banking

May 10: How to Re-Engage Your Team After a Pandemic
June 14: Eliminating the One-Size-Fits-All Approach: Building Modern Financial Experiences Through a Partner Marketplace
July 12: Clicks & Bricks: Blending the Convenience of Technology with the Branding Power of Brick & Mortar
August 16: Consumer Retail Banking Trends

Enterprise Risk Management

May 18: 2021 and Re-Energized Bank Examination: What to Expect
June 22: ALCO and Balance Sheet Management in the Era of COVID-19
July 20: SOC Audit Reports
August 27: Managing Climate Change Risk Within the ERM Program

Operations & Technology

May 4: Stay Ahead of the Digital Demand
June 8: Five Faster Payments Updates from a Community Bank Insider
July 7: Elevating Your Fraud Prevention Strategies
August 10: Strategic Risk Taking

Security

May 11: 2021 Cybersecurity Outlook
June 15: Outside the Box: Groundbreaking Innovations in Bank Security
July 13: Civil Unrest & Protests – How Banks Can Prepare
August 17: Bank Robbery in a Post-Pandemic World

Compliance

May 25: Legal Update
June 29: Fair Lending Hot Spots
July 27: Banking Cannabis Customers
August 31: LIBOR and Its Implications on Commercial and Consumer Loans
Virginia Bankers School of Bank Management
The 2021 session of the Virginia Bankers School of Bank Management (Bank School) will be held in Charlottesville the week of August 2-6. On Tuesday, August 3, interns will have the opportunity to visit in-person and shadow the first year classes. More information on this opportunity will be available soon!
realworld
Interns will have access to Realworld modules throughout the summer. Realworld is a personalized "playbook" for life as an adult. Their free mobile application and website offer step-by-step guidance for decisions across finance, health and work life. They help young adults build a customized to-do list, conquer the starter pack of fundamentals and stay on track with personalized reminders and motivation from the Realworld community.
Realworld Login Instructions
Visit their website or find them in the Apple app store to create an account for free!
YRichmond
Registering your interns for YRichmond will provide access to weekly professional development virtual sessions and access to the YRichmond social communication platform. Topics for the virtual professional development sessions include:
Personal Branding

CEO Talks

Salary Negotiations

Personal Finance Series

Resumes & Cover Letters

Diversity & Inclusion

Social Series

A Variety of "Instagram Lives"

"Conversations with Doers"
2021 YRichmond Calendar & Pricing Guide
ChamberRVA Contact:
Sam Mayman, Government Affairs & Community Affairs Manager | ChamberRVA
Additional Resources for Mentors
The Virginia Employer Readiness Toolkit is a comprehensive document to aid the employer community in building and expanding internship and work-based learning opportunities for higher education students throughout the Commonwealth. The readiness toolkit provides information and key resources to employers as they consider implementing these programs either at their place of work or remotely. The toolkit helps employers with their readiness for interns to ensure quality of the experience for students, institutions and businesses.
This annual survey was released in early March 2020. Technology and improving digital experience were common themes in this report, and CEOs said they would look to make improvements in two key areas: customer experience and back office operations.
Acquiring new customers and recruiting and retaining talent topped the list of things keeping CEOs up at night. With respect to talent development, nearly half of respondents said they found it difficult or very difficult to recruit people with the skills they need to remain competitive, and many noted improvements to their compensation and benefits offerings in order to attract new talent.
Participating Banks & Mentor Contact Information
2021 Participating Banks:
American National Bank & Trust Co.
Atlantic Union Bank
Benchmark Community Bank
C&F Bank
Chain Bridge Bank
Skyline National Bank
The Bank of Southside Virginia
United Bank