2021 Intern Resources
VBA Internship Program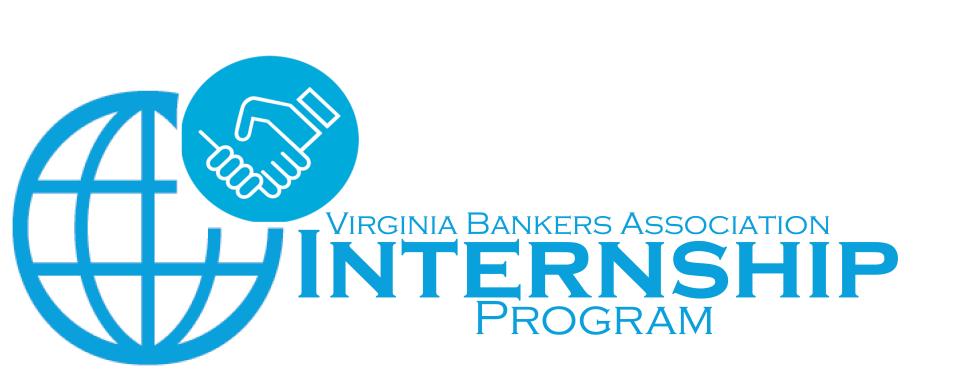 You will find all 2021 VBA Internship Program materials and resources on this page for use throughout the summer. Please contact Monica McDearmon at 804-363-9347 with questions.
Virtual Intern Orientation – 6/2/2021
Access a recording of the Intern Orientation here.

Introductions – through minute 27
Introduction to the VBA – minutes 27-34
Careers in Banking – EBL Presentation – minutes 34-1:16
YRichmond Presentation – minutes 1:17-1:43
VBA Internship Program Components – minutes 1:43-2:05
View a welcome message from VBA President & CEO Bruce Whitehurst below.
Bruce's contact information:
bruce@vabankers.org
Twitter: @BruceTW
Office: 804-819-4701 | Mobile: 804-241-3223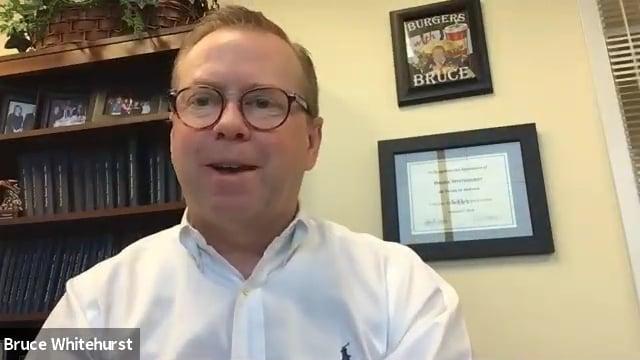 VBA Certificate of Completion Requirements Overview
Interns participating in the VBA Internship Program will be eligible to receive the Certificate of Completion if they meet the following requirements. Mentors will send all necessary documentation to the VBA no later than August 31st.
2021 Certificate of Completion Checklist - Fillable PDF
2021 Certificate of Completion Checklist - PDF
Complete an American Bankers Association (ABA) online training course OR equivalent online banking industry training (must be approved by the VBA). See below for more information on the ABA course options.
Complete a capstone project and presentation.
Participate in at least four of the virtual VBA events (Intern Orientation and at least three of the weekly Zoom meetings OR at least four of the weekly Zoom meetings).
Involvement in a community support or volunteer opportunity (banks will determine specifics of this based on opportunities throughout the summer).
Complete the VBA Internship Program self-evaluation.
ABA Online Course Information
Interns are required to complete an American Bankers Association (ABA) online course OR equivalent online banking industry training (must be approved by the VBA) to earn the VBA Certificate of Completion.
ABA Login information
For interns completing an ABA online course, the VBA will send login information to the interns after their start date with the bank.
Your login credentials are below. Upon logging in the first time, you will see a message stating that your password has expired and you will be required to select a new password of your choosing. If you ever forget your password, you can use the "Forgot Password" link on the login page. Notice that your username is your bank email address followed by ".vaba". See below for an example:
Login Page: https://aba.csod.com
Sample Username: msmith@usabank.com.vaba
Temporary Password: Password1
Once You have logged in and changed your password, you will be taken to your welcome page. To view your transcript and access your assigned training, select "Learning" from the menu and click "View Your Transcript." Your transcript contains your assigned training. Click on the action button (open curriculum, launch, etc.) to the right of the course title to access the training.
Access a tour of the ABA online training platform here!
Capstone Project & Presentation
Throughout the summer, interns will complete a capstone project and presentation on a banking industry topic. This project will be due by a date agreed upon by the bank and intern, no later than August 6, 2021. Interns can either research one of the topic options listed below or a topic selected by the bank. Mentors will complete the capstone project and presentation rubrics at the conclusion of the project.
capstone project topic resources
Option 1: Fintech: Disruptor or Partner?
Retail and Operations & Technology Tracks of Pathways to Connect & Protect (see "Additional Learning Opportunities" dropdown below)
Option 2: Ideal Location for a New Bank Branch
Option 3: Banks and Social Media: How to Use these Platforms to Engage, Retain and Attract Customers
Marketing Track of Pathways to Connect & Protect (see "Additional Learning Opportunities" dropdown below)
Option 4: Attracting the Next Generation as Customers and Employees
Training & HR Tracks of Pathways to Connect & Protect (see "Additional Learning Opportunities" dropdown below)
Option 5: Banks: The Cornerstone of the Community
Website: Virginia Banks' Economic Impact

On this site, part of the American Bankers Association's America's Banks website, you'll learn how Virginia's banks are supporting our state's economy with consumer, business and other loans, how bankers are safely serving their customers and communities, and how banks are providing more than 45,000 people with a rewarding place to work.

Podcast Series: We Were Economic First Responders | ABA Banking Journal
Hear banker stories behind the Paycheck Protection Program in a three-part podcast series
Option 6: The Bank of the Future
Retail and Operations & Technology Tracks of Pathways to Connect & Protect (see "Additional Learning Opportunities" dropdown below)
Option 7: Serving the Underbanked and Unbanked
Option 8: Cryptocurrency/Digital Currency: Disruptor or Partner?
Weekly Zoom Meetings
The VBA will hold weekly Zoom meetings for all interns participating in the program. We hope this provides a platform for you to get to know one another, learn about the industry, and hear from banking professionals from across the Commonwealth.
These meetings will occur every Thursday at 10:00 a.m. starting June 10th and ending July 29th. See below for Zoom meeting information – also included in the calendar invite.
Meeting schedule & Guest speaker information
Meeting Date

All meetings will be held on Thursdays from 10-11 a.m.

Guest Speaker & Topic
Meeting Materials/Recording Link
6/10
Business Etiquette & Other HR Best Practices
Suzie Allen, VBA, and Amy Mellinger, Powell Valley National Bank
6/17*
Enneagram Workshop
Katie West (see below for more information)
6/24
Q&A with Realworld Founder & CEO
Genevieve Ryan Bellaire
EBL Guests: Terry Parker, TowneBank, and Brody Rotzoll, The Bank of Southside Virginia

See below under the "Additional Learning Opportunities" dropdown for more information on the Realworld platform.

7/1
VBA Emerging Bank Leaders Panel Discussion
Panelists: Melissa Crawford, Chesapeake Bank; Scott Griffin, Skyline National Bank; and Dorothy Welch, Blue Ridge Bank
7/8
Capstone Project Rotation Discussions with VBA Emerging Bank Leaders
7/15
Presentation from the Federal Reserve Bank of Richmond
JM Nemish & Brian Thompson, Federal Reserve Bank of Richmond
EBL Guests: Jamie Johnson and Kari VanWassen, Farmers Bank
7/22
LinkedIn
Caitlin Croswell, American Bankers Association
Interview Skills & Resume Tips
Suzie Allen, VBA & Justin Kimlel, Essex Bank
7/29
Capstone Project Discussions & Mini-Presentations
Guests: EBL Members & VBA Staff
​Enneagram Workshop with Katie West | June 17th, 10am – Noon
*This session will run from 10 a.m. – noon and is designed for both the interns and their mentors.
During this session, interns and mentors will become familiar with the Enneagram to identify with one of the nine personality types so they can be aware of their own personality and use it in the best way possible while understanding general characteristics of other's personality types. During the session, we will discuss:
Emotional Intelligence – position it as a core leadership competency to continually develop (good for professional and personal life) and the Enneagram as the tool to assist with that
Take away an understanding of the Enneagram personality typing system and how it operates as a fluid and dynamic system
Know ways to develop more effective connections with others based on their Enneagram type
Become familiar with the general characteristics of the 9 types
Become familiar with how each of the 9 types responds to stress and security
Assignment for post workshop learning experience
Enneagram Test Information
Before the session, mentors and interns may want to take a test to determine their Enneagram type. Below are two test options:
The RHETI from the Enneagram Institute. This test is one of the oldest in the market place have been available for over 20 years. Katie recommends this test because it comes with a comprehensive report and the website is robust and full of good information too. The test is $12. www.enneagraminstitute.com
EnneaApp. The EnneaApp has good information about the 9 types and makes for a nice, quick reference. Simply search "EnneaApp" in the App Store on your phone to download the free app.
Weekly zoom meeting information
Use this information for all of the weekly meetings beginning June 10th! This information can also be found in the calendar invite and will be email to the interns each week.
Join Zoom Meeting
https://us02web.zoom.us/j/84649173274?pwd=MGJPUVdDdFlRWnh0RUxTbGJoUzd1dz09
Meeting ID: 846 4917 3274
Passcode: 358527
One tap mobile
+16465588656,,84649173274# US (New York)
+13017158592,,84649173274# US (Washington DC)
Intern Self-Evaluation
Please complete the self-evaluation here before you submit your certificate of completion checklist to your mentor/supervisor. As a reminder, a copy of your responses will be shared with your host bank and VBA staff.
Additional Learning Opportunities
Pathways to VBA Connect & Protect
As an additional educational opportunity, interns have access to the monthly virtual sessions of Pathways to VBA Connect & Protect. The monthly Pathways sessions are by function area. Interns will register for each session they'd like to attend beginning in June. Interns also have access to the recordings and materials from all sessions, including the May sessions.
Learn more, view recordings and register for upcoming sessions here.
Function Area
Dates/Topics (All sessions will be held from 2:00-3:00 p.m. via Zoom; )
Marketing

May 3: Reimagining Your Marketing Strategy in the Post-COVID World
June 7: The Magic of Marketing Automation is Doing More with Less
July 6: Making Your Digital Marketing Dollar Count
August 9: Mining for Gold: Driving Results with Your Data

Human Resources

May 24: Legal Hot Topics
June 28: Attracting and Retaining Talent in the Post-COVID World: Lessons Learned and Best Practices
July 26: Building Culture by Intention Amid Remote & Hybrid Workforce Model Shifts
August 30: HR Must Influence the Strategy, Not Just Implement It

Training

May 17: Creating a Culture of Agility
June 21: Integrating DEI into Onboarding Learning Activities
July 19: Making Micro Work: 4 Approaches to Microlearning and Tips to Add Value for your Learners
August 26: Learning & Development Roles Re-imagined

Retail Banking

May 10: How to Re-Engage Your Team After a Pandemic
June 14: Eliminating the One-Size-Fits-All Approach: Building Modern Financial Experiences Through a Partner Marketplace
July 12: Clicks & Bricks: Blending the Convenience of Technology with the Branding Power of Brick & Mortar
August 16: Consumer Retail Banking Trends

Enterprise Risk Management

May 18: 2021 and Re-Energized Bank Examination: What to Expect
June 22: ALCO and Balance Sheet Management in the Era of COVID-19
July 20: SOC Audit Reports
August 27: Managing Climate Change Risk Within the ERM Program

Operations & Technology

May 4: Stay Ahead of the Digital Demand
June 8: Five Faster Payments Updates from a Community Bank Insider
July 7: Elevating Your Fraud Prevention Strategies
August 10: Strategic Risk Taking

Security

May 11: 2021 Cybersecurity Outlook
June 15: Outside the Box: Groundbreaking Innovations in Bank Security
July 13: Civil Unrest & Protests – How Banks Can Prepare
August 17: Bank Robbery in a Post-Pandemic World

Compliance

May 25: Legal Update
June 29: Fair Lending Hot Spots
July 27: Banking Cannabis Customers
August 31: LIBOR and Its Implications on Commercial and Consumer Loans
Virginia Bankers school of bank management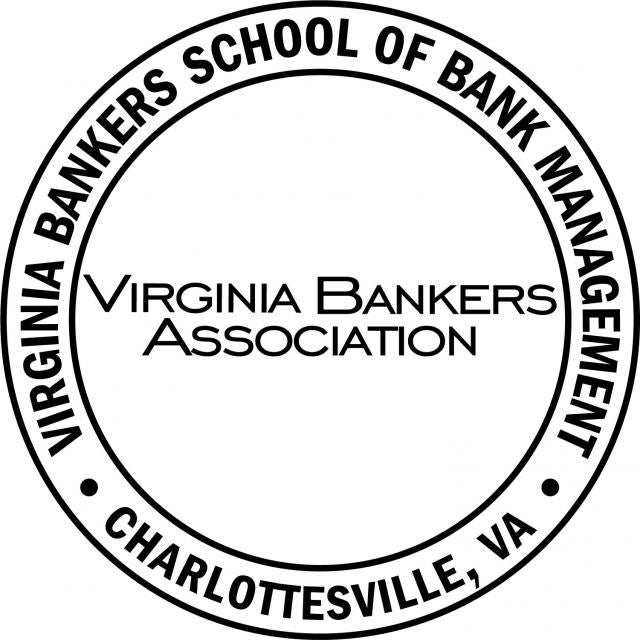 The 2021 session of the Virginia Bankers School of Bank Management (Bank School) will be held in Charlottesville the week of August 2-6. On Tuesday, August 3, interns will have the opportunity to visit and shadow the first year classes. More information on this opportunity will be available soon!
Bank School General Session Zoom Links
Monday
Leveraging Diversity through Inclusive Leadership | Leslie Schreiner, FHLBank Atlanta
https://us02web.zoom.us/j/84130235531?pwd=Q3kwR0kxL3dYcEpseGYyMGpiN3hsdz09
Passcode: 543639
Tuesday
Economic Update | Dr. Ed Seifried
https://us02web.zoom.us/j/87475627775?pwd=cnJMYnA0eFM1V0NGOWk2R21HcG1PQT09
Passcode: 246058
Wednesday
Digital Banking Trends | Rob Morgan, American Bankers Association
https://us02web.zoom.us/j/84993041581?pwd=bWREY1VGWWZ5TVF4R0p6eU50NjY4Zz09
Passcode: 817598
Thursday
Banking Leadership Panel | Maria Tedesco, Atlantic Union Bank; Leton Harding, Powell Valley National Bank & VBA Chairman; and Bruce Whitehurst, VBA
https://us02web.zoom.us/j/84120130342?pwd=cndrOE9Da3Mvd0JJeGZKbG5hbnVWQT09
Passcode: 876465
Realworld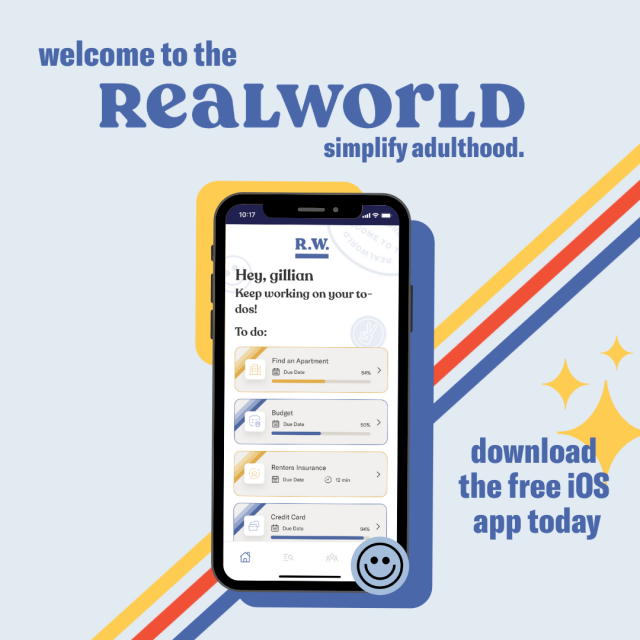 Download the free Realworld app and join the community of 20-somethings on the journey to independence.
The Realworld app is your adulting sidekick – this personalized platform offers step-by-step playbooks to help you navigate everyday decisions (getting a credit card, finding a doctor), big life moments (moving to a new home, finding a new job) and everything in between! Set up your own to-do list, conquer the fundamentals, and stay on track with Realworld reminders.
About Realworld
Realworld Login Instructions
Visit their website or find them in the Apple app store to create your account for free!
Additional Resources: Read, Listen, Watch
Be sure to follow the vba on social media!

Resources: Read
Resources: Listen
Resources: Watch
Intern Contact Information