Virtual Accounting Peer Group
Co-hosted by Brown, Edwards & Company, L.L.P.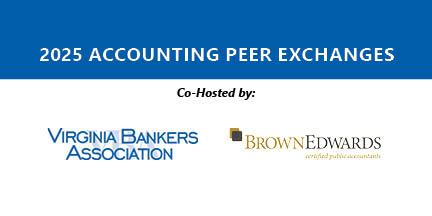 The Virginia Bankers Association and Brown, Edwards & Company, L.L.P. are partnering to host two virtual peer group meetings in 2023. The purpose of these exchanges is to provide a platform to network, find answers, solutions and best practices to common issues and problems.
Each peer group will consist of several presentations by industry experts with time for questions and discussion.
May 2023 Peer Group Topics
During the first Accounting Peer Group, we will have formal presentations on the following topics:
Liquidity Stress Testing & Best Practices

Stress testing is intended to be a valuable tool and is proving to be even more relevant given the current status of the economy and the banking industry. The purpose is to provide Management and the Board of Directors with insightful information that can then be used to plan ahead and mitigate risk. During this session, Brown Edwards will discuss ideas on the assumptions to use and how banks should be using liquidity stress testing results.

Capital Stress Testing & Best Practices

As mentioned, stress testing is intended to be a valuable tool to help position the bank to mitigate risk. Banks can benefit from understanding various types of stress testing results. Brown Edwards will discuss different options to consider when performing these tests and how banks should use the results.

Regulator Hot Topics

Bankers can always benefit from knowing what is on the minds of the regulators. Brown Edwards will share current hot topics and ideas to help better prepare your institution for your next exam.
Registration Fees
Cancellation Policy
All cancellations will be charged a $10.00 administrative fee. Substitutions are allowed prior to the beginning of course.
Special Needs & Americans with Disabilities Notice
If you have special needs that may affect your participation in this event, please contact Kristen Reid to discuss accommodations.