Lending & Credit Conference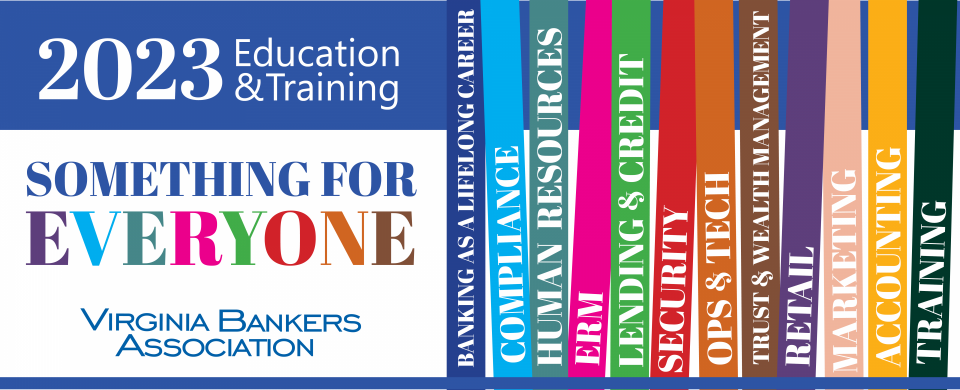 The Lending & Credit Conference provides the perfect balance of educational and networking opportunities through a combination of general sessions and peer group discussions. With a variety of sessions that address the most pressing issues facing lending and credit professionals, this educational event will help you navigate today's economic and regulatory environment and prepare you for opportunities that lay ahead.
Agenda
DAY 1 | Monday, October 16, 2023
8:00 a.m. Registration | Continental Breakfast
8:30 – 8:45 a.m. Welcome | Announcements | Sponsor Introductions
8:45 – 9:35 a.m. Economic & Housing Market Update Ryan Price | Virginia REALTORS®
Join us for an update on economic and housing market conditions in Virginia. We'll take a deep-dive into seven key trends that are underway; how they influence the market, and importantly, how these factors could impact the economy and housing market in 2024.
9:40 – 10:40 a.m. Compliance Hot Topics Impacting Lending & Credit Administration Margaret Dolinger | TCA
Join Margaret Dolinger, TCA, as she unpacks compliance topics of utmost interest to bankers in the lending & credit function areas of the bank. Highlights of the session include:
1071 Small Business Rule: Where does the rule stand now, who is impacted, and several points that can impact the lending process, including what you should be doing now
Fair Lending in the world of appraisal and evaluations
Recent inquires by regulators on small business lending in minority tracts
CRA recent proposals delaying modernization
10:40 – 10:55 a.m. Networking Break
10:55 – 11:55 a.m. Loan Growth Through Technology & Automation – Can Your Institution Handle the Change? Rob Newberry | Abrigo
11:55-12:45 p.m. Lunch
12:45-1:30 p.m. Vendor Speed Dating
1:30 – 2:30 p.m. SVB's Compelling Lending Strategy Elena Loutskina, Ph.D. | Darden School of Business at University of Virginia
2:30 – 2:50 p.m. Networking Break
2:50 – 3:50 p.m. Workout Strategies Tom Thurmond | Thurmond, Clower & Associates
We will have a general discussion of developing processes to establish, manage and monitor workouts including strategies to avoid lender liability.
3:50 – 4:00 p.m. Stretch Break
4:00 – 5:00p.m. Roundtable Session
5:00 – 6:00 p.m. Cocktail Reception
DAY 2 | Tuesday, October 17, 2023
8:00 a.m. Continental Breakfast
8:30 – 8:45 a.m. Announcements
8:45 – 9:15 a.m. Industry & Legal Update DeMarion Johnston | Virginia Bankers Association
9:15 – 10:15 a.m. C&I Lending Panel
Moderator: Rick Frank | Business Finance Group, Inc.

Panelists: Alex Gross | Live Oak Bank; Perry Hickman | USDA; Curt Solomon | Business Finance Group, Inc.
10:15 – 10:30 a.m. Networking Break
10:30 – 10:40 a.m. Sponsor Drawings
10:40 – 11:40 a.m. Stronger Under Pressure Chris Barras | Second Story Partners
The radical changes of 2020-2021 disrupted almost every industry. The pressure of these changes showed us what we are made of. In some cases, the pressure crushed us. But other groups were able to adapt to the pressure and thrive. In this talk we look at what are the qualities of people who can get stronger when they are placed under pressure. Where are we fragile? Where are our teams fragile? And how do we overcome that? This talk helps us identify our own fragility as individuals and as teams and gives us some steps to overcome that fragility. We will also get a few skills that will helps us thrive in whatever is coming next for us.
Registration
Click here to register now.
| | Member | Non-Member |
| --- | --- | --- |
| September 19-October 16, 2023 | $645 | $1,145 |
VBA EVENT POLICIES
By registering for this event, you are agreeing to the VBA Event Policies.
VBA EVENT CANCELLATION POLICY
All cancellations will be charged a $25.00 administrative fee. Cancellations received less than 72 business hours before the program will be charged a $75.00 administrative fee plus any additional fees associated with the training. Substitutions are allowed prior to the beginning of course.
SPECIAL NEEDS
Please share any specific needs that should be considered as we plan for the conference (i.e. hearing impaired, sight impaired, etc). Please contact Kristen Reid with any details.
Hotel Information
Hotel 24 South
24 Market St
Staunton, VA 24401
The VBA has negotiated a room rate of $125/night, plus applicable taxes and fees. To take advantage of the negotiated rate, reservations must be made by September 22, 2023. Click here to make your reservation.
Thank You to Our Sponsors!
Sponsorship Opportunities Still Available
Interested in sponsoring or exhibiting at this event? Click here. To check out our complete 2023 Sponsor Brochure, click here! Contact Amy Binns for available options.