2022 Fall Bank Supervisor School
Lead Intentionally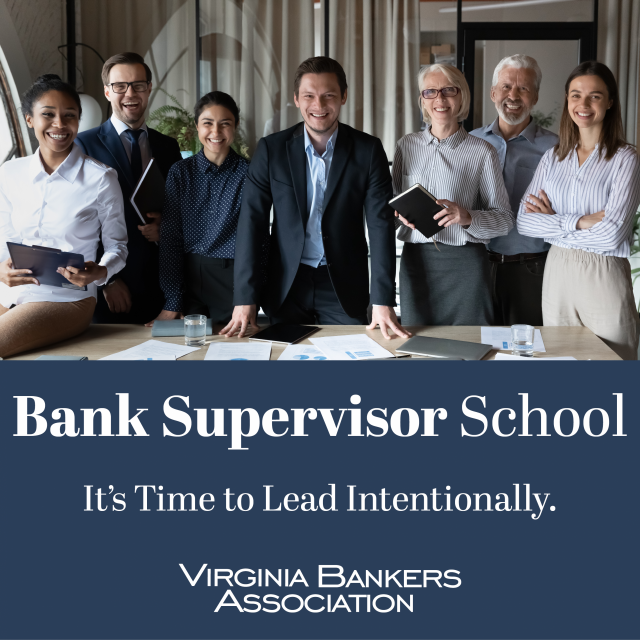 NEW IN 2022!
Managing Remote Employees
Virtual Add-On Option
See below for details
You don't master the art of leading and managing through luck; you master it with training, experience, self-learning, and applying best practices. As a supervisor, you must have the attitude, aptitude, skill-set, confidence, persistence, and commitment to excel in this multi-tasking, challenging role. This training will help take your expertise to a new level as you learn how to collaborate and coach your employees to excel on the job.
Whether new or seasoned supervisors, attendees find this in-person experiential supervisor training invigorating, motivating and applicable to managing and supervising others. You will learn how to manage crucial conversations and challenging situations. You will practice a coaching approach that encourages your staff to be engaged and accountable.
Program Highlights
Excelling at Leading, Supervising & Coaching
Understanding yourself and others
Managing professional maturity
Handling those difficult conversations with employees
Address difficult or uninspired team members
Ask the right questions using the WDEP system
Benefits of setting behavior and workplace expectations
Communicating with positive confrontation
Employee one-on-one meetings
Practice conversations
Skills in giving and receiving feedback
Assessing your Supervisor effectiveness
Equip yourself to build a productive team
Learn how to develop and utilize teamwork in your workplace
Ideas to empower and motivate within the workplace
Managing the generational gaps
Empathy, vulnerability and building trust
Creating a collaborating work environment – group discussion
Recruiting & Hiring
Training & onboarding
Performance reviews
Other topics suggested by participants will also be covered throughout the session.
Presenter
Vicki Kraai is CEO of InterAction Training. Previously, Vicki was the owner and founder of VK Solutions, a consulting company. Vicki's 25+ years of community bank experience started at the family bank in rural Nebraska, serving as a bank teller and eventually becoming CEO. Vicki's many years of banking include credit card lending experience where she was a member of the management team that launched the Cabela's credit card program.

She has a passion for developing people for success in their roles and careers. Clients and program attendees value Vicki's highly engaging "been there, done that" approach to all facets of her training and speaking engagements.

When not traveling Vicki enjoys time at home with her husband and daughters and welcomes meaningful conversations over a glass of wine.
Registration Fees & Hotel Information
The registration fees for this program are:
VBA Members: $525
Non-Members: $1025
You can register for both Bank Supervisor School-Lead Intentionally AND Managing Remote Employees (see details below) for $725 (VBA Members) and $1225 (Non-Members). If you would like to register for both programs, contact Gail Queen for registration assistance.
Hotel Information
Hyatt Place Richmond/Innsbrook
4100 Cox Road
Glen Allen, Virginia 23060
(804) 747-9644

The VBA has negotiated a room rate of $98+tax. Reservations will be made directly by individuals through the below link. Rooms must be reserved by October 14, 2022.

Please click here to make your reservation online.
VIRTUAL ADD-ON OPTION - Managing Remote Employees
Managing Remote Employees will be held November 14, 2022 from 8:30am to 11:30am.
Managing remote employees is still a hot topic for most leaders when considering their top challenges. (So if you've been wondering if you're "doing it right," you're not alone.)
This session will help managers of all levels feel more comfortable leading virtually, whether their teams are 100% remote or a dynamic combination. Participants will gain insights into common challenges, established best practices, and creative solutions in remote employee management. Each attendee will be able to identify multiple practices they can implement quickly, including options for fostering resilience and avoiding burnout, engaging trainees, utilizing simple communication techniques and leadership tips to balance human connection and productivity needs, mastering time management habits, clarifying expectations and shaping team norms, and more!
The following topics will be covered:
Managing Remote Employees
Productivity Regardless of Location
How to support your team's best productivity
How to support your own best productivity
Multi-tasking myth-busting
Time-management best practices
Work location Tips/best practices (ensuring there's a specific place to work, working hours, breaks, etc.)
2. Resilience & Stress Management
Strategies for coping with stress and anxiety
Recognizing what team members need to thrive
Tips for managing, leading, coaching, mentoring, inspiring, motivating and when to use various approaches
3. Engaging Remote Teams
Similarities and differences of in-person and remote
How do I know if they're working? (Or slacking, or burning out?)
Establishing office hours, routines, and communication protocols.
Ideas to try today: Tips from the trenches – case studies on what's worked pre and post pandemic.
4. Virtual Training FAQs
Do I need to customize to learning styles or is that passe?
What size group is ideal for virtual sessions?
What if I can't require cameras on?
How do I know they are paying attention?
How do I know if I need a moderator?
What tech works on a budget?
Platform review, hybrid case studies, assessing audience needs and preferences with a survey
Presenter
Heather Legge is a senior training specialist for InterAction training. Heather is also a certified executive coach, founder of Envision Success Inc, and author of Lead With Moxie.
Since starting her consulting career in 2006, Heather has worked with hundreds of leaders in all sizes of organization (including First National Bank, Salvation Army, Mass Mutual, Metro FCU, Cresa, Wells Fargo, CSG, State Farm, Keller Williams, Fidelity, Farmers Insurance, YMCS, Centris FCU, WIFS)
Previously, she earned her master's in business administration and spent over 15 years in multiple industries transforming organizational performance through business analysis, project management, training and employee development.
Heather is also a recovering perfectionist, data nerd, occasional runner, red wine lover, and scuba diver. She lives in Omaha, NE with her husband, Doug, and their "fur baby", Jetta, a female black lab. She enjoys food, fitness, wine, and travel, and especially when they all happen together!
Registration Fees
The registration fees for this program are:
VBA Members: $265
Non-Members: $765
You can register for both Bank Manager School-Lead Intentionally AND Managing Remote Employees for $725 (VBA Members) and $1225 (Non-Members). If you would like to register for both programs, contact Gail Queen for registration assistance.
Registration will open soon!
VBA Event Policies
By registering for this event, you are agreeing to the VBA Event Policies.
CANCELLATION POLICY
All cancellations will be charged a $25.00 administrative fee. Cancellations received less than 72 business hours before the program will be charged a $75.00 administrative fee plus any additional fees associated with the training. Substitutions are allowed prior to the beginning of the conference.
SPECIAL NEEDS & AMERICANS WITH DISABILITIES NOTICE
If you have special needs that may affect your participation in this event, please contact Gail Queen to discuss accommodations.