2022 VBA Annual Convention Recap
June 19-22, 2022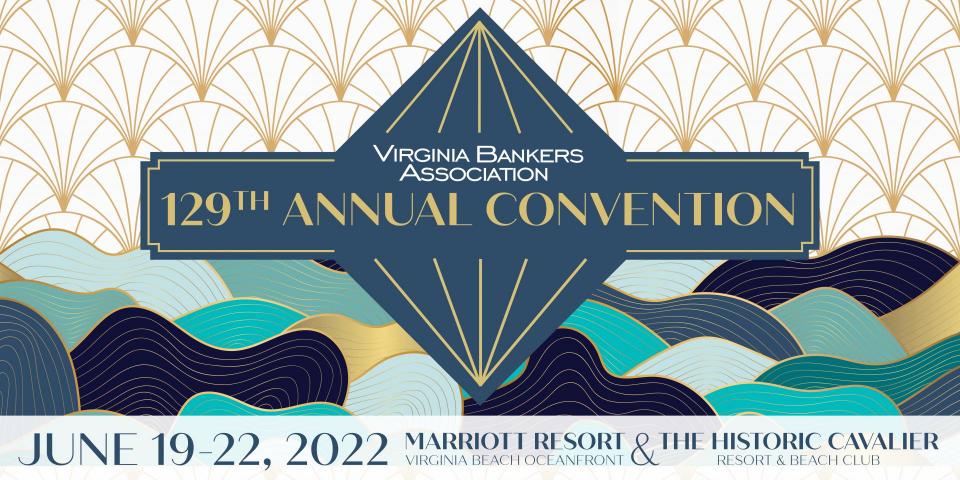 Nearly 370 bankers and industry partners joined us in Virginia Beach June 19-22, 2022, for the 129th Annual Convention. Attendees enjoyed business sessions as well as social and networking events during their time in Virginia Beach.
The event started Sunday with a Welcome Reception sponsored by Investors Title. During the Monday Business Session, Chris Bergstrom, John Marshall Bank, was installed as the 2022-2023 VBA chairman and Litz Van Dyke, Carter Bank & Trust, was installed as chairman-elect.
New York Times best-selling author Adriana Trigiani joined the Guest Program on Monday afternoon for lunch and a conversation about her latest novel, The Good Left Undone, her story of growing up in southwest Virginia, and the work that her and her team do through the Origin Project. On Monday night, attendees enjoyed dinner and an evening with the Birthplace of Country Music, featuring the band 49 Winchester and sponsored by the VBA Benefits Corporation, Marsh McLellan Agency, SageView and VOYA. Our event concluded with the Farewell Reception on Tuesday night sponsored by Bankers Insurance.
A special thank you to 2021-2022 VBA Chairman Leton Harding for presiding over the event.
Save the date for the 2023 Annual Convention June 25-28 at The Breakers Palm Beach.
Speaker & Session Information
Topics and speakers during this year's business session included:
Core Technology Market Update – David Saylor, Genesys Technology Group, LLC
Past ABA Chairs Panel, Featuring:

Betsy Duke, Former Member, Federal Reserve Board of Governors, and Past American Bankers Association and Virginia Bankers Association Chair
Jim Edwards, United Bank | Griffin, GA, and Past American Bankers Association Chair
Jeff Szyperski, Chesapeake Bank, and Past American Bankers Association and Virginia Bankers Association Chair
Moderated by Bruce Whitehurst, VBA

The Fed's Battle to Achieve a Soft-Landing in 2022 – What Are the Chances? – Dr. Ed Seifried, Sheshunoff CEO Affiliation Programs
Political Update - Margaret Talev, Axios
Balance Sheet Strategies & Considerations Utilizing the Capital & Merger Markets - Avi J. Barak and Scott Hildenbrand, Piper Sandler & Co.
President's Report, VBA BankPAC Report & VBA Education Foundation Report, featuring:

Bruce Whitehurst, VBA
Maria Tedesco, Atlantic Union Bank and VBA Government Relations Committee Chair
Scott Harvard, First Bank, Virginia and VBA Education Foundation Chair

Chairman's Remarks – Leton Harding, Powell Valley National Bank and 2021-2022 VBA Chairman
The Zeitgeist of Banking: Lies, Damned Lies, Trends, Fads and How to Tell the Difference – Jimmy Sawyers, Sawyers & Jacobs LLC
Future Trends: Is It Different This Time? – Mark Zinder, Mark Zinder and Associates
Thank You to Our Sponsors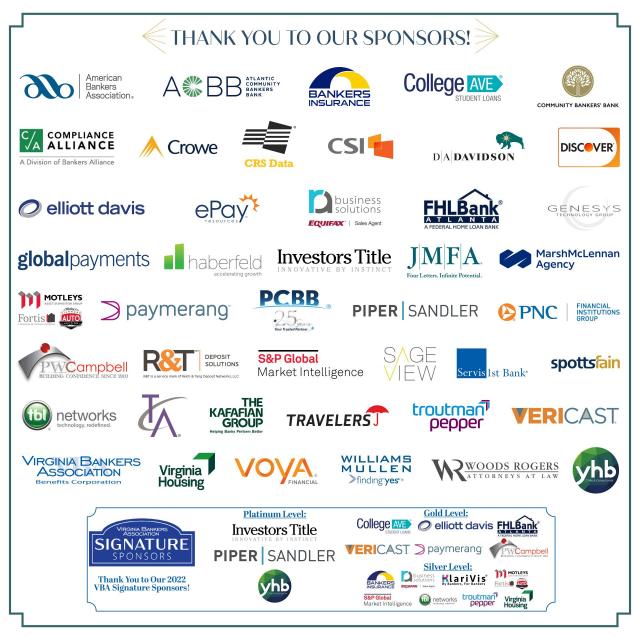 Pictures from the Event
Photo Booth Pictures