Workplace Resources for the COVID-19 Pandemic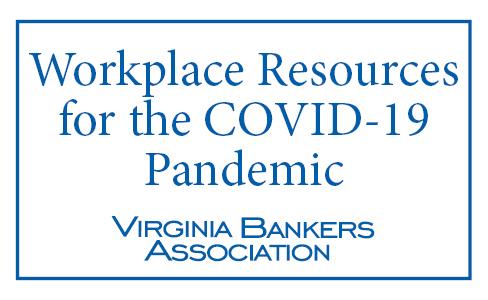 Recent Call on Vaccination Updates
The VBA has been holding virtual meetings on a variety of topics. As Virginia health districts begin to enter Phase 1C of the state vaccine distribution plan, which includes front line essential bank employees, the VBA scheduled a call on March 31, 2021 with the Department of Health to discuss how banks as employers can assist with this phase as well as provide an overall update on progress.
On the call was Dr. Danny Avula, Director of the Richmond City and Henrico County Health Departments. In January 2021, Governor Northam appointed Dr. Avula to lead the Commonwealth of Virginia's unprecedented COVID-19 vaccination effort.
Additionally, Emily Schifter from Troutman Pepper's employment law team was on the call to talk about vaccination policies and changes in workplace policies with employees becoming vaccinated.
Please see below for the resources from this call:
Department of Labor and Industry Information
Click here for the Virginia Department of Labor & Industry's Final Permanent Workplace Standards (effective January 27, 2021).
Click here for the DOLI Outreach, Education And Training For Final Permanent Standard.
COVID-19 Vaccine Information
CDC
CDC (COVID-19 Vaccine Communication Toolkit)
CDC (COVID-19 Vaccine Recommendations)
CDC (Frequently Asked Questions about COVID-19 Vaccination)
VA Dept of Health COVID Page
Click here for Virginia COVID-19 data and information on vaccine distribution.
Rappahannock Area Health District Information
The Rappahannock Area Health District is currently vaccinating phase 1A, 1B, and 1C individuals. This includes you and your employees as frontline essential workers. This also includes your janitorial or cleaning staff.
Please pre-register yourself or encourage all employees who would like a COVID-19 vaccine to pre-register at the statewide portal at vaccinate.virginia.gov if they haven't already. Make sure you/your employees select the correct occupation in the portal as this will help identify them as being eligible for the vaccine now as a frontline essential worker. If they have already pre-registered but would like to update their information they can simply go back to vaccinate.virginia.gov.
If any of your employees pre-registered over 2 weeks ago and have not been contacted to schedule an appointment, please contact the Health District and they can assist with scheduling an appointment.
Included below are several informational flyers for your reference or to give to your employees/hang up around your business.
Downloadable Posters from the Rappahannock Area Health District:
Poster 1-Essential Business Handouts
Poster 3 -Free COVID Vaccine Sign Up
Poster 4-Free COVID Vaccine Sign Up in Spanish
VAMs
Vaccine Administration Management System (VAMS) is an optional, web-based application that supports planning and execution for temporary, mobile, or satellite COVID-19 vaccination clinics, as well as traditional medical practices that do not have existing IT systems for vaccination clinic management. Using this link, individuals or employers can sign up for vaccine distribution.
Registering your organization's information in this portal with the CDC will allow you to let them (and providers) know which of your employees are eligible for the vaccine when 1C vaccines begin being distributed.
For questions and to access VAMS training materials led by VDH (i.e., slides, recordings),
contact the VDH Vaccine Unit at covidvaccineinfo@vdh.virginia.gov.
Anthem
Click here for Anthem's COVID-19 Vaccination Resource Website.
Finance Essential Workers Included in Phase 1c
The Governor announced the COVID-19 vaccination distribution plans for Phase 1b and 1c. Finance essential workers are included in Phase 1c. You can read more about Phase 1c here, including the potential order within the phase. The classification of essential workers in the financial services sector can be found on page 21 here.
In a letter on January 8, VBA and Virginia Credit Union League encouraged the Virginia Department of Health and Richmond City & Henrico County Health Departments to regard frontline bank employees as essential workers for top priority for the vaccinations within the Phase 1C sequence.
Call on Governor's Revised Executive Order on COVID-19
The VBA has been holding virtual meetings on a variety of topics. On December 16, we were pleased to have Ryan Glasgow, partner, Hunton Andrews Kurth, for a meeting on the Governor's revised Executive Order on COVID-19. Ryan also provided information on Executive Order 72 on Commonsense Surge Restrictions. Ryan represents employers and executives in labor matters and complex employment litigation and provides strategic labor and employment advice. He was joined by Heather Eastep, partner, Hunton Andrews Kurth. Heather's practice focuses on corporate and regulatory representation of small to large regional and national financial institution franchises. Heather provided an update on the Employee Retention Credit under the CARES Act before Ryan provided his update and answers to questions he frequently receives.
Following Heather and Ryan's remarks, we had an open discussion on branch operations in light of the current spike in the COVID-19 infection rate. Chairman John Asbury started off the discussion with information on Atlantic Union Bank's current strategy.
Please see below for the resources from this call:
Survey questions: