VBA Performance Excellence Conversation Series Portal
Monthly Subscription Series from Dave Martin, bankmechanics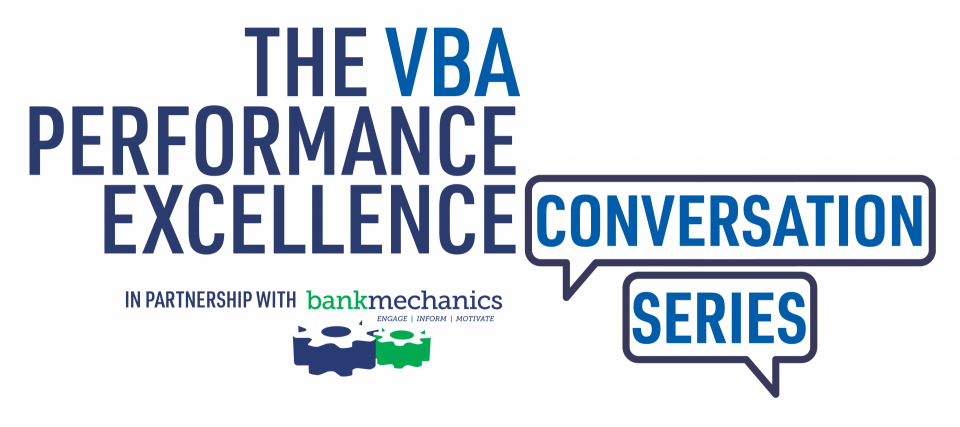 The VBA Performance Excellence Conversation Series is a subscription-based monthly audio series created in partnership with Dave Martin with bankmechanics and is designed to be utilized to engage, inform and motivate your teams. Dave uses humor, storytelling and authenticity to address topics like motivation, employee engagement, business development, culture and performance excellence.
Monthly Episodes
Sample episode – Topic: Change and Uncertainty
"There are many people out there who only hate two things. One, they hate change, and two, they hate the way things are."
Discussion Question: How will you help your teams embrace changes, big and small, coming their way in the year ahead?
April Episode – Leading By Example
"This is something lots of folks talk about, but, when you actually see it in action, you realize far fewer truly walk the walk."
Discussion Question: In what ways can you show your teams this month that you are willing to go the extra mile as well?
May Episode – Benefits of Humor in the Workplace
"Laughter suggests trust in one's companions. If people aren't comfortable enough to laugh with each other, their trust levels tend to be low."
Discussion Question: What simple gestures or behaviors can you make this month to make a healthier and happier workplace?
JUNE EPISODE – MOTIVATING TEAM MEMBERS DURING DIFFICULT BUSINESS CONDITIONS
"The harder I work, the more luck I seem to have." – Thomas Jefferson
Reflection Exercise: Take a few minutes this week to reflect on some of your past success stories when you overcame obstacles that maybe no one else knew about.
Encourage your teams: Be intentional on encouraging your team members that the work they are putting in matters.
July Episode – Make a Friend, Earn a Customer
Reflection Exercise – During these challenging and uncertain times, what are some practices you can implement to show you are an ally to your customers?
August Episode – Mentoring
If you want to truly know something, teach it to others.
Reflection Exercise – What opportunities can you intentionally set up in your bank to allow your newer bankers learn from successful veterans?
SEPTEMBER Episode – Finishing Strong & Running Through the Tape
Reflection Exercise – How can you help your team members realize that their efforts are important to a much larger group than they see every day and avoid going into "cruise control" mode?
OCtober episode – Cultures of Accountability
Nobody is responsible for everything but everyone is responsible for something.
Reflection Exercise - How are your leaders creating a "culture of accountability" to help their teams succeed?
November Episode – The Art & Science of Customer Service
Reflection Exercise - What are the key factors at your bank that every customer should encounter when doing business at your bank? How do you train your staff on these?
May 20th Live Session Information & Recording
Building Resilient Cultures and Winning Bank Teams
Building resilient cultures and winning teams requires more than a solid playbook or charismatic personalities. Effective bank leaders must focus on communicating, modeling, and applying values that create a place of business that good people want to be a part of. Team members at all levels of our organizations should strive daily to support each other in ways that maintain a culture they are proud of and that customers are drawn to. Bank technology gets better and more ubiquitous over time. In the long run, however, it does not tilt the playing field. It levels it. It will not truly differentiate one bank from another. Companies who attract, develop, and retain the best people will win. Always.
Dave will give his unique perspectives on business and banking in a post-pandemic, but turbulent economy. He will share practices to boost morale, raise engagement, build resilience, and lead winning bank teams into the future, followed by a Q&A session with participants.
Recording
View the live recording of the May 20 session, Building Resilient Cultures and Winning Bank Teams here (Passcode: ?j?=u%^6)
Testimonial
"At the VBA, we get to help bankers keep up with emerging trends and changes that affect our industry and the workplace. The last two years have been full of change, to say the least! That's why we are excited to partner with Dave Martin of bankmechanics to offer a monthly series for leaders at all levels in your bank. These episodes are sure to be terrific conversation starters for teams and their leaders to discuss changes, challenges and opportunities to shine in our rapidly evolving industry."
- Bruce Whitehurst, VBA President & CEO