Mid-Atlantic Bank Executives Forum Attendee Portal
An Event for Bank CEOs and Senior Leadership
This event, brought to you by five states (DE, MD, PA, VA and WV) will bring together bankers and industry partners for sessions with nationally recognized speakers providing relevant and timely content geared specifically to bank CEOs and other senior leaders.
2022 Mid-Atlantic Bank Executives Forum Agenda
Sunday, september 11, 2022
5:30 – 6:30 p.m. Welcome Reception
Dinner on your own
Monday, September 12, 2022
9:30 a.m. Registration
10:00 – 10:05 a.m. Welcome & Remarks
10:05 – 11:05 a.m. Political Update Rob Engstrom | ABA
11:05 a.m. – 12:00 p.m. Balance Sheet Strategies in a Rising Rate Environment Ryan Hayhurst | The Baker Group
Two years after the pandemic left financial institutions drowning in excess liquidity at historically low interest rates, the industry faces a new challenge… rising interest rates. The Fed has quickly pivoted from supporting the economy to fighting inflation and institutions are now facing the first rising rate environment in years. Regulators have watched with concern as loan and investment durations extended to record highs is a search for yield and will likely renew their focus on the Investment Portfolio and Interest Rate Risk Management in 2022. This seminar will examine all of these concerns and present actionable strategies to better prepare your institution for an uncertain 2022.
12:00 – 1:00 p.m. Lunch
1:00 – 1:55 p.m. Cryptocurrency Adoption Opportunities for Financial Institutions Patti Wubbels | Strategic Resource Management
Blockchain technologies and their instant payments capabilities are on fintech's horizon, but what does crypto mean for financial institutions now and into the future? This presentation is a curated summary of recent news and emerging use cases around cryptocurrencies, tailored for financial institutions. It focuses on the trends, potential impacts, new policies, and reasons why there's a need to prepare for blockchain driven changes immediately.
Session Key Takeaways:
Overview of recent crypto disruptions in financial services
Possible long-term recalibrations for the financial services industry
Strategies to weave crypto into long-term payments decisions
1:55 – 2:10 p.m. Networking Break
2:10 – 3:05 p.m. Strategic and Regulatory Considerations of Growing Your Financial Institution Tom Milburn & Drew Throckmorton | YHB
In the evolving banking environment, many financial institutions are examining options for growth and expansion. We will examine the many considerations as your financial institution considers strategies for growth (organic or through acquisitions), going public, as well as the regulatory and market expectations and requirements of that growth. Specific topics will include:
Going public and SEC reporting
SOX and FDICIA implications of asset and capital growth
Holding company formation
Mergers and acquisitions (regulatory, accounting and operational considerations)
Listing standards of Nasdaq and other markets
3:05 – 3:20 p.m. Networking Break
3:20 – 4:15 p.m. Rebalance 2022: Time for a New Strategy Scott Florini | NewGround
The financial services industry just experienced the single most transformational moment in its history. The worldwide pandemic brought the banking and retail industries to its knees as face-to-face experiences closed. The financial services, retail, hospitality, and restaurant industries locked their doors to consumers, forcing interaction through mobile and digital channels. Simultaneously, corporations deployed remote workplace strategies and sent employees to work from home as stay-in-place orders were issued. Companies had to rapidly create a remote strategy and then deploy their workforce with little to no formal training, adequate technology, or communications protocols in place. The result of this radical change is a financial services industry that has reached the tipping point, with radically altered consumer and employee behaviors changing forever. Financial institutions must now realign their retail and corporate workplace strategies to replace ones that are now obsolete or irrelevant. This reset process begins by realigning your leadership team around a new vision of the pathway forward with a post-pandemic branch strategy.
6:00 – 7:00 p.m. Reception
7:00 p.m. Dinner
Tuesday, september 13, 2022
7:00 – 8:00 a.m. Breakfast
8:00 – 8:50 a.m. Economic Update Dr. Lindsey Piegza | Stifel Financial
Chief Economist Dr. Lindsey Piegza will look at the current state of the economy amid the ongoing pandemic and what it means going forward for overall growth, interest rates and monetary policy. She will cover macro-economic trends in consumer spending and investment, in addition to new monetary and fiscal policy initiatives and the potential economic effects of these changes. She will also examine the changing global and political environment, and how it will affect the economic recovery. Participants will leave this session able to advise management teams on the possible effect of economic issues on their organizations.
8:50 – 9:45 a.m. Rise of Human-Operated Ransomware​ Will Nowik | Wolf & Company, P.C.
Ransomware isn't a new phenomenon. In fact, it's been plaguing organizations for years, preying on weaknesses in security systems to steal data and compromise systems. The FBI's Internet Crime Complaint Center reported 2,084 ransomware complaints from January to July 31, 2021. This represents a 62% year-over-year increase. We'll dive into recent trends in ransomware—looking at where it is now, where it's going, and steps you can take to protect your organization. From detection and prevention strategies to effective response procedures, we'll detail what you can do to secure your systems before attacks happen, and what you need to do during an attack to contain and mitigate damage.
In this session, you will learn:
Tactics and techniques used by ransomware operators during an attack
Evolution of security testing requirements to help mature ransomware resiliency
Specific strategies to mitigate and detect a ransomware attack
9:45 – 10:00 a.m. Networking Break
10:00 - 11:30 a.m. Closing Keynote: Exploring the Future of Work Grant Millsaps | Frontier
The last few years have made it abundantly clear that work as we once new it (pre-pandemic) might never be the same. If you read the headlines it seems like every week a new employee or employer trend emerges. These trends and emerging challenges are generating disruption across every sector and for every leader. In this session, Grant Millsaps will help you explore what the future of work might be, and uncover practical strategies for how you can be an employer of choice in a dynamic marketplace.
*Agenda & speakers subject to change.
2022 Session Materials
Monday, September 12, 2022
Political Update Rob Engstrom | ABA
​Presentation will not be provided
Balance Sheet Strategies in a Rising Rate Environment Ryan Hayhurst | The Baker Group
Cryptocurrency Adoption Opportunities for Financial Institutions Patti Wubbels | Strategic Resource Management
Strategic and Regulatory Considerations of Growing Your Financial Institution Tom Milburn & Drew Throckmorton | YHB
Rebalance 2022: Time for a New Strategy Scott Florini | NewGround
Tuesday, september 13, 2022
Economic Update Dr. Lindsey Piegza | Stifel
Rise of Human-Operated Ransomware​ Will Nowik | Wolf & Company, P.C.
Closing Keynote: Exploring the Future of Work Grant Millsaps | Frontier
​Presentation will not be provided
2022 Mid-Atlantic Bank Executives Forum Speakers
Rob Engstrom | American Bankers Association
As ABA's chief political strategist, Rob Engstrom leads ABA's political engagement operations including the association's political action committee, grassroots advocacy and voter education initiatives. In his role, he also oversees the alliance between ABA and state bankers association partners across the country. Rob is the founder of Wolfe Street Partners, a full service strategic advocacy firm that advises trade associations, corporations and state and local chambers of commerce. He is a regular speaker on political and advocacy issues for a range of audiences. Previously, he served in a variety of capacities at the U.S. Chamber starting in 2002, most recently as senior advisor and senior vice president and national political director. Leading the group's national political, grassroots and election-related activities, he was the Chamber's chief liaison to nearly 2000 state and local chambers of commerce and trade associations. Prior to that, he served as senior vice president of political and state affairs for the U.S. Chamber Institute for Legal Reform, where he directed all state-level voter education, grassroots and advocacy efforts. Earlier in his career, Rob worked as director of political education at the Republican National Committee and on Speaker Gingrich's campaign. He has extensive campaign experience and was recognized by Campaigns & Elections magazine as one of the top 50 influencers in the 2014 election. Rob resides in Alexandria, Virginia, with his wife Celina. He was raised in Atlanta, and is a graduate of Baylor University in Texas.
Scott Florini | NewGround
Scott oversees all Strategy services at NewGround, which includes developing in-depth market and economic studies, workplace strategies, and feasibility analyses. The Strategy Team conducts field work, on-site Discovery sessions, and collaborates with NewGround's Design and Environmental Teams to provide the best facility solutions for clients. Scott has over 25 years of experience in consulting for financial institutions and is driven to solve problems and share knowledge with our customers and team members. Scott has a knack for remembering places, directions, and geography, and when traveling he tries to visit as many historical sites as possible! In his spare time, Scott also enjoys playing golf and watching baseball.
Ryan Hayhurst | The Baker Group
Ryan W. Hayhurst joined The Baker Group in 1991 and is the President and member of the Board of Directors. Hayhurst serves as Manager of the Financial Strategies Group and oversees the design and implementation of investment and asset/liability strategies for financial institutions. He is also integrally involved in the continued development of the firm's proprietary software designed to assist clients in the management of their investment portfolios and their overall interest rate risk profiles. Hayhurst regularly develops and presents educational seminars nationwide, with a focus on investment and interest rate risk management. He is a frequent speaker at financial institution conventions and investment conferences, and has served as a faculty member of several national and regional banking schools. Hayhurst holds a Bachelor of Business Administration degree from the University of Oklahoma.
Thomas L. Milburn, CPA | YHB
Tom joined YHB in 1997 and specializes in auditing and consulting for financial institutions. Tom is an expert in external/internal auditing of publicly traded banks, SEC reporting, and FDICIA/PCAOB/SOX compliance. Tom is a regular speaker at industry association conferences, seminars, webinars, and podcasts. He is a graduate of Virginia Tech, leads YHB's training efforts, coordinates the PCAOB inspection process, and serves on the firm's board of directors. Tom also serves on the board of directors of the Virginia Society of CPAs.
Will Nowik | Wolf & Company, P.C.
Will is a Principal in Wolf's Advisory Group and the Firm's Chief Information Security Officer. He also leads Wolf's New Jersey office, where he manages a team of professionals to ensure his clients receive information technology (IT) services tailored to their individual needs. Prior to joining Wolf in 2002, Will was an internal IT auditor at Staples, Inc. Will resides in Bucks County, Pennsylvania with his wife and children. When he's not helping clients secure their cybersecurity environment, he enjoys spending time with his family and playing golf, football, and basketball.
Dr. Lindsey Piegza, Ph.D. | Stifel Financial
Dr. Piegza is the Chief Economist for Stifel Financial. She specializes in the research and analysis of economic trends and activity, world economies, financial markets, and monetary and fiscal policies. Prior to her role with Stifel, she was the Senior Economist for an investment bank in New York City for eight years consulting clients in the U.S., Europe, Asia and the Middle East. A highly sought-after speaker across national and international forums, Lindsey is often quoted in the business press. She is a regular guest on CNBC, Bloomberg, CNN and Fox Business, as well as national radio and other business news outlets. Lindsey is also a monthly op-ed contributor for The Hill. In addition to her role with Stifel, Lindsey is an instructor at the Pacific Coast Banking School, a member of the Chicago Federal Reserve Advisory Committee and a well-respected author. Lindsey has published numerous academic papers in prestigious journals such as the Harvard Business Review and in textbooks from Northwestern University's Kellogg Graduate School of Management. Lindsey is a member of the National Association for Business Economics (NABE) and American Economic Association (AEA), and named a 2019 Women of Influence by the Chicago Business Journal. She holds two degrees from Northwestern University in political science and economics, and earned her Ph.D. in economics from the City University of New York. She is a native of Chicago and is based in Stifel's downtown Chicago office.
Andrew D. Throckmorton | YHB
Drew joined YHB in 2009 and became a Certified Public Accountant in 2010. Since joining the firm, Drew has worked exclusively for YHB's financial institutions team. Because of this industry expertise, Drew excels in conducting internal, external, and SOX 404/FDICIA audits to financial institutions throughout the Mid-Atlantic. He also has extensive experience working with SEC and financial reporting and SOX/FDICIA implementation and consulting. Drew's extensive knowledge of the financial institutions industry enables him to meet the full range of a client's accounting service needs.
Patti Wubbels | Strategic Resource Management
Patti has over 20 years of business development experience and over 16 in the banking industry. She is a Certified Cryptocurrency Expert via the Blockchain Council. Before joining SRM, she spent three years helping financial institutions across the US with their vendor oversight programs and three years at Jack Henry & Associates. Patti helped launch SRM's crypto advisory, delivering education and strategic planning services for financial institutions integrating cryptocurrency and blockchain concepts and technology.
Attendee Roster
Click here for the latest attendee roster.
Hotel & Meeting Space Information
Lansdowne Resort & Spa
44050 Woodridge Pkwy
Leesburg, VA 20176
Complimentary self-parking is available for all attendees.
The Forum sessions will be held in the Faulkner Room. Click here to access the floorplan and see where all Forum functions will be held.
Thank You to Our Sponsors!
Thank You to our program sponsors! To learn more about each, click here.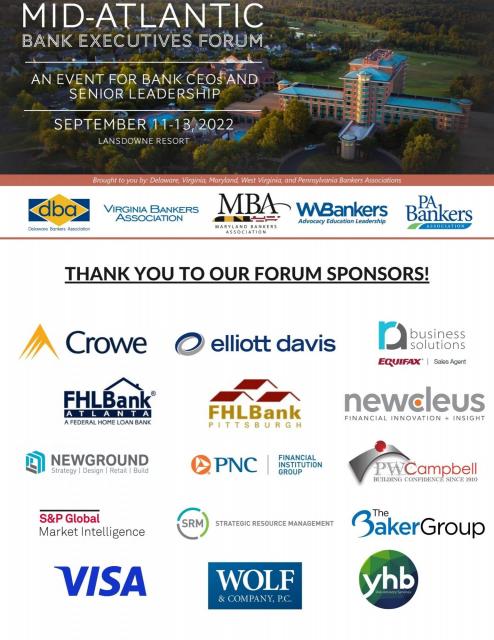 Questions? Please contact Amy Binns.
Event & Cancellation Policies
EVENT POLICIES
By registering for this event, you are agreeing to the Event Policies.
CANCELLATION POLICY
All cancellations will be charged a $25.00 administrative fee. Cancellations received less than 72 business hours before the program will be charged a $75.00 administrative fee plus any additional fees associated with the training. Substitutions are allowed prior to the beginning of the conference.
SPECIAL NEEDS & AMERICANS WITH DISABILITIES NOTICE
If you have special needs that may affect your participation in this event, please contact Kristen Reid to discuss accommodations.