Bank School Class of 2024

Bank School Class Schedule, Cohort Assignments & Map of Darden Campus
All 1st year classes will be held at the Darden School of Business at University of Virginia. Please note that for the first year students, classes will take place in the Abbott Auditorium at Darden from Sunday-Tuesday. Wednesday-Friday, cohort A will meet in classroom 140 and cohort B will meet in classroom 150.
Cohort Assignments
Class Materials
Notes page template
Feel free to download and save as many copies of the below template for note taking purposes in your classes!
Organizational behavior – kerry sauley
Pre-Work:

Complete the the personality scales (locus of control and self-monitoring) on pages 1 thru 4 in Handouts document below.

Class Materials:
Commercial Banking – Gary Higgins
Economic environment – Dr. Ed Seifried
Strategic Marketing – Erin Black
Bank Financial Management I – Michelle Austin
Pre-Work:
Class Materials:
Ethical Decision making – richard coughlan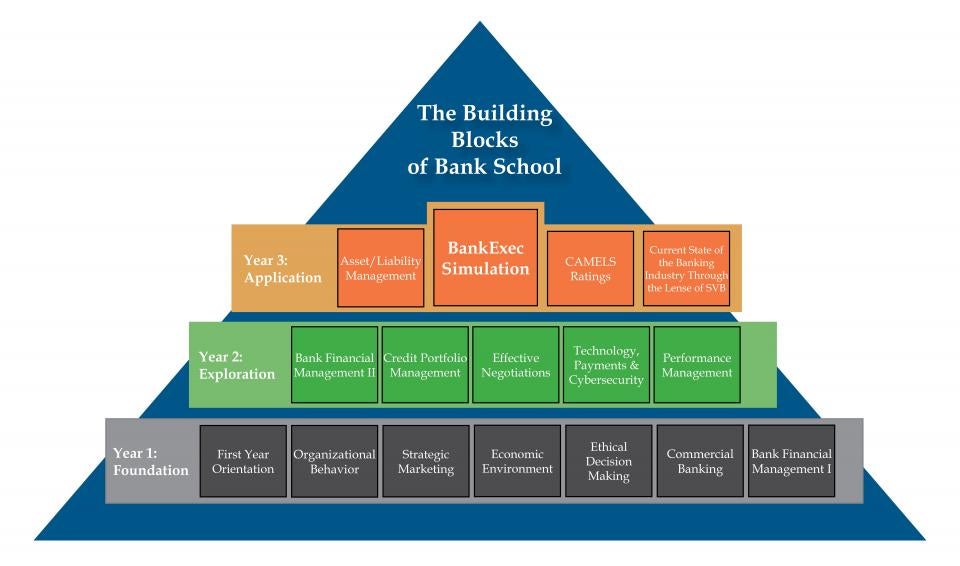 Home Study Assignments
Along with attendance at all classes during the Bank School summer session, completion of eight home study problems (4 after the first year and 4 after the second year) with a passing grade is required to graduate from the Virginia Bankers School of Bank Management.
Economic Environment (Seifried): October 3, 2022
Ethical Decision Making (Coughlan): November 1, 2022
Commercial Banking (Higgins): February 1, 2023
Strategic Marketing (Black): March 1, 2023
Instructions & Bank School Honor Code
It is very important that you submit your home study assignments correctly as some instructors will deduct points for formatting. Please be sure to read the instructors directions carefully and if instructions aren't included follow the outline on the Bank School Home Study Instruction Sheet & Bank School Honor Code.
Honor Code
The Virginia Bankers School of Bank Management students are expected to conduct themselves in accordance with the highest standards of honesty and integrity in the classroom, outside of the classroom and on the home study problems. Home Study problems are individual assignments meaning you are to work on the assignment ALONE and are not to discuss the questions, potential answers, strategy, research or data resources with another Bank School student. Also, please do not send your completed paper to another student as an example. Any evidence of shared work will be considered an honor code violation.
The honor code is:
On my honor, I pledge that I have neither given nor received assistance on this assignment and that all work is my own.*
Violations of the Honor Code include:
Plagiarism-An act or instance of using or closely imitating the language and thoughts of another without authorization and the representation of that author's work as one's own, as by not crediting the original author.
Cheating-Receiving, giving and attempting to receive or give unauthorized assistance, such as materials, information, notes or sources, on home study problems.
You may seek assistance from a subject matter expert in your bank as part of your research BEFORE you start to write your papers. The subject matter expert cannot be another Bank School student.
Submission
All Bank School assignments should be uploaded here. For each assignment, you will complete a form with basic information as well as an evaluation of the home study assignment.
Home study Assignments & Pre-Assignment zoom Recordings
October 3, 2022: Economic Environment (Seifried)
View the pre-assignment Zoom recording here.
November 1, 2022: Ethical Decision Making (Coughlan)
View the pre-assignment Zoom recording here.
February 1, 2023: Commercial Banking (Higgins)
View the pre-assignment Zoom recording here.
March 1, 2023: Strategic Marketing (Black)
Class Dues Info
How much are the class dues?
The class dues for all three years is $150 (total). Someone brought up the point that we shouldn't use the word "annual" which is a really good point and something that we will change!
What are the class dues used for?
There are several things this money goes towards. The first year class gift that you will give to the next year's incoming class (you all received the mugs this year from the class of 2023), covering the upfront costs of your fundraiser as well as the drink tickets or whatever your class chooses to offer, costs associated with the 3rd year party and a donation to your charity organization.
Why do I pay for all three years at once?
Many of the charges listed above are either paid between the first and second year or very early in the fall after your second year wraps up. This allows the class officers to make the payments and be able to provide a great first year gift, secure a location for the charity event (and pay whatever fees the location is charging at the time of booking) and book your DJ for your class party. If we tried to collect dues each year, doing this would be near impossible.
How can I pay?
You can pay by check or ACH. We don't do credit card payments as the service fee would be pinged against the class (and therefore impacting what you can do in social events and with your charity donation). If you have questions about paying your dues, contact your class treasurer, Chris Biby.
My bank is saying that the check/ACH needs to be sent to the VBA…what do I do?
While it is easier if the check can be sent to directly to your class treasurer, we understand that this happens. If you know your bank is sending it to the VBA (either check or ACH), please shoot Kristen Reid an email and copy Chris Biby so we are both in the loop. That way he will know your payment has been sent and I can be on the lookout for the payment or let the VBA's accounting department know we will be receiving the ACH.
Is paying the dues required?
Yes. Paying the dues in full between the first and second year is a requirement for Bank School. Your banks know this charge is coming, but if you are running into any questions with your manager, training or accounting departments you can connect me with them (I had one bank reach out to make sure it is a legit charge and not some kind of scam and once I connected with them, they were fine to process the payment).
Who do I contact with more questions?
If you have questions not addressed above as to why we have the class dues/process for paying, please contact either Kristen Reid or Hannah Hedden. Any questions about how to submit payment, please contact Chris Biby.
Bank School Newsletters
Week of Newsletters:
Prior to the Start of School:
Class Officer Contact Information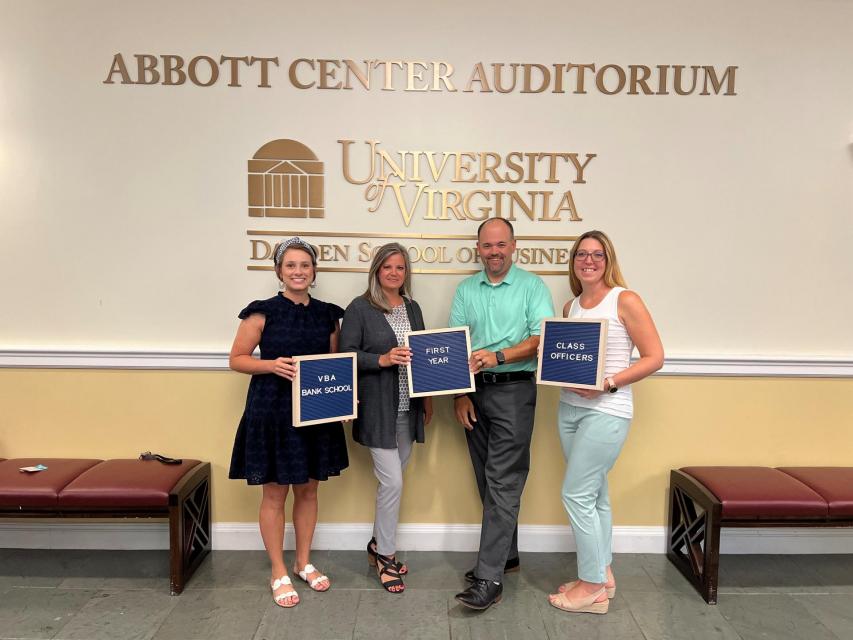 President
Danielle Atwood - Danielle.Atwood@cbtcares.com
Carter Bank & Trust
Vice President
Julie Lineberry - julie.lineberry@townebank.net
TowneBank
Treasurer
Chris Biby - chris.biby@bankwithunited.com
United Bank
Secretary
Jennifer Grant - jennifer.grant@townebank.net
TowneBank
VBA Staff Contact Information
Class Liaisons
Bank School Management & Oversight
Stay Engaged with the VBA!
We hope that you'll continue to stay engaged with the VBA during the year! You'll be hearing from your class president and VBA staff members periodically throughout the year with updates and information. Be sure to check out the opportunities below to stay connected with your classmates and other Bank School alumni!
View the VBA Event Calendar here.
Join the Emerging Bank Leaders here.
Sign up for VBA publications here.