2021 Essex Bank/VBA Bank Day Scholarship Program Student Resources
Resource Page for Maryland Students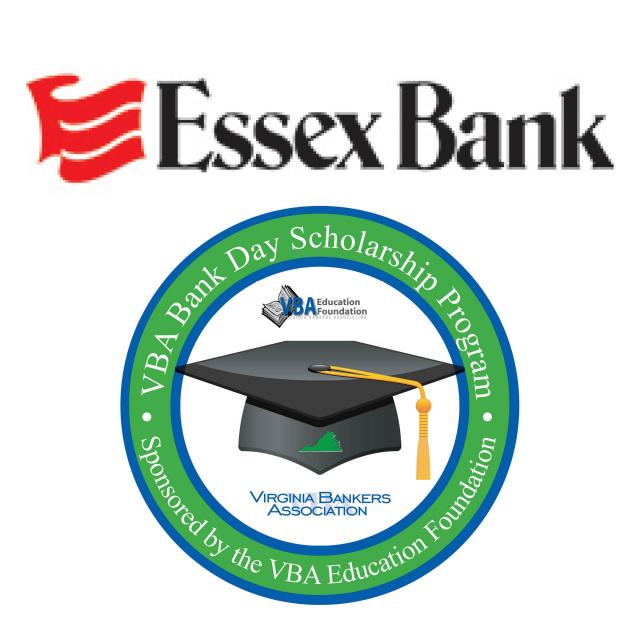 Welcome to the virtual Essex Bank/VBA Bank Day Scholarship Program! This page is dedicated to resources for students participating in the virtual Bank Day Scholarship Program. Students will have access to this page from March 15-April 2.
Essex Bank is headquartered in Virginia, but has a branch presence in Maryland and works to ensure scholarships are available for students in both states. We encourage your participation. Please contact Jamie Covey at Essex Bank with any questions about the scholarship program at jcovey@essexbank.com or 804-698-0773.
Student participation criteria reminders:
Student must currently be enrolled as a high school senior.
Student must hold a 3.0 or higher GPA.
Student must be a resident of Maryland.
Student must attend a high school in the state of Maryland.
Scholarship Amounts: $1,000 will be Awarded by Essex Bank* in 2021 to a High School Senior
*Please note that Maryland residents are not eligible for the Virginia VBA Bank Day scholarships due to residency, but are eligible for the Essex Bank awarded scholarship.
Welcome Message from Scott Harvard, CEO of First Bank, Virginia and VBA Education Foundation Chair
Program Timeline
March 15-April 2: Students have access to the Bank Day resources
April 2 by 5:00 p.m.: Student essays are due to Essex Bank. Please see the Essay Information section below for more information about essay submission.
By the end of April: Essex Bank Scholarship Winner will be announced
Essay Information
2021 Bank Day Essay Topic: What did you learn through your Bank Day experience or from Bank Day resources that will help you manage your financial future AND what did you learn about how banks support their communities?
Please remember that the essays are due to Essex Bank by April 2, 2021 at 5:00 p.m.
Essay guidelines
Essay must be typed in English within ONE Microsoft Word or Google document (please do NOT submit PDF documents).
Please submit your document with the following file name format: "First Name Last Name"
Essays must not deviate from the assigned topic. Essay MUST address both parts of the essay topic.
Do not use any Microsoft or Google templates or pre-formatting in your document.
Essay must be typed in 12-point Times New Roman font.
Page set-up must include 1.5 lines spacing with all margins set to 1 inch.
Include a title page (separate page within the Word/Google document containing your essay, not a separate document) with the following information:

Name
E-mail address
Phone number
School's name
Date submitted
Title of essay

Do not include your name or any personal information on any page other than the title page.
Essay is limited to two pages (not including the title page or works cited page). Writing beyond this limit will result in disqualification.
Those who plagiarize will be disqualified. All ideas must be your own. Any references must be cited.
Essay Submission Information
Essays must be submitted to Essex Bank by April 2nd at 5 p.m.
You can view a PDF of the essay guidelines here.
Essay Selection Criteria
Student essays are assessed by a committee of Essex Bank associates from VA and MD. Student names and schools will be removed from the essays prior to scoring. One VA essay will be selected and awarded one of the two $1000 Essex Bank scholarships and one MD essay will be selected and awarded one of the two $1000 Essex Bank scholarships.
Essays are scored using the following rubric:
Content: 40 Points

Adherence to essay topic
Logical interpretation of the topic; easy to follow

Creativity: 40 Points

Interesting and thoughtful presentation of the topic

Accuracy: 20 Points

Grammatically correct
Proper format, adherence to essay guidelines (please see essay guidelines above for more information on how to structure the essay)
Resources: Watch
Through this series of videos, you will learn more about the banking industry, ways to manage your financial future, careers in banking and the ways that banks support the communities they serve.
The State of the Banking Industry: A Look Back and a Glance Forward
Presenter: Bruce Whitehurst, Virginia Bankers Association
In this video, VBA President & CEO Bruce Whitehurst provides an overview of the VBA and the current banking industry landscape, as well as discusses two of the most challenging periods in recent years – the 2008 financial crisis and great recession and the pandemic – and those periods' effects on banking. This video will enable to you to better understand the banking industry and issues that are at the forefront of bankers' mind during this unprecedented time.​
View Bruce's presentation on the banking industry here.
Banking fundamentals
Presenter: Jennifer Knighting, Oak View National Bank
In this video, you will learn about the different financial institutions, advantages of being "banked", basic services provided by financial institutions, and ways to avoid common debt problems.
View Jennifer's presentation on banking fundamentals here.
View the Banking Fundamentals PowerPoint Here!
banking 101
Presenter: Jamie Covey, Essex Bank
In this video, you will learn about basic bank function, bank structure, and products and services offered by financial institutions.
View Jamie's presentation on Banking 101 here.
View the Banking 101 Participant Guide Here! (Microsoft Word)
View the Banking 101 Participant Guide Here! (Google Doc)
Understanding credit
Presenter: Lynda Phillips, Old Point National Bank
In this video, you will learn about the information used to make up your credit score, the importance of a good credit rating, and ways to check your credit annually.
View Lynda's presentation on understanding credit here.
View the Understanding Credit PowerPoint Here!
Careers in Banking Video Series
Presenters: Nathalia Artus, Atlantic Union Bank; Ryan Eisenberg, TowneBank; Jamie Johnson, Farmers Bank; Nicole Martin, Benchmark Community Bank; Amy Mellinger, Powell Valley National Bank; and Marcus Wade, Bank of Botetourt
In this series of videos, you will learn about different careers in banking and what personality traits, skills and courses support each of the job functions at a bank.
View the Becoming a Banker PowerPoint Here!
community engagement panel
Panelists: Terry Parker, TowneBank; Dale Schuurman, JPMorgan Chase; and Sherry Williams, Chesapeake Bank
In this video, Terry, Dale and Sherry discuss the variety of ways banks across Virginia support the communities they serve. They discuss the industry's role in financial education, diversity, equity and inclusion, and other partnerships with community organizations. In this video, Terry references the Paycheck Protection Program (PPP). To learn more about PPP, see the three-part podcast series linked in the Resources: Listen section on this page.
View their discussion here.
other video resources
Resources: Read
Students are STRONGLY encouraged to check their virtual host bank's website and social media platforms for more specific information about ways the bank supports your local community. Consider searching for the bank's most recent Annual Report or Letter to Shareholders on their website.
Resources: Listen
Understanding Student Loans: Resources from VBA Associate Member College Ave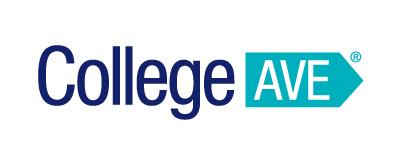 Through these videos and blog posts provided by VBA Associate Member College Ave, you'll learn more about the student loan process and tips for paying for college.
Videos and Blog Posts:
Other Resources from College Ave:
college ave $1,000 scholarship monthly sweepstakes
As an additional scholarship opportunity, you can enter to win a $1,000 College Ave Student Loans scholarship. They'll choose one lucky winner each month, so be sure to check back each month to enter! Learn more and enter here.