Virginia Bankers School of Bank Management (Virtual)
The premiere, multidimensional educational experience in banking
Through the use of highly qualified instructors and a challenging curriculum, the Virginia Bankers School of Bank Management is designed to provide a multidimensional educational experience in banking. Through completion of three one-week summer sessions and eight home study problems, students will develop a range of skills that should both enhance current performance and qualify them as candidates for advancement.
The School is held at the University of Virginia's Darden School of Business. The University, with its wide respect in the national business community and beautiful grounds designed by Thomas Jefferson, provides the ideal setting for this learning experience.
Employing lectures, case studies, home study problems and peer study groups, the School provides a vehicle for each student to experience comprehensive learning.
The faculty is a blend of the best from the banking, professional and academic worlds.
Admission Requirements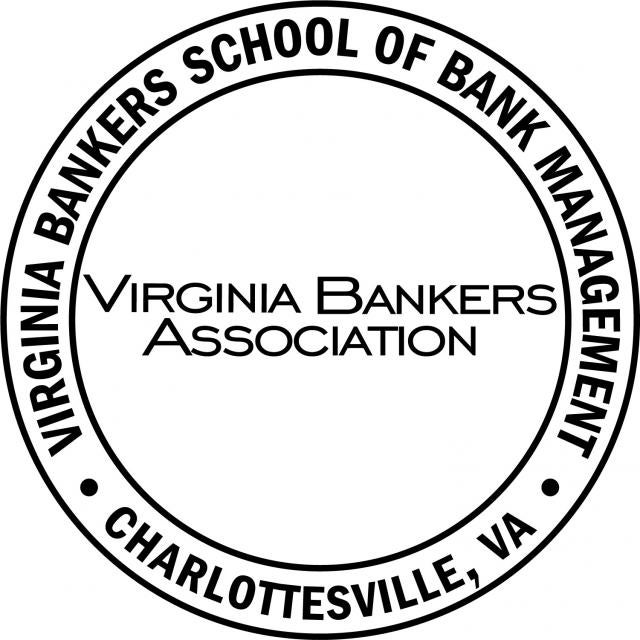 For admission, an applicant must:
be employed by a VBA member bank;
have a college degree and two years banking experience, or a high school diploma and five years banking experience;
have successfully completed at least one course in basic accounting; and
be recommended by the bank's CEO or a senior officer.
Enrollment for the first-year class is limited to 72 students.
Applications will be considered by the School Admissions Committee using the above criteria. Applicants not admitted will be pre-approved or encouraged to apply the next year assuming they meet the admission requirements. Registration materials and an invoice for tuition will be sent to applicants after acceptance into the school.
Accounting Course Requirement
In 2020, the VBA will be offering an in-person training at the VBA Training Center that will satisfy the requirement for students who need the accounting course. The training will be offered on two different dates to help accommodate schedules (June 9 & July 7) and students will have the option which day they wish to attend. Each class will be limited to 20 students.
In some instances, the Admissions Committee may recommend/require an accounting course be taken, even if the student has completed a course in the past as a part of admission. If there is space available, all incoming first-year students are welcome if they wish to have an accounting refresher.
2020 School of Bank Management Brochure & Application
Download the 2020 Bank School brochure.
2020 School of Bank Management Application
Applications for the 2020 resident session are now being accepted. Click here to apply.

If you have any questions about the program, please contact Kristen Reid (kreid@vabankers.org).
Tuition, Room and Board
2020 Tuition: $1,175
Tuition is per year and covers instruction, materials, breakfast and lunch daily and Sunday's opening dinner.
In 2020, students will be stay at one of three Charlottesville hotels. The cost of the hotel room, including taxes, will be between $800-900 for the week for a single and $400-$450 for the week if the student chooses to share a hotel room. Reservations will be the student's responsibility and payment will be made directly to the hotel for the room.
Information to make reservations will be sent to all students in early May.