VBA Annual Convention 2021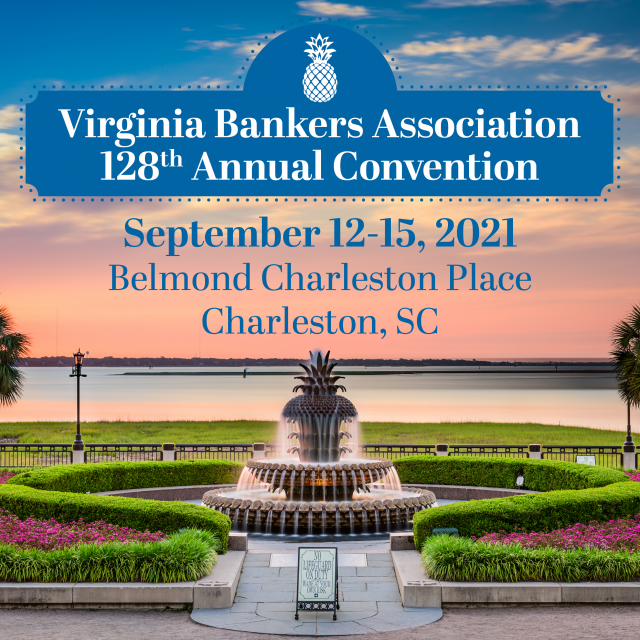 To be held at the Belmond Charleston Place in Charleston, South Carolina, an exciting first-time location for our event, the 2021 Convention will combine a great lineup of speakers on timely topics and networking with bankers and industry providers. We have all had more than our share of disruption – to say the least – over the past year, and we hope that this September event will be a time to finally come together, enjoy each other's company and educate ourselves on industry topics together.
Convention Dates & Information
dates
September 12-15, 2021
Location
Belmond Charleston Place
205 Meeting Street
Charleston, South Carolina 29401
Mixing a mild climate with Southern charm, Charleston, South Carolina is located in the Lowcountry, midway between Myrtle Beach and Hilton Head Island. It offers visitors beautiful beaches, salt marshes, quaint streets and forts. The historic Downtown sits on a peninsula a stone's throw from the Atlantic Ocean. It is one of the oldest and best-preserved cities in the American South.

As one of the most beloved downtown Charleston hotels, Charleston Place is situated in the heart of the city. Just steps away you'll find the famous open-air market, notable restaurants and historic sites. Consistently voted the #1 Travel Destination in the US by Condé Nast Traveler readers, Charleston offers a host of activities to suit every desire.
Click here for maps and more.
Attire
Attire for all VBA events is resort casual. Dress requirements may vary with the specific restaurant or activity.
About the Belmond Charleston Place and COVID-19 Safety Precautions
Charleston is open and ready for us! Watch a video update or click here for Charleston information on COVID-19, including guidelines, protocols and a PSA. Click here for the safety practices of the Belmond Charleston Place, as well as a message from their CEO and their FAQs on their cleaning practices, special arrangements and more.
Additional Hotel Information
Reserving Your Room
Please contact the hotel directly to reserve your room by August 13, 2021. Any reservation requests after this date will be accepted on an availability basis at group rates plus any applicable taxes.
Individual attendees can make their room reservations by calling 1.800.831.3490 or via email at groupres.cph@belmond.com. Please make sure to reference this meeting ("VA Bankers 2021 Annual Convention") to take advantage of group rates.
A first night's deposit must be guaranteed via a major credit card, which will be forfeited if the reservation is cancelled less than 7 days prior to arrival. A failure to cancel the reservation prior to day of arrival will result in a cancellation fee for the full length of stay. Departure dates are reconfirmed at check in. An early departure fee of one night will be assessed unless hotel is provided 24 hour advance notice of an earlier departure. Rates are subject to a $2.00 destination marketing fee plus state and local taxes, currently totaling 14%. There will be an additional charge of $25.00 for a third adult person sharing a double room. Children under 18 years of age may share the same room with parents at no additional charge. Please note rollaway beds are not available.
| Room Type | Rate |
| --- | --- |
| Deluxe | $399 per night |
| Premier King Rooms | $449 per night |
| Club King Rooms* | $555 per night |
| One Bedroom Suite | $655 per night |
*The Club features upgraded room design and amenities. The eighth floor lounge offers an elaborate Continental Breakfast each morning, afternoon tea, soft drinks, and wine. Each afternoon The Club Bar opens until late night, staffed with a private bartender who will serve your guests their favorite beverages along with heavy hot and cold hors d'oeuvres, including after dinner sweets. Only Guests staying on the 7th or 8th floors are allowed access to the Club Level. Outside guests or guests staying on other floors will be asked to leave. This policy is strictly enforced.
Registration Rates
Registration fees include admission to all VBA business sessions and events.
Bankers who register before July 15th will be entered to win a raffle for a certificate for a weekend stay at the Belmond Charleston Place*. The certificate includes a two night stay in their elegantly appointed premier king accommodations and breakfast for two guests in the Palmetto Cafe for both days. The winner will be announced mid-July.
To register for the Convention and pay online, click here. Members of the VBA's Retired Banking Executives group can click here to register for $295 ($95 for RBE spouse or guest). For registration questions, contact Gail Queen.
Are you a first time attendee? Does your spouse/guest want to receive Convention emails?
Don't forget to include that information in the designated spot on your registration!
*VBA member bankers only. This certificate cannot be used during the VBA Annual Convention. Certificate excludes alcohol. Certificate expires 2/28/2022. Taxes and gratuities are included; all other expenses are the responsibility of the bearer. It has no cash value. Reservations are subject to availability and/or inventory control and cannot be combined with any other special offer or redeemed on a holiday.
Registration Type
Dates
Member: $895
Member Spouse/Guest: $395
Non-Member: $1,200
Non-Member Spouse/Guest: $500
Retired Banking Executive: $295
Retired Banking Executive Spouse/Guest: $95
Now Through July 14th
Member: $995
Member Spouse/Guest: $465
Non-Member: $1,200
Non-Member Spouse/Guest: $550
Retired Banking Executive: $295
Retired Banking Executive Spouse/Guest: $95
July 15th-August 31st
Member: $1,095
Member Spouse/Guest: $535
Non-Member: $1,200
Non-Member Spouse/Guest: $600
Retired Banking Executive: $295
Retired Banking Executive Spouse/Guest: $95
September 1st and After
Agenda & Speaker Information
About Our Keynote Speakers
Lenora Billings-Harris, CSP, CPAE
International Diversity Strategist &
Hall of Fame Speaker and Author
Dave Martin
Founder
bankmechanics
Maximizing the Power of Inclusion by
Uncovering the Impact of Unconscious Bias on Business Results
Remaining Relevant in a Digital Banking World
More speakers will be announced soon.
Agenda
SUNDAY, SEPTEMBER 12, 2021
3:00pm-6:00pm
Registration
6:00pm-7:00pm
Welcome Reception
MONDAY, SEPTEMBER 13, 2021
7:30am
Breakfast
8:00am-11:45am
Business Session
6:00pm-7:30pm
Reception and Dinner
TUESDAY, SEPTEMBER 14, 2021
7:30am
Breakfast
8:00am-11:45am
Business Session and Installation of Officers and Directors
6:30pm-7:30pm
Farewell Reception
WEDNESDAY, SEPTEMBER 15, 2021
Departure
Thank You to Our Sponsors!
Interested in sponsoring the 2021 VBA Annual Convention? Contact Amy Binns for more information.