2023 CFO Conference & Ethics Session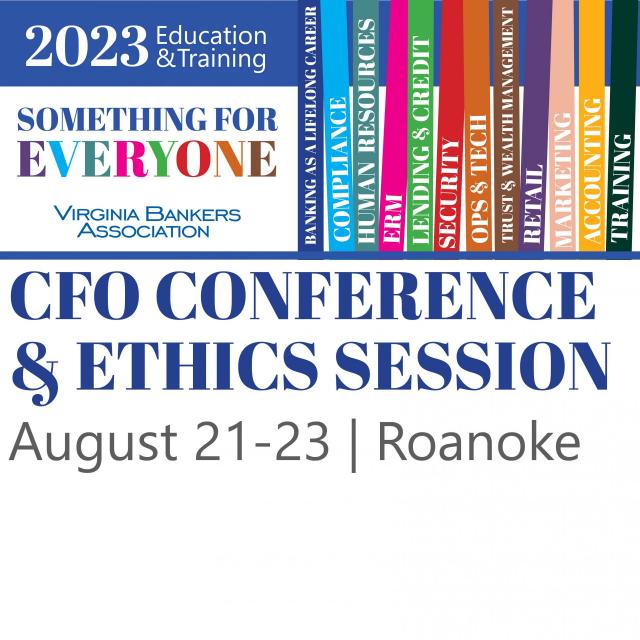 This conference is designed for CFOs and those involved in financial management.
More than 130 bankers and industry partners joined us August 22-24, 2022 at the Omni Richmond Hotel for our CFO Conference. Attendees enjoyed engaging and relevant sessions and also had the opportunity to meet with our sponsors in the exhibit hall. View the full conference recap here.
Agenda
Monday, August 21, 2023
2:30 p.m. Ethics Registration/Check-in
3:00 – 4:40 p.m. Ethical Transgressions 2023: Tales of Corruption
(Separate Registration Required – In-person and Virtual options available!)
Season two of Tales of Corruption investigates ethical decision-making models relating to cases involving insider trading, cryptocurrency investment schemes and more. ** This course satisfies the annual two-hour Virginia Board of Accountancy (BOA) Ethics requirement.
5:30 – 7:00pm Welcome Reception
Dinner on your own. Not sure where to go? Click here for area restaurants near The Hotel Roanoke.
Tuesday, August 22, 2023
7:30 – 8:00 a.m. Registration | Continental Breakfast
Registration Sponsored by KEYSTATE
Breakfast Sponsored by DDI TECHNOLOGY
8:00 – 8:15 a.m. Welcome Announcements & Sponsor Introductions
8:15 – 9:15 a.m. Economic Outlook | Chris Low, FHN Financial
After a year of aggressive Fed rate hikes, inflation is receding from a four-decade high. The economy is slowing, too, as bank lending dries up. Next year promises to be challenging from a growth perspective, in part because Congress is tilting back toward austerity after four years of extraordinary fiscal stimulus. Slower federal spending combined with restrictive Fed policy suggests a high risk of recession, though most likely not a severe one from a credit perspective.
9:15 – 9:30 a.m. Networking Break
9:30 – 10:30 a.m. Sight vs. Vision: Preparing Your Balance Sheet for the Future | Ryan Smith, Piper Sandler
Join Ryan Smith from Piper Sandler for a discussion of balance sheet strategies and tactics in the current environment. He will explain the difference between having sight and having vision for your institution and will include market updates to contextualize the ideas and help management teams prioritize the right things as they plan ahead. He will use case studies to highlight how companies with different risk profiles have leveraged strategic options on the asset and liability sides of the balance sheet based on their institution's goals.
10:30 – 10:45 a.m. Networking Break
Sponsored by BYTESPEED
10:45 – 11:45 a.m. SECURE Act 2.0 Overview Dee Spivey, AIF, CPFA, SageView Advisory Group
In this session, SageView's Dee Spivey, will review the recently passed Secure 2.0 legislation which includes around 100 provisions impacting retirement plans and provide an overview of key provisions and timeline of implementation.
11:45 a.m. – 12:30 p.m. Lunch
Sponsored by DUDLEY RESOURCES
12:30 – 1:15 p.m. Vendor Speed Dating
1:20 – 2:20 p.m. Preparing Your Bank For Whatever May Lie Ahead Marty Mosby, Stifel
Over the last three years, the operating environment has created many challenges for U.S. community banks, and subsequently management is focused on a wide range of critical priorities:
Outlining liquidity crisis contingency funding plans with higher run-off from uninsured deposits
Defending against higher funding costs, deposit run-off, and compressing net interest margins
Preparing to neutralize asset sensitivity positions in order to create some down interest rate protection
Watching for the eventual increase in credit costs after experiencing absolutely no losses recently
Highlighting exposure to Commercial Real Estate and managing concentrations
Managing capital adequacy and enterprise-wide risk levels
This presentation will focus on management analytics to help U.S. Community Banks appropriately position themselves for this challenging and ever changing operating environment. It also will help them prepare for upcoming regulatory reviews that will have more of a punch this year given recent developments.
2:20 – 2:35 p.m. Networking Break
Sponsored by PNC CAPITAL MARKETS LLC
2:35 – 3:35 p.m. CFO Hot Topics Overview & Update Steven H. King, CPA | Crowe LLP & Layla Mooradian | Crowe LLP
The session is designed to cover hot topics in financial reporting that is impactful to financial institutions. Institutions will be able to understand key developments in the standard setting process and understand how the standard will impact their financial position and results of operations. The session will provide attendees with an understanding of the stage of standard setting that the underlying topic exists (for example, a proposed stage, or currently applicable). Finally, the session is designed to provide context for when an institution should reasonably be prepared to comply with the developments covered.
3:35 – 3:45 p.m. Networking Break
3:45 – 4:15 p.m. Industry Update | Bruce Whitehurst, Virginia Bankers Association
4:15 – 5:15 p.m. Regulator Panel
FDIC: Deona Payne
OCC: Terry Hubbard
Bureau of Financial Institutions: Sarah Lambert
Federal Reserve Bank of Richmond: Jeff Deibel
5:15 – 6:45 p.m. Cocktail Reception
Sponsored by BROWN, EDWARDS & COMPANY, L.L.P.
Dinner is on your own. Enjoy your evening!
Wednesday, August 23, 2022
8:00 a.m. Continental Breakfast
8:30 – 8:45 a.m. Announcements | Sponsor Thank You & Drawings
8:45 – 9:45 a.m. Is "Banking-as-a-Service" Worth It? | Tom Mason, S&P Global Market Intelligence
We'll examine how community banks offering banking-as-a-service are outperforming peers on several metrics, including much-coveted deposit growth, as well as key considerations for banks that want to enter the market.
9:45 – 10:00 a.m. Networking Break
10:00 – 11:00 a.m. Closing Keynote: Stronger Under Pressure | Chris Barras, Second Story Partners
Sponsored by VCDC
The radical changes of 2020-2021 disrupted almost every industry. The pressure of these changes showed us what we are made of. In some cases, the pressure crushed us. But other groups were able to adapt to the pressure and thrive. In this talk we look at what are the qualities of people who can get stronger when they are placed under pressure. Where are we fragile? Where are our teams fragile? And how do we overcome that? This talk helps us identify our own fragility as individuals and as teams and gives us some steps to overcome that fragility. We will also get a few skills that will helps us thrive in whatever is coming next for us.
11:00 – 11:20 a.m. Stretch Break
11:20 a.m. – 12:20 p.m. CFO Roundtable Session (Bankers only)
12:30 p.m. Conference Adjourns
Meet the Speakers!
Chris Barras | Second Story Partnership
Speaker
Chris is a leader who has decades of leadership experience in business, non profits and even the church world. He was worked with teams of various sizes and has helped bring the best out of those around him. A talented communicator- Chris pulls from psychology, business, history, and research to engage audiences and help challenge the way they think. Chris does this with a lot of humor and some very straight talk. When Chris isn't teaching, writing or coaching, he loves to support his three sons with their music and basketball. He also enjoys spending time with his wife Abby of 25 years exploring the city of Richmond or traveling to the fun far away places. Chris loves football, soccer, reading and cooking.
Jeffrey B. Deibel | Federal Reserve Bank of Richmond
VP, Community & Regional Supervision
Jeff currently oversees the Safety & Soundness (S&S) supervisory function for the community and regional (C&R) portfolios. The C&R Unit supervises Fifth District State member banks, holding companies and savings and loan holding companies under $100 billion to promote a safe and sound banking system. C&R staff members are spread across the three offices of Richmond, Baltimore, and Charlotte.

Jeff began his career with the Federal Reserve Bank of Richmond in 1993 as an entry level examiner within the S&S division. Jeff continued in this role and became a Commissioned examiner leading both bank and bank holding company examinations/inspections. In 2000, Jeff shifted into policy and research positions which focused on off-site surveillance and District analytics. In 2004, Jeff became a manager and supervised a portfolio of institutions along with an examination team. During the financial crisis, Jeff was actively involved in the supervisory process which included several troubled institutions under informal/formal enforcement actions. In April 2012, Jeff was promoted to an Assistant Vice President and held several oversight responsibilities during the past few years, including a shift to oversight responsibility for the Consumer Affairs division in 2016. Jeff was promoted into his current role in January 2019.

Jeff is a graduate of the South Carolina Banking School, alumni of Virginia Tech with a Bachelor's degree in accounting and is a licensed Certified Public Accountant (CPA) in the state of Virginia.
Scott Hildenbrand | Piper Sandler
Chief Balance Sheet Strategist and Head of Financial Strategies Group
Scott Hildenbrand serves as chief balance sheet strategist and head of the financial strategies group at Piper Sandler. Previously, he was a principal and chief balance sheet strategist of Sandler O'Neill + Partners, L.P. He headed the balance sheet analysis and strategy group, working with financial institutions on balance sheet strategy development, which includes interest rate risk management, investment portfolio strategy, retail and wholesale funding management, capital planning, budgeting, and stress testing. Hildenbrand also worked closely with the firm's investment banking group to identify and develop strategic opportunities for clients involved in mergers and acquisitions.

Scott previously worked in Sandler O'Neill's interest rate products group, focusing on developing and implementing structured wholesale funding strategies for financial institutions. He spent his first four years at the firm in the asset/liability management group. Prior to joining Sandler O'Neill in 2004, he worked as a financial analyst in asset/liability management at Tower Federal Credit Union in Maryland.

Scott was elected to the Financial Managers Society in 2021. He also serves as treasurer on the board of directors for Liam's Room, a non-profit organization that focuses on pediatric palliative care, a specialized approach to medical care for children with serious illnesses. He is a frequent speaker at industry conferences and seminars. He holds an MBA in finance from Loyola College in Maryland and a bachelor's degree with a concentration in accounting and finance from Gettysburg College.
Terry Hubbard | Office of the Comptroller of the Currency
National Bank Examiner
Terry has worked for the Office of the Comptroller of the Currency in their Roanoke office for 25 years, primarily as a field examiner. He also served as the Field Office Analyst for three years. His areas of expertise include commercial real estate lending and trust, where he earned the designation of Certified Fiduciary Investment Risk Specialist. Prior to joining the OCC, he spent two years at a local community bank. He is a graduate of Virginia Tech with a degree in Finance.
Steven H. King, CPA | Crowe
Manager
Steven is a manager in the national office at Crowe LLP. In this role, he primarily consults with audit engagement teams on SEC rules and regulation matters. Prior to this role, Steven was a financial institutions auditor with Crowe LLP in the Washington, D.C. office and previously held a position as Vice President of Finance at a closely-held financial institution in Kentucky. He is a graduate of the University of Kentucky and is an active CPA.
Sarah M. Lambert | Virginia State Corporation Commission
Manager of Examinations
Sarah began her banking career in as a bank teller in 1998. She graduated from Bluefield College in 1999 with a B.S. in accounting. Post-graduation she climbed the ranks from bank teller to eventually work within the Internal Audit Department as a staff auditor, manager, and then Director for almost 14 years. She obtained the designation of Certified Internal Auditor in 2013. She has been with the State Corporation Commission-Bureau of Financial Institutions as an Examiner for nine years, where she continues to protect and serve the citizens of Virginia through her passion of laws, regulation, coupled with her vast knowledge of auditing. Sarah graduated from the VBA School of Bank Management in 2022 just before she obtained the title of Manager of Examinations, also in 2022. Her banking portfolio mainly consists of community banks in Southwest Virginia and one Regional Banking Organization. Over her 25-year banking career, she has met and worked with many professionals throughout the Commonwealth of Virginia. She still resides in Bluefield, VA where she is raising her daughter.
Chris Low | FHNFinancial
Chief Economist
Chris has over 30 years of experience as an economist and money manager. He is a frequent speaker at conferences and seminars. He does regular weekly radio spots for American Public Media's Marketplace and the BBC's World Business Report, as well as guest spots on Fox Business and Bloomberg Television. Chirs is a member of the SIFMA Economic Committee and of the American Bankers' Association Economic Advisory Committee to the Federal Reserve Board of Governors, where he has served as Chairman. Chris has often been the most accurate forecaster of interest rates among economists surveyed by Bloomberg Economics.
Tom Mason | S&P Global Market Intelligence
Senior Research Analyst
Tom Mason is a senior research analyst focused on the U.S. fintech sector, producing data-driven reports and forecasts on the industry. His work covers both startups and incumbent financial institutions.
Marty Mosby | Stifel
Managing Director, Enterprise Risk & Management Analytics
Recently, Marty has been developing a banking strategic analysis approach that can enable U.S. Community Banks to apply advanced profitability, balance sheet positioning, and risk management techniques to maximize their potential while minimizing their underlying risk position. Prior to this venture Marty lead a U.S. Large Cap banking research team for a decade. He has utilized his past experience of managing a regional bank for two decades to cover 20 of the Largest U.S. Banks and to develop the modeling applied to community banks today. Prior to publishing research on U.S. banks, Marty had been an executive manager at First Horizon National Corporation where over his 22 year career he had served as Chief Financial Officer, Head of Investor Relations and Strategic Planning, ALCO Chairperson and Chief Economist. As CFO, Marty guided First Horizon through four years of Sarbanes-Oxley and directed the Treasury, Tax, Controller, M&A, Strategic Planning, and Investor Relations Departments. This has helped him gain a strong understanding of the banking industry which he has used to develop differentiated bank analysis. He was ranked first by Integrity Research and Investors' performance, won Bank Analyst Annual Best Investor Relations at a Mid-Cap Bank award twice, and recognized by Investor Relations Magazine for one of the best Roadshows of any mid-sized company. Marty graduated from the University of Pennsylvania in 1988 with the degree of Masters of Arts in Economics and from the University of Memphis with the degree of Bachelor of Arts with Honors in Economics in 1986.
Deona Payne | FDIC
Risk Management, Assistant Regional Director
Deona Payne is a risk management assistant regional director with the Federal Deposit Insurance Corporation (FDIC) in Atlanta, Georgia. Ms. Payne currently oversees the Raleigh Territory, which includes West Virginia, Virginia, and the eastern half of North Carolina. She began her FDIC career in 1990, and served as an examiner, supervisory examiner, field supervisor, and case manager in various locations throughout the FDIC's seven state Atlanta Region. She is a graduate of Minot State University, Minot, North Dakota, and holds an Anti-Money Laundering Certified Associate certificate from Florida International University and the Florida International Bankers Association, Miami, Florida.
Dee Spivey | SageView Advisory Group
Plan Consultant
Dee is a Retirement Plan Consultant with SageView Advisory Group, located in Richmond, Virginia. Dee has been in the retirement industry over 20 years, joining SageView at the start of 2020. Dee works with plan sponsors and fiduciaries to conduct plan reviews, consult on plan design, operations and administration of the plan as well as help design strategies for employee education and communication. Dee has experience working with many types of retirement plans including 401(k), 403(b), non-qualified deferred compensation, ESOP and defined benefit. She is passionate about creating trusted relationships with her clients, partners and team to accomplish a goal of creating a successful retirement program and for the clients she serves. Dee received her Bachelor of Science degree in Marketing from Virginia Commonwealth University. She is an Accredited Investment Fiduciary (AIF®) and holds the Certified Plan Fiduciary Advisor (CPFA) designation. She currently holds her Series 7 and 66 securities license and a life and health insurance license.
CFO Conference Registration
Click here to register for the 2023 CFO Conference!
| In-Person ONLY | Member | Non-Member |
| --- | --- | --- |
| August 1, 2023 – August 21, 2023 | $645 | $1,145 |
| In-Person AND Virtual Sessions | Member | Non-Member |
| --- | --- | --- |
| August 1, 2023 – August 21, 2023 | $695 | $1,195 |
VBA EVENT POLICIES
By registering for this event, you are agreeing to the VBA Event Policies.
VBA EVENT CANCELLATION POLICY
All cancellations will be charged a $25.00 administrative fee. Cancellations received less than 72 business hours before the program will be charged a $75.00 administrative fee plus any additional fees associated with the training. Substitutions are allowed prior to the beginning of course.
SPECIAL NEEDS
Please share any specific needs that should be considered as we plan for the conference (i.e. hearing impaired, sight impaired, etc). Please contact Kristen Reid with any details.
Ethics Registration – Separate Registration Required
NEW! Ethical Transgressions 2023: Tales of Corruption
Season two of Tales of Corruption investigates ethical decision-making models relating to cases involving insider trading, cryptocurrency investment schemes and more.
Registration options
This year, the VBA is offering two options to attend the Ethics session!
Planning to attend the CFO Conference?: Register for the in-person option and join other attendees to participate in the session.
Unable to attend the CFO Conference, but still need to fulfill your Ethics requirement? : Join virtually! Registered attendees will receive a link to a Zoom invite and can participate remotely.
Whichever option you choose, click here to register for the 2023 Ethics Session.
| Ethics Registration (in-person) | Ethics Registration (virtual) |
| --- | --- |
| $195 | $155 |
Hotel Information
Hotel Roanoke
110 Shenandoah Ave NE
Roanoke, Virginia 24016
The VBA has negotiated a room rate of $179/night, plus applicable taxes and fees. To take advantage of the negotiated rate, reservations must be made by July 21, 2023. Reservations can be made online here.
Sponsorship Opportunities
Interested in sponsoring or exhibiting at this event? Click here. To check out our complete 2023 Sponsor Brochure, click here! Contact Amy Binns for available options.