2022 VBA Leadership Conference Recap
October 27-28, 2022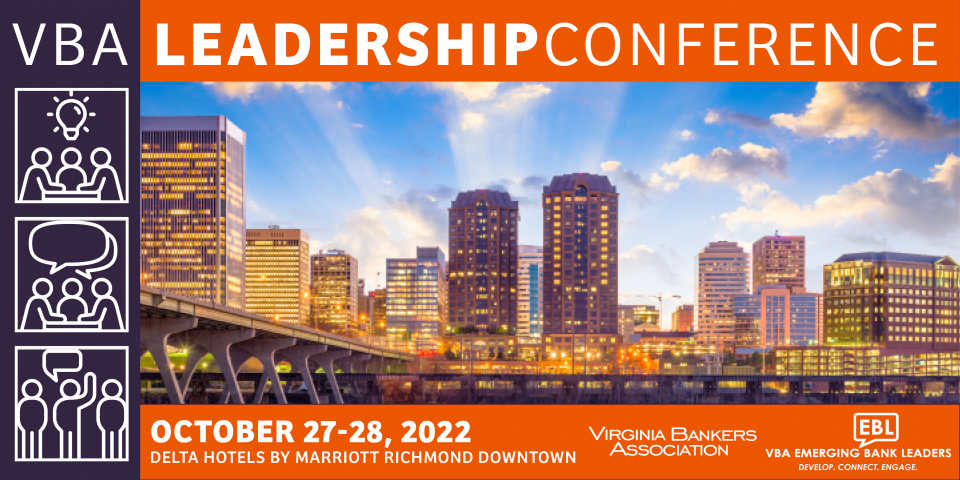 More than 80 Virginia bankers joined us in Richmond 2022 VBA Leadership Conference October 27-28. This annual event is designed for emerging banking leaders and members of the Virginia Bankers Association Emerging Bank Leaders (EBL) group, giving attendees the opportunity to share ideas and network with peers from across the state.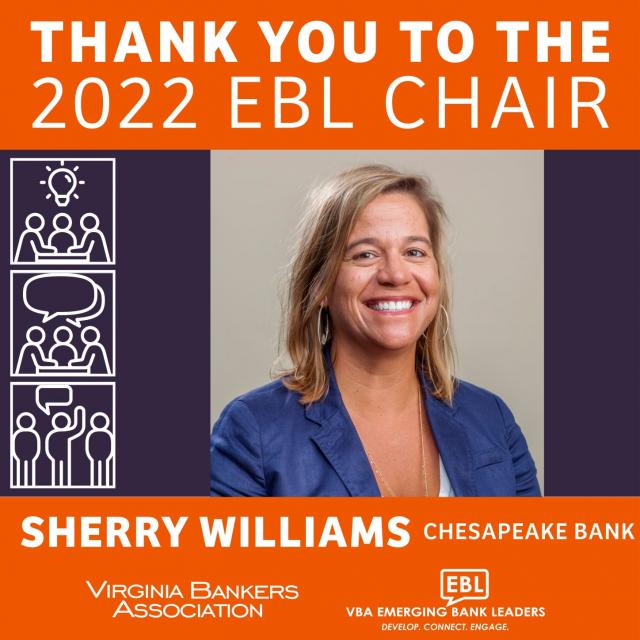 A Special Thank You to the 2022 EBL Chair Sherry Williams, Chesapeake Bank!
Thank you to Sherry Williams, Chesapeake Bank, for serving as EBL chair over the last year and for presiding over this year's event. You can learn more about Sherry in her Virginia Banking Monthly Q&A here.
Session and Speaker Information
Economic Outlook Lauren Henderson | Stifel
Bank CEO/Bank Executives Panel
Chris Bergstrom | John Marshall Bank & VBA Chairman 2022-2023
Victor Branch | Bank of America
Sherri Sackett | Select Bank
Moderated by 2022 Emerging Bank Leaders Chair Sherry Williams | Chesapeake Bank
Effective Communications Emily Inverso | Axios HQ
Think Like an Olympian Johnny Quinn | Break Through Leadership, LLC
VBA & Industry Update Bruce Whitehurst | Virginia Bankers Association
Digital Currency Dialogue
Ciaran McMullan | Banking Executive &
Cary Ayers | Atlantic Union Bank
Moderated by Alex Vari | MainStreet Bank
The Credibility Calculation: Leading with Intention Nikki Dixon-Foley | FutureSYNC
Thank You to Our
Sponsors!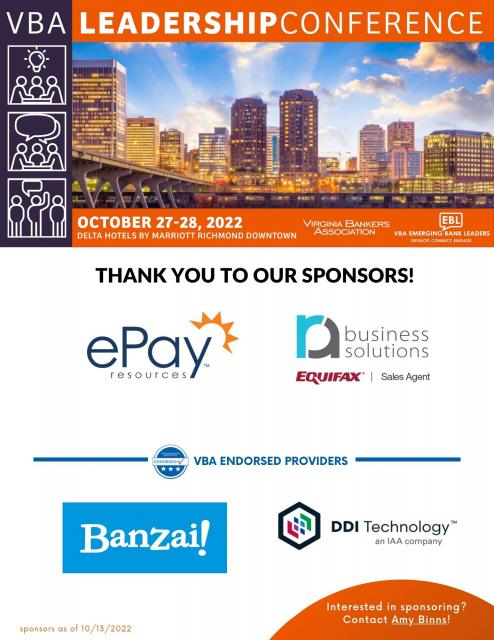 Pictures From the Event