2022 CFO Conference & Ethics Session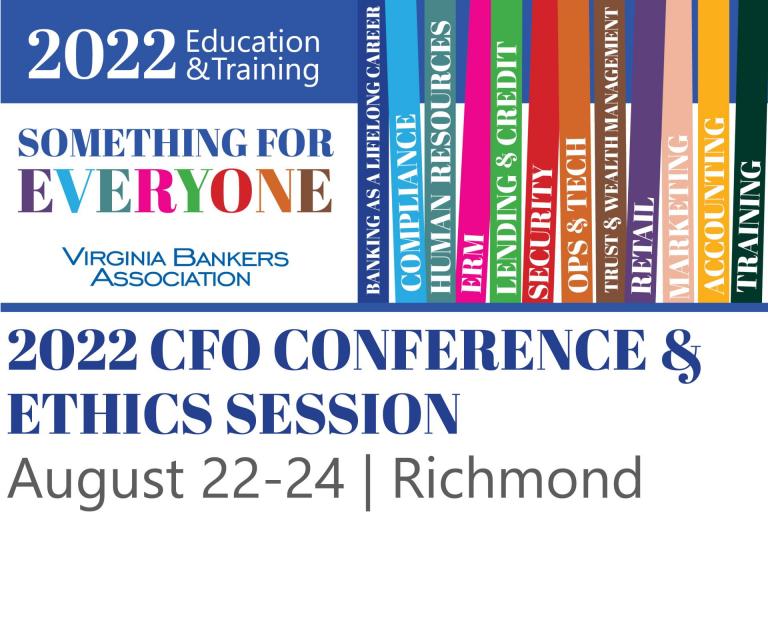 This combined conference is designed for CFOs and those involved in financial management.
More than 160 bankers and industry partners joined us August 23-25, 2021 at the Omni Richmond Hotel for our combined CFO & Lending/Credit Conference. Attendees enjoyed three days of engaging and relevant sessions and also had the opportunity to meet with our sponsors in the exhibit hall. View the full conference recap here.
2022 Conference Agenda
Monday, August 22, 2022
2:30 p.m. Ethics Check-in
3:00 – 4:40 p.m. Tales of Corruption 2022: Ethical Misdeeds (separate registration required – register here)
5:30 – 7:00 p.m. Welcome Cocktail Reception SPONSORED BY Piper Sandler & Co.
Tuesday, August 23, 2022
7:30 a.m. Registration | Continental Breakfast
8:00 a.m. Welcome & Announcements
8:15 – 9:15 a.m.: Economic Overview and Market Outlook Craig Dismuke | Stifel
The U.S. economy has hit a wall of imbalances in the aftermath of the pandemic disruptions. The imbalances have resulted in the fastest rates of inflation in four decades and led to a swift reversal in the monetary policy outlook. Markets have reached historic levels of volatility as investors grapple with how high the Fed may need to raise interest rates in their effort to regain confidence in the longer-term outlook. In this presentation, we will look at how these factors have combined to create a new mindset for balance sheet managers.
9:15 – 9:30 a.m. Networking Break
9:30 – 10:30 a.m. Breakout Sessions
Fintech & Lending
Fintech & Compliance
10:30 – 10:45 a.m. Networking Break
10:45 – 11:45 a.m. Common Mistakes – Avoid Pitfalls in your Balance Sheet Strategy Scott Hildenbrand | Piper Sandler
Join Scott Hildenbrand from Piper Sandler for a discussion of balance sheet strategies and tactics in the current environment. He will review common mistakes in volatile environments and explain how your institution can plan long-term vs. simply reacting. He will discuss examples for companies with different risk profiles and examine which strategic options are available on the asset and liability sides of the balance sheet. This will include market updates to contextualize the ideas and help management teams prioritize the right things for the rest of 2022.
11:45 a.m. – 12:30 p.m. Lunch
12:30 – 1:15 p.m. Vendor Speed Dating
1:15 – 1:20 p.m. Stretch Break
1:20 – 2:20 p.m. Human Capital & Labor Hot Topics Tim O'Rourke | Pearl Meyer
2:20 – 2:35 p.m. Networking Break
2:35 – 3:35 p.m. ESG Shelli Willis & Adrianna Scheer Cook | Troutman Pepper
3:35 – 3:45 p.m. Networking Break
3:45 – 4:10 p.m. Industry Update Matt Bruning | Virginia Bankers Association
4:10 – 5:15 p.m. Regulator Panel
Moderator: Matt Bruning | Virginia Bankers Association
Panelists:

Bureau of Financial Institutions: Daniel Tucker
FDIC: Deona Payne
Federal Reserve Bank: Jason Schemmel
OCC: Amanda Edwards
5:15 – 6:45 p.m. Cocktail Reception SPONSORED BY Brown, Edwards & Company
Wednesday, August 24, 2022
8:00 a.m. Continental Breakfast
8:30 – 8:45 a.m. Announcements | Sponsor Thank You & Drawings
8:45 – 9:45 a.m. Banking Cannabis in 2022 Heather Eastep | Hunton Andrews Kurth
This presentation will cover the current landscape of federal and state law for banks that have – or are contemplating – banking cannabis and/or hemp customers. We will provide an overview of the state of play regarding the legalization of cannabis in Virginia, and what that still means in light of existing federal law and bank regulator oversight. We will also provide an overview of regulations issued by the USDA and the current federal landscape for hemp, including FDA guidance. The presentation will also address risk management when banking cannabis and/or hemp customers, as well as how to implement appropriate policies and procedures even if your bank has decided not to bank cannabis and/or hemp customers.
Major Topics:
Views of state and federal law enforcement and regulators
Systems and procedures needed to service the cannabis and hemp industries
How regulators have been supervising banks that service a cannabis or hemp business
Cannabis and hemp banking in the Biden administration
9:45 – 10:00 a.m. Networking Break
10:00 – 11:00 a.m. Engineering Success by Engineering a New Mindset
Nikki Dixon-Foley | FutureSync
The world of how we work is in a constant state of change and uncertainty. How we manage change comes down to our chosen state of mind. This interactive workshop will prepare you with new tools and practices to manage yourself while leading others and your organizations through change. Discover how embracing a new state of mind that focuses on solutions, collaboration, creativity, and communication will help drive yourself and others to successful results. During this session, participants will:
Discover how to create new patterns of thinking during challenging times.
Uncover the importance of collaborative efforts to solve unique organizational issues
Learn how to unify teams with intentional communication practices
11:00 – 11:20 Networking Break
11:20 a.m. – 12:20 p.m. CFO Roundtable Session
12:20 p.m. Conference Adjourns
*Speakers and topics subject to change
NEW in 2022! – Virtual "Add-On" Session Information
Register for the CFO Conference and add-on three virtual sessions AND the December Accounting Peer Group!!
Each virtual session will run from 9:30-10:30 a.m. and the dates/topics are as follows:
September 16: Investment Portfolio Strategy
October 12: Cybercrime & Insurance
November 9: DEI
December YHB|VBA Accounting Peer Group: Date/Topics to be announced
CFO Conference Registration
| In-Person ONLY | Member | Non-Member |
| --- | --- | --- |
| Through July 25, 2022 | $545 | $1,045 |
| July 26 – August 22, 2022 | $595 | $1,095 |
| In-Person AND Virtual Sessions | Member | Non-Member |
| --- | --- | --- |
| Through July 25, 2022 | $625 | $1,225 |
| July 26 – August 7, 2022 | $675 | $1,275 |
VBA EVENT POLICIES
By registering for this event, you are agreeing to the VBA Event Policies.
VBA EVENT CANCELLATION POLICY
All cancellations will be charged a $25.00 administrative fee. Cancellations received less than 72 business hours before the program will be charged a $75.00 administrative fee plus any additional fees associated with the training. Substitutions are allowed prior to the beginning of course.
SPECIAL NEEDS
Please share any specific needs that should be considered as we plan for the conference (i.e. hearing impaired, sight impaired, etc). Please contact Kristen Reid with any details.
Ethics Registration – Separate Registration Required
Join us on August 22nd before the CFO Conference kicks off for the 2022 Ethics session, Tales of Corruption: 2022 Ethical Misdeeds.
A separate registration is required for the Ethics session. Click here to register for the 2022 Ethics session.
| | Member | Non-Member |
| --- | --- | --- |
| Through August 19, 2022 | $195 | $395 |
Hotel Information
Omni Richmond Hotel
100 S 12th St
Richmond, VA 23219
The VBA has negotiated a room rate of $169/night plus applicable taxes and fees. Included in the room rate is one valet parking space per night (additional valet parking spaces for each room are available at $15.00/car). To take advantage of this room rate, click here to make your reservation. Please note, this rate is only available until Friday, August 5, 2022.
Sponsorship Opportunities
Check out our current sponsors!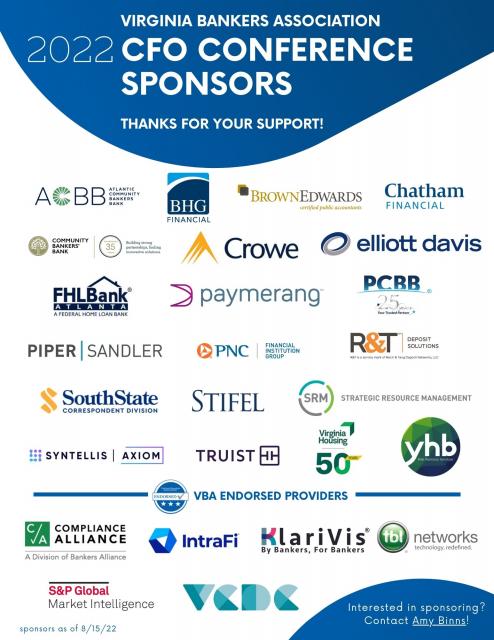 Interested in sponsoring or exhibiting at this event? Click here or contact Amy Binns for available options.