Executive Leadership Institute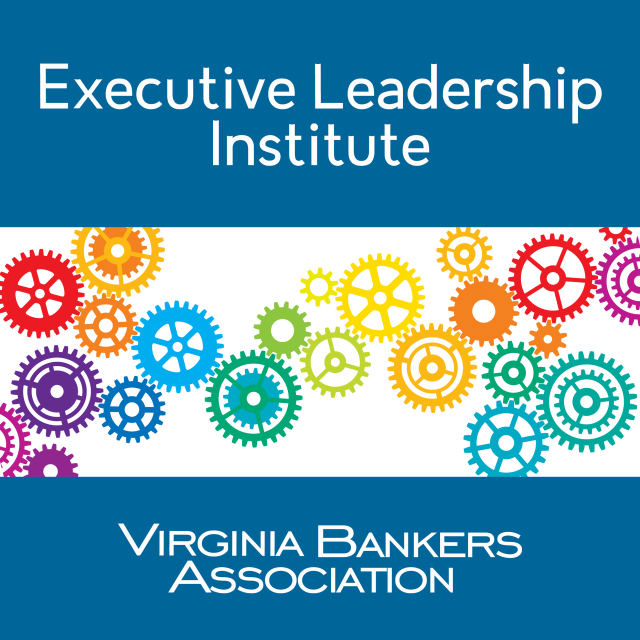 For over a decade, the VBA's Executive Leadership Institute (ELI), a 5-month leadership development program for highly motivated and high potential bankers who are currently in or progressing toward a senior level position, has been known for its intense level of connection, learnings and peer relationships that are fostered by its in-person format and deep content.
Participants will engage in relevant pre-work, readings, podcasts and videos, hands-on experiential activities, small group activities and discussions, and simulations – all designed to ensure significant engagement throughout the 5-month course.
View a full recap of the 2021 program here.
Program Testimonials

Now, more than ever, development of emerging leaders is critical to any company's continued success. We have found The Executive Leadership Institute to be a key component in that development process. The curriculum is relevant and provides participants with real world experience. No question, this program is well worth the investment.
Litz Van Dyke, Chief Executive Officer, Carter Bank & Trust

I can't say enough good things about the Executive Leadership Institute. The curriculum was well thought out and each month's topics flowed perfectly into the next month which helped put it all together in a practical and useful way. I continue to talk about this program all the time and share my leadership declaration whenever I have the opportunity – "I model the power of vulnerability and direct communication.
Candace Davenport, First Bank, ELI Class of 2021

VBA's Executive Leadership Institute (ELI) has had an incredible impact on my personal and professional growth. The self awareness gained from the program and knowledge of how to adapt my strengths and weaknesses to the needs of my team has been invaluable. ELI provides an experience that will prepare leaders to make the shifts necessary to lead their organizations in an ever changing banking environment. The format of the program provides a rare opportunity to practice and hone the skills learned before putting them into practice. The material and tools provided are things I still refer to today. I highly recommend ELI to anyone aspiring to be better leaders with their organization.
Chris Johnston, MainStreet Bank, ELI Class of 2021​
2023 ELI Session Information
Session One | January 17-18, 2023
Authentic Leadership & Personal Growth
Today's leaders are confronted with challenges and opportunities that have never been more dynamic or complex. Leadership can be the tipping point for your bank's success. This session focuses on building a foundation for the leadership series and provides practical and effective ways to grow as a leader. You will learn how to balance your personal leadership style and strengths with those of your bank colleagues, being more effective more of the time, and in alignment with your authenticity and personal values.
Session Two | February 21-22, 2023
Collaboration, Strategy & Change
Research has shown that accelerating change and growing complexity have altered what it takes to achieve sustained success. Creating inclusive environments for creativity and collaboration is critical. This session focuses on providing tools and frameworks for collaboration, strategic alignment and change management that you can take back to your team. Learns ways to identify, lead and champion important change initiatives at your bank.
Session Three | March 23-24, 2023
Effective Communications for Important Outcomes
It takes guts to listen and lead from our hearts. Working through the hard stuff is critical to building strong relationships, cohesive teams and successful organizations. Individuals, teams and organizations benefit from conflict that results in meaningful dialogue and deeper commitment to decisions. In this session, reflect on your role in modeling and facilitating positive conflict, explore ways to navigate crucial conversations, identify the early warning signs and avoid breakdowns in communication, hone your listening skills and leverage constructive feedback to guide you in your leadership journey.
Session Four | April 25-26, 2023
Leading Teams, Causing Results Through Others
Leaders must be intentional about workplace culture, employee engagement and satisfaction to recruit, develop and retain top talent to achieve success. True accountability requires a level of ownership and coaching others that includes making, keeping, and answering for personal and group commitments. This session provides leaders with tools to be more effective coaches, increase accountability and achieve collective results as a team.
Session Five | May 23-24, 2023
Taking the Lead
This session will provide you with an opportunity to apply the concepts and skills developed during all the previous sessions in a competitive business simulation. As in real-life, conflicts and changes arise to challenge leaders when team trust, capacity, and finances are strained, and wise, quick decisions are needed. Teams are required to make quality choices while confronting the fast pace of everyday organizational challenges.
Innovation Presentations
Participants will collaborate on a research project throughout the ELI course focused on innovations in banking and making a formal presentation to an audience during the final session.
Graduation ceremony will take place following the formal Innovation Presentations.
ELI Program Facilitators

Karen Conrad | Karen Conrad and Associates, LLC
Karen Conrad is the President and owner of Karen Conrad and Associates, LLC and serves as an executive coach and leadership and sales management consultant to banks, healthcare organizations, and law firms, the Federal Executive Institute in Charlottesville, Virginia, among other organizations. Karen also teaches for the Federal Executive Institute. Karen is a former Senior Vice President with Wachovia, now Wells Fargo, where she designed and delivered enterprise-wide leadership and management development programs, sales and sales management programs, organizational development interventions, and served as an executive coach in the Executive Leadership Institute at UNC Chapel Hill.

Melissa Laughon | Catch Your Limit
For over 22 years, Melissa Laughon, owner of Catch Your Limit, has been embracing fear and working with the vulnerabilities of leaders … it's where the magic happens. It's where strategy and people come together to build a different culture and leadership approach to their business – one that has soul, is inspiring and rewarding, and helps guide and grow leaders at all levels. Whether she's speaking, guiding or facilitating, Melissa inspires authentic change in leaders.
Who Should Attend
High-potential upper level bankers with more than 6 years of experience who have taken on, or are preparing to take on, broader responsibilities. Bankers who are senior managers or likely to be a member of senior management in the short-term.
Participation Criteria
You must:
have a minimum of 6 years of banking or equivalent experience
be a high-potential upper-level officer of the bank
be nominated by your CEO
be a current member of the Virginia Bankers Association through you institution
Completion of the Virginia Bankers School of Bank Management or an equivalent banking school is preferred, but not required.
Tuition & Application Process
Tuition for the 2023 ELI program is $3,750. Tuition covers all five sessions, all required reading, instructor fees, continental breakfast, lunch and refreshments. Tuition does not cover overnight accommodations or dinners. Your registration is a full-tuition commitment.
Applicants must submit a completed application November 30, 2022 and, following a review of the application, each candidate will be notified of his or her status.
Click here to apply! Click here to download the Recommendation Form.