Executive Leadership Institute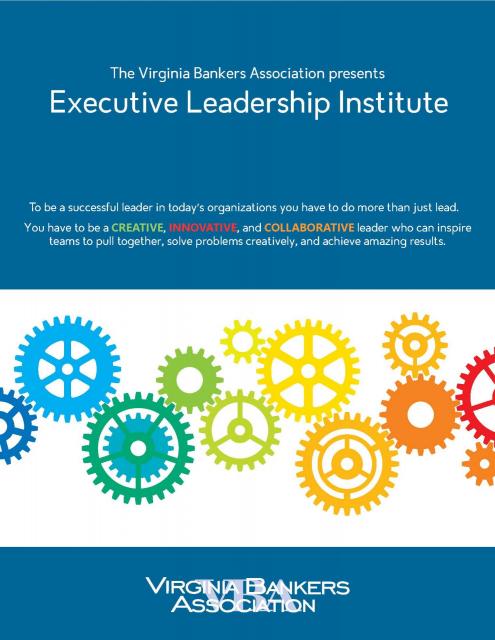 For over a decade, the VBA's Executive Leadership Institute (ELI), a 5-month leadership development program for highly motivated and high potential bankers who are currently in or progressing toward a senior level position, has been known for its intense level of connection, learnings and peer relationships that are fostered by its in-person format and deep content.

Participants will engage in relevant pre-work, readings, podcasts and videos, hands-on experiential activities, small group activities and discussions, and polls and simulations – all designed to ensure significant engagement throughout the 5-month course.
View a full recap of the 2021 program here. This program will be offered again in 2023.
Session Information
Some of the sessions offered during the most recent Executive Leadership Institute included:
Recognize Your and Others' Leadership Strengths
Innovation, Strategy, and Success In Times of Change
Leading Teams, Causing Results Through Others
Effective Communications For Important Outcomes
Putting It All To Work
Speakers
Karen E. Conrad is the President and owner of Karen Conrad and Associates, LLC and serves as an executive coach and leadership and sales management consultant to banks, healthcare organizations, and law firms, the Federal Executive Institute in Charlottesville, Virginia, among other organizations. Karen also teaches for the Federal Executive Institute. Karen is a former Senior Vice President with Wachovia, now Wells Fargo, where she designed and delivered enterprise-wide leadership and management development programs, sales and sales management programs, organizational development interventions, and served as an executive coach in the Executive Leadership Institute at UNC Chapel Hill.
Nancy K. Eberhardt is an Executive Gazelles-certified Coach and strategic communications consultant for entrepreneurs, corporations, nonprofits and B-Corps. She is the author of Uncommon Candor, A Leader's Guide to Straight Talk and blogs for Forbes.com. A former regional bank president, Nancy led several successful mergers and $1 billion in customer relationships. She taught Business Communications and Ethics in the Jack Welch Institute's Executive MBA program, and has been a board member of a community bank, a social venture corporation, the only national park for the performing arts, and a baseball stadium authority.
Participation Criteria
You must:
have a minimum of 6 years of banking or equivalent experience
be a high-potential upper-level officer of the bank
be nominated by your CEO
be a current member of the Virginia Bankers Association through you institution
Completion of the Virginia Bankers School of Bank Management or an equivalent banking school is preferred, but not required.
Tuition
The tuition amount covers all five sessions, materials, all required reading, and instructor fees. Your registration is a full-tuition commitment. Tuition for the 2023 program will be announced in late 2022.