2022 VBA Internship Program Recap
June-August 2022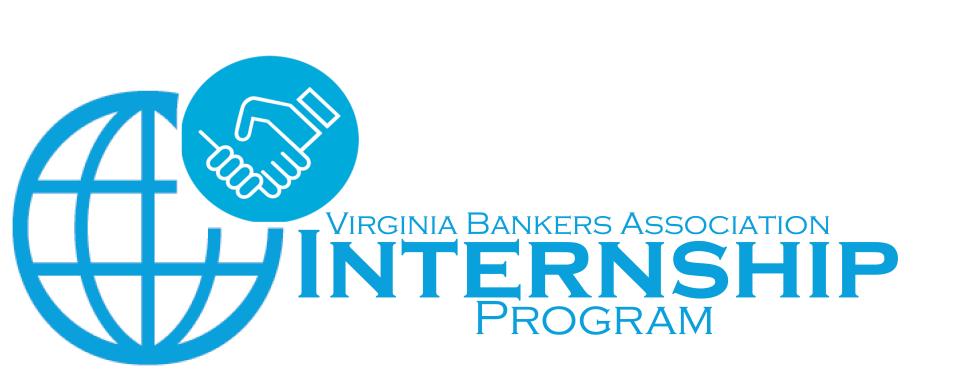 From June-August 2022, 33 students participated in the VBA Internship Program with 11 banks across the state. Through this program, interns were exposed to the industry through a variety of projects, online coursework, departmental rotations through their banks, community engagement and in-person and virtual training from the VBA. Interns who completed a set of requirements were eligible to receive the VBA Summer Internship Program Certificate of Completion.
In April, the VBA held a virtual Mentor Orientation for bankers who would be serving as intern supervisors throughout the program. Mentors learned about the importance of creating an educational experience for their interns by setting clear learning objectives.
Interns began the program in June at the Intern Orientation where they learned about the VBA, the banking industry, and how to maximize their summer internship opportunity. Interns also heard from two emerging bank leaders, Darren Tully, Freedom Bank of Virginia, and Sherry Williams, Chesapeake Bank, who shared their stories about their careers in banking.
At the Mid-Summer Meet Up in July, they had an opportunity to interact with the Emerging Bank Leaders Steering Committee and had meaningful discussion on the different capstone topics that were researched throughout the summer.
Throughout the summer, interns also participated in virtual meetings on a variety of banking topics. Virtual presentations included an Enneagram Workshop; Cryptocurrency 101; a presentation from The Federal Reserve Bank of Richmond; a conversation on DEI in the banking industry; presentation skills and LinkedIn best practices; and capstone project discussions and min-presentations. Participating interns also had the opportunity to attend a shadow day at the Virginia Bankers School of Bank Management in August.
Details about the 2023 program will be announced in early 2023.
Congratulations to the Following Students for Earning the VBA Internship Program Certificate of Completion
Student
Bank
College/
University

Otto Jefferson

Alex Pratt

Jamie Smith

Carson Wall

John Rowe

Brianna Seekford

Daniel Smith

Jack Weyher

Joseph Lewis

Will Rupli

Ana Silva

Jordan Abbott

Ethan Coyle

Kevin Hutzler

Marshall Lee

MacKenzie Osborne

James Carr

Kaley Kyger

Ripley Plaster

Beckett Alley

Ethan Cook

Gracie Hammond

Lucas McCraw

Kali Robinson

Brenda Correa

Jake Heenan

Shaun Mathew

Meade Hall

Neal Azar

Gage Bass

Alyssa Christenbury

Derrell Joppy

Ben Locke

American National Bank & Trust Co.

American National Bank & Trust Co.

American National Bank & Trust Co.

Benchmark Community Bank

Blue Ridge Bank

Blue Ridge Bank

Blue Ridge Bank

Blue Ridge Bank

Chain Bridge Bank

Chain Bridge Bank

Chain Bridge Bank

Chesapeake Bank

Chesapeake Bank

Chesapeake Bank

Chesapeake Bank

Chesapeake Bank

F&M Bank

F&M Bank

F&M Bank

First Bank & Trust Co.

First Bank & Trust Co.

First Bank & Trust Co.

First Bank & Trust Co.

First Bank & Trust Co.

Oak View National Bank

Oak View National Bank

Southern Bank and Trust

The Bank of Southside Virginia

TowneBank

TowneBank

TowneBank

TowneBank

TowneBank

Highpoint University

NC State

Randolph-Macon College

Virginia Tech

JMU

UVA

CNU

JMU

University of Mary Washington

SMU

Marymount University

University of Lynchburg

JMU

Longwood University

Virginia Tech

Virginia Wesleyan University

JMU

William & Mary

Virginia Tech

NC State

Virginia Tech

Virginia Tech

Emory & Henry

Libery University

George Mason University

JMU

William & Mary

USC

Georgetown

Hampden-Sydney College

JMU

Virginia Tech

Brown University
Virtual Meeting Details & Speakers
Enneagram Workshop
Katie West
Cryptocurrency 101: A Banker's Perspective
Cary Ayers, Atlantic Union Bank
Presentation from the Federal Reserve Bank of Richmond
JM Nemish & Brian Thompson, Federal Reserve Bank of Richmond
A Conversation on DEI in the Banking Industry
Candace Davenport, First Bank, Virginia
LinkedIn Best Practices
Caitlin Croswell, American Bankers Association
Presentation Skills
Jamie Covey, United Bank
Pictures from the Program