VBA Annual Convention
Annual meeting of the VBA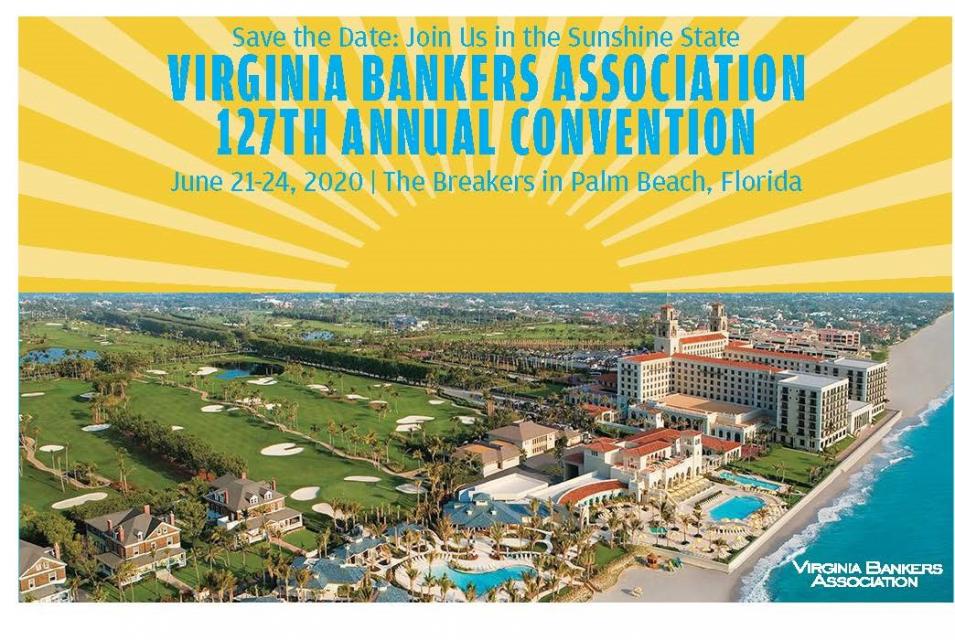 Continuing the tradition of assembling as a united banking industry for our annual meeting since 1893, we invite you to join us at the Virginia Bankers Association's 127th Annual Convention June 21-24, 2020 at The Breakers Palm Beach.
Please plan to attend this annual meeting of the VBA. Only through banker involvement can the Virginia Bankers Association remain a strong and effective voice for Virginia's banking industry – a voice on which we rely now more than ever. We look forward to seeing you at The Breakers in June 2020.
Agenda & Speakers
More information will be available soon!
Registration Fees
More information will be available soon!
Inclement Weather
In case of inclement weather, please check the VBA Event Hotline for updates on the status of VBA events.
Hotline Number (804) 819-4739
VBA Event Cancellation Policy
All cancellations will be charged a $25.00 administrative fee. Cancellations received less than 72 business hours before the program will be charged a $75.00 administrative fee plus any additional fees associated with the training. Substitutions are allowed prior to the beginning of course.
Special Needs & Americans with Disabilities Notice
If you have special needs that may affect your participation in this event, please contact Courtney Fleming to discuss accommodations.
Hotel Information
More information will be available soon!
Sponsors
Interested in sponsoring? Contact Amy Binns at 804-819-4726.