VBA Annual Convention 2021: Speaker Bios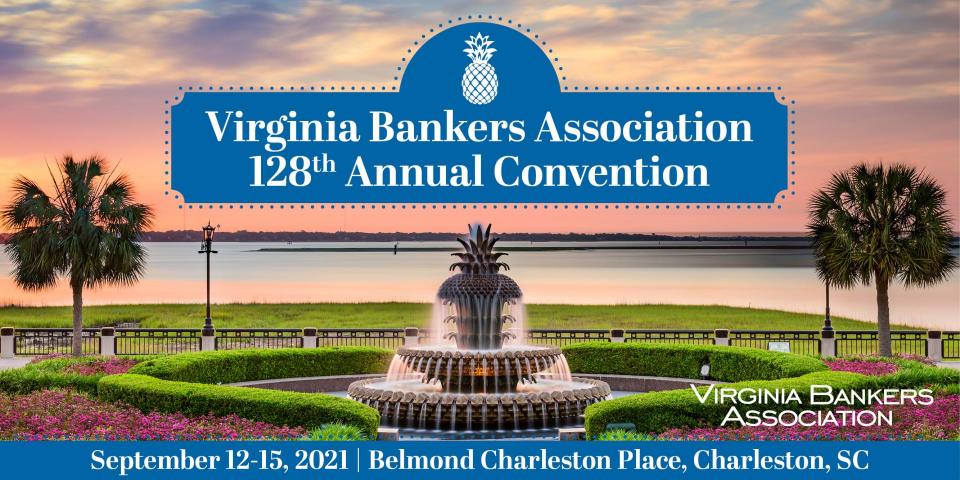 We are thrilled to welcome you to the Belmond Charleston Place in Charleston, South Carolina, an exciting first-time location for our event! This year's Convention will combine a great lineup of speakers on timely topics and networking with bankers and industry providers. We are excited to finally come together, enjoy each other's company and educate ourselves on industry topics together.
Thank You to our Portal Sponsor!

Global Payments is a technology and software company, providing the world's leading complete commerce ecosystem to businesses of every size. Our merchant services, issuer solutions, and flexible partnership models are trusted by 200 of the largest national and international banks. As well as over 1,000 regional and local banks. Innovation that delivers.
Joanne Tyrrell
Vice President, Financial Institutions
Phone: (813) 853-3593
Email: jtyrrell@tsys.com
Website: www.tsys.com
About Our Keynote Speakers
Avi J. Barak
​Managing Director, Investment Banking / Financial Services Group
Piper Sandler & Co.

You Can't Predict, But You Can Prepare – Getting Ready for 2022

Avi J. Barak is a Managing Director at Piper Sandler Companies. Avi advises the boards and senior management of financial institutions on strategic matters and industry trends including capital raising, mergers and acquisitions, balance sheet restructurings and optimizations, and asset/liability management. Additionally, Avi works with the firms institutional clients, including private equity firms, hedge funds, and money managers in both evaluating and executing equity and debt investments in financial institutions.

Previously, Avi served as an equity research analyst focused on regional and community banks and the banking industry. In 2006, Avi was recognized by Forbes.com/StarMine as the #2 stock picker for the commercial banks industry. From 2007 through 2009, Avi was the winner of the SNL Dartboard Challenge, the only three-time winner since the inception of the contest. As an analyst, Avi spoke at various bank industry conferences and was routinely quoted in the business news media including The WSJ, American Banker, and SNL Financial.

Avi graduated from Cornell University with a double major in Economics and Psychology. He resides in Rockland County, New York with his wife and four children.

Lenora Billings-Harris, CSP, CPAE
International Diversity Strategist & Hall of Fame Speaker and Author

Maximizing the Power of Inclusion by
Uncovering the Impact of Unconscious Bias on Business Results

Lenora Billings-Harris, CSP (Certified Speaking Professional) is a CPAE (Council of Peers Award of Excellence) Hall of Fame speaker and an internationally recognized authority in the areas of inclusion, diversity, and bias. She has been included as one of the 100 Global Thought Leaders on Diversity and Inclusion by the Society of Human Resource Management and was named by Diversity Woman Magazine as one of the twenty top influential diversity leaders in the US. Her award-winning diversity leadership research is recognized in academic journals internationally. Additionally, she serves on the Advisory Council of the Nido Qubein School of Communication, High Point University, as well as on the adjunct business faculty of two other universities.

Diversity, inclusion and disrupting bias is a full-time focus for Lenora. She partners with clients to help them leverage their diversity of thought to impacts employee talent engagement and retention, attracting customers, community, and corporate relations. Her powerful yet engaging style inspires virtual and in-person audience members to take personal and organizational actions that disrupt bias and accelerate bottom-line business results. She has presented to audiences in over 41 countries and six continents, including such places as Dubai, Israel and South Africa and Malaysia. Lenora co-authored TRAILBLAZERS: How Top Business Leaders are Accelerating Results through Inclusion and Diversity, and is the author of The Diversity Advantage: A Guide to Making Diversity Work, 3rd Ed. Most recently, she was the cover story for Inclusion Magazine, 2019 winter edition.

In addition to management positions held with two Fortune 100 companies plus the Business School at The University of Michigan, Lenora has held leadership positions with several non-profit organizations. She is a past president of Win-Win Resolutions with a mission to reduce bullying, violence and prejudice in schools and communities, and was a founding charter member of the Maricopa County Black Chamber of Commerce. She is a past president of the National Speakers Association, and past president of the Global Speakers Federation. In 2016 she was the Cavett Award recipient, the highest honor bestowed upon professional speakers in the USA. In 2018 she was inducted into the Speaker Hall of Fame and is the only Africa American woman to hold this honor.

Scott Hildenbrand
Managing Director,
Chief Balance Sheet Strategist,
Head of Piper Sandler Financial Strategies
Piper Sandler & Co.

You Can't Predict, But You Can Prepare – Getting Ready for 2022

Scott Hildenbrand is a managing director and the head of the financial strategies group at Piper Sandler.

Previously, he was a principal and chief balance sheet strategist of Sandler O'Neill + Partners, L.P. He headed the balance sheet analysis and strategy group, working with financial institutions on balance sheet strategy development, which includes interest rate risk management, investment portfolio strategy, retail and wholesale funding management, capital planning, budgeting, and stress testing. Scott also worked closely with the firm's investment banking group to identify and develop strategic opportunities for clients involved in mergers and acquisitions.

Scott previously worked in Sandler O'Neill's interest rate products group, focusing on developing and implementing structured wholesale funding strategies for financial institutions. He spent his first four years at the firm in the asset/liability management group. Prior to joining Sandler O'Neill in 2004, Scott worked as a financial analyst in asset/liability management at Tower Federal Credit Union in Maryland.

Scott serves as treasurer on the board of directors for Liam's Room, a not-for-profit organization that focuses on pediatric palliative care, a specialized approach to medical care for children with serious illnesses.

He is a frequent speaker at industry conferences and seminars. He holds a Master of Business Administration degree in finance from Loyola College in Maryland and a bachelor's degree with a concentration in accounting and finance from Gettysburg College.

Gene Ludwig
Founder and CEO
Promontory MortgagePath

A Conversation with Gene Ludwig and Rob Nichols

Gene is a business leader and expert on banking, regulation, risk management, and fiscal policy. He is the CEO of Promontory MortgagePath, a technology-based mortgage fulfillment and solutions company, founder and chairman of Promontory Financial Group, now an IBM Company. He is also the founder and former chairman of Promontory Interfinancial Network (now IntraFi Network). In January 2020, Gene launched Canapi Ventures, a venture capital firm focused on investments in early to growth-stage fintech companies, where he serves as co-managing partner.

Under his leadership, the Promontory family of companies have become synonymous with excellence in compliance and risk management and are renowned for their ability to harness technology to help financial companies resolve their most pressing challenges.

In 2019, Gene founded The Ludwig Institute for Shared Economic Prosperity (LISEP), a non-profit 501(c)(4) organization dedicated to improving the economic well-being of middle- and lower-income Americans through research and education. Its research includes the creation of more meaningful economic indicators for both unemployment, earnings and economic growth. LISEP's statistics aim to provide policymakers and the public with a more useful view into the economic situation of all Americans as compared with traditionally relied-upon metrics. LISEP also seeks to guide and support policy initiatives that increase opportunities for struggling Americans. Mr. Ludwig is also co-founder (along with his wife Dr. Carol Ludwig) of The Carol and Gene Ludwig Family Foundation, Inc., a 501(c)(3) private foundation based in Washington, D.C.

Gene was previously vice chairman and senior control officer of Bankers Trust New York Corp. He was instrumental in steering the firm through its landmark merger with Deutsche Bank.

As U.S. comptroller of the currency from 1993 to 1998, Gene served as the Clinton administration's point person on the policy response to the credit crunch of the early 1990s. He fashioned an 11-point plan that was instrumental in ending the credit crunch and helping banks begin to lend again and fulfill their role of supporting the economy. As comptroller, he was known as a pragmatist who greatly enhanced the ability of financial institutions to compete, even as he refocused the industry on fair lending and meeting its obligations under the Community Reinvestment Act. Under his purview, lending to low- and moderate-income Americans increased tenfold, as did national bank investments in community development corporations. He brought 27 fair-lending cases, resulting in tens of millions of dollars in fines against violators.

While he was comptroller, Gene served as chairman of the Federal Financial Institutions Examination Council, a member of the Basel Committee on Banking Supervision, a director of the Federal Deposit Insurance Corporation, and chairman of the Neighborhood Reinvestment Corporation.

Before becoming comptroller, Gene was a partner at Covington & Burling, specializing in banking law. He has has been a guest lecturer at Yale and Harvard law and business schools and Georgetown's International Law Institute.

Given Gene's unique perspective as a regulator, lawyer, banker, business leader, and trusted adviser to leading financial institutions, he is a sought after thought leader. His pieces have been published in The Financial Times, The New York Times, The Atlantic, The Wall Street Journal, The Washington Post, Politico, American Banker, Time, and on CNBC.com. His book, The Vanishing American Dream: A frank look at the economic realities facing middle- and lower-income Americans, was published in September 2020.

Gene was born in Brooklyn, New York, and raised in York, Pennsylvania. He graduated magna cum laude from Haverford College and received a scholarship to Oxford University, where he earned a Master of Arts degree as a Keasbey Fellow. He also earned a J.D. from Yale University, where he was editor of the Yale Law Journal and chairman of Yale Legislative Services.

Dave Martin
Founder
bankmechanics

Remaining Relevant in a Digital Banking World

Dave Martin is founder of bankmechanics, a retail banking consultancy. He has trained and consulted on-site with several hundred banks and credit unions in 46 states and Canada over the past 25+ years.

Dave is one of the most prolific writers in the banking industry. He has written the bi-weekly Advantage Letter for 25 years, read by tens of thousands of bankers and retailing professionals each month. Dave also writes the longest continually running opinion column in the history of the American Banker publication, the most read banking journal in the world. His keynote presentations, seminars, and podcasts have an authenticity and humor that brings teams of all sizes and seniority levels together.

Dave was previously EVP/Chief Development Officer with Financial Supermarkets, Inc., a leading provider of training, consulting, design, and construction for non-traditional branches. Prior to joining FSI, Dave was EVP/Chief Training Officer for NCBS, a SunTrust Bank subsidiary. His banking background includes serving as Director of In-Store Banking for First National Bank Texas, managing at that time the largest Walmart in-store banking program in the United States. Dave's banking career began as branch manager of an in-store branch in Thibodaux, Louisiana.

Dave has a BS in Accounting and an MBA from Nicholls State University. He is also a member of the guest faculty at the Southwest Graduate School of Banking at Southern Methodist University. He resides with his wife, Cindy, and two sons in Sugar Land, Texas.

Rob Nichols
President & CEO
American Bankers Association

A Conversation with Gene Ludwig and Rob Nichols

Rob Nichols is the president and CEO of the American Bankers Association, which represents banks of all sizes and charters and is the voice for the nation's $20 trillion banking industry.

Rob joined ABA in August 2015 following ten years at the helm of the Financial Services Forum, a non-partisan financial and economic policy organization. Before joining the Forum, Rob served in the George W. Bush administration as the assistant secretary for public affairs at the Treasury Department, a position requiring confirmation by the United States Senate. In this role, he acted as chief spokesperson and head of the office of public liaison, serving as Treasury's lead representative with the media, business, professional trade organizations, consumer groups and the public.

Rob's earlier career highlights include working as communications director to the late U.S. Senator Slade Gorton and Press Secretary to the late Rep Jennifer Dunn, a former member of the House leadership, and in the West Wing as an aide in the Office of the Chief of Staff in the George H.W. Bush administration.

Rob is a recipient of the Alexander Hamilton Award, the highest honor of the U.S. Department of the Treasury. He also is consistently ranked as one of Washington's Top Lobbyists by The Hill and was described as one of the "new generation of trade group CEOs" by The Washington Post.

In 2020, Rob was elected to serve a two-year term as chairman of the International Banking Federation, whose members include the national banking trade associations representing every major financial center. As chairman, Rob works with IBFed members to develop international consensus on critical issues, actively engaging with international standard setters and global supervisory bodies on issues that affect banks across borders and around the world.

Rob serves on the Board of Governors of FARE (Food Allergy Research & Education) and is a Corporate Advisory Council member at the Children's National Hospital.

Rob is a graduate of the George Washington University.

Betsy Nota-Kirby
Vice President, National Health
Management Consulting | Planning, Analytics
and Total Health
Marsh & McLennan Agency

A Focus on Mental Health: Making Your
Well-being Strategy a Competitive Advantage

Betsy Nota-Kirby is responsible for leading a team of health management consultants in collaboration with the Chief Medical Officer and VP of National Clinical Management Consulting to design and execute a nationally integrated, comprehensive well-being strategy for middle market clients. Betsy joined MMA in 2018 and is based in Fort Lauderdale Florida.

Betsy has been in the medical management and insurance industry for over 30 years. She was previously the Director of Medical Management Operations for Centene Inc. She also previously ran her own health care consulting company and held advanced roles with Humana, Aetna, and the University of Michigan Health System.

Betsy is an accomplished population health consultant leading strategy, product development, design, implementation and operations of health and wellness products including clinical vendor assessment and worksite clinic consulting.

Betsy holds a bachelor's degree in exercise science from Eastern Michigan University as well as a master's degree in kinesiology from the University of Michigan in Ann Arbor. She is an ACSM® certified exercise specialist as well as a Wellcoaches® certified health and wellness coach.

Betsy is a former member of the American Worksite Health Promotion (AWHP), the American College of Sports Medicine (ACSM), and the American Association of Cardiovascular and Pulmonary Rehabilitation (AACVPR).

Michael Rogers
Principal
Practical Futurist

What Comes After COVID? The Decade Ahead

Michael Rogers is a best-selling author, technology pioneer and futurist, who most recently served as futurist-in-residence for The New York Times. He has worked with companies ranging from FedEx, Boeing and NBC Universal to Microsoft, Pfizer and Siemens, focusing on how companies can think about the future in useful ways. He speaks to audiences worldwide and is a regular guest on radio and television.

Michael began his career as a writer for Rolling Stone magazine. He co-founded Outside magazine and then launched Newsweek's technology column, winning numerous journalism awards. For ten years he was vice president of The Washington Post Company's new media division, leading both the newspaper and Newsweek into the new century and earning patents for multimedia technology. He is also a best-selling novelist whose books have been published worldwide, chosen for the Book-of-the-Month club and optioned for film.

Michael studied physics and creative writing at Stanford University, with additional studies in finance and management at the Stanford Business School Executive Program. He lives in New York City and is currently working on book and television projects.

Joan Woodward
Executive Vice President of Public
Policy, Travelers | President, The
Travelers Institute

Woodward on Washington: An Economic,
Public Policy, and Political Outlook

Joan Woodward is Executive Vice President of Public Policy for Travelers and President of The Travelers Institute. She is a member of the company's Management Committee, Operating Committee, Environmental, Social, and Governance (ESG) Committee, and also serves on The Diversity Council, and the Travelers Foundation Board.

Joan joined Travelers in 2008 from Goldman Sachs to establish The Travelers Institute as the company's thought leadership and public policy platform.

Prior to her current role, Joan worked at Goldman, Sachs & Co. for ten years, where she was the founding Executive Director of the company's Global Markets Institute, the firm's international public policy and institutional investor educational platform. She also served as Founding Director of Washington Equity and Bond Research for Goldman Sachs' Global Investment Research where Institutional Investor magazine recognized her as a top Washington analyst for investors.

Prior to joining Goldman Sachs, Joan worked on Capitol Hill for 12 years, as Deputy Chief of Staff for the U.S. Senate Finance Committee working for Chairman Bill Roth, where she was instrumental in creating the Roth IRA. She also was the Chief Economist for the Senate Governmental Affairs Committee and the U.S. House Budget Committee under Chairman John Kasich.

She serves on the Board of Directors of the United States Chamber of Commerce Foundation, is Vice Chairman of the Board of the RAND Institute for Civil Justice, and a member of the President's National Small and Medium Enterprise (SME) Export Council. Reactions Magazine named her to the Top 50 Women in Insurance, and in 2016, she was named to the Hot 100 in Insurance list by Insurance Business America magazine. In 2017, she received the 2017 Power Women's Leadership Award by NY Moves magazine.

Joan holds bachelor's degrees in economics and political science and a master's degree from The American University. She also studied at the University of London.