Bank Directors' Symposium – Attendee Portal
Co-sponsored by the Virginia Association of Community Banks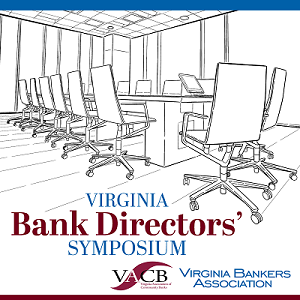 The Directors' Symposium, co-sponsored by the Virginia Association of Community Banks, provides bank board members with current data, thought-provoking industry trends and networking opportunities with other directors and regulators. The program is designed to benefit both new directors and seasoned veterans on the Board.
Click the links below to see the rosters for each Symposium:
Dates, Hotels and Meeting Room Info
April 19, 2022
April 20, 2022

Hotel Roanoke
110 Shenandoah Avenue
Roanoke, VA 24016

Meeting Room: Washington Lecture Hall (Lower Level)

Hilton Short Pump
12042 W Broad Street
Richmond, VA 23233\

Meeting Room: Capital Ballroom G
2022 Agenda
8:30am Breakfast and Registration
9:00am-9:05am Welcome
9:05 – 9:55am Economic Update Renee Haltom | Federal Reserve Bank of Richmond
9:55 – 10:45am The DEI Landscape in Banking and the Role of the Board in a Bank's DEI Strategy Leslie Schreiner | FHLBank Atlanta
Organizations of all shapes and sizes are taking intentional steps to support a diverse workplace and foster a culture of equity and inclusivity. Banks are feeling more pressure than ever from internal and external stakeholders to demonstrate their responsiveness and activities in this area. While management is tasked with the execution of diversity, equity, and inclusion strategies, boards play an important role in putting management on a path for success and setting a tone of inclusivity for the organization as a whole. Join Leslie Schreiner, Director of Diversity, Equity, and Inclusion at Federal Home Loan Bank of Atlanta, as she discusses what banks should consider and the positive impact boards play in promoting an effective diversity, equity, and inclusion program.
10:45 – 11:00am Networking Break
11:00 – 11:50am The Evolution of Cybercrime Rehman Khan & Ted Lansdale | Travelers
During this session, Rehman Khan and Ted Lansdale will present the insurance, mitigation, legal, regulatory and claim aspects of managing financial institution cyber risk.
11:50am – 12:50pm Lunch
12:50 – 1:40pm Top 10 Questions Boards Should be Asking about Enterprise Risk Management Michael Glotz | Strategic Risk Associates
In this interactive discussion, Michael Glotz with Strategic Risk Associates will share the top 10 questions bank directors should be asking about enterprise risk management (ERM). From defining the bank's ERM Policy to understanding the components of the policy's Risk Maturity Framework, to instituting the necessary framework in which to oversee the numerous risks facing the bank, Michael will walk attendees through the questions and help them understand their role in overseeing the bank's top risks and Risk Profile.
1:40 – 2:30 FinTech Engagement – Why it's Important Charles Potts, ICBA
The community banking landscape is changing and keeping up with those changes is more challenging than ever before. The increase of fintechs in the banking space has given rise to unprecedented competition among banks and challenger companies. To stay relevant in today's market, community bank boards must embrace these new companies and the benefits they can provide to a bank's customer base. Finding the sweet spot between high tech and high touch is crucial to surviving and thriving in this exciting new competitive landscape. Taking a wait-and-see approach to new technologies just won't work anymore and our presenter, Charles Potts will share his thoughts on what's happening in the marketplace and how banks can leverage these Fintech companies to provide what bank customers want and demand.
2:30 – 3:20 Bank Leader's Call to Service: The Making of Everyday Heroes in a Talent Crisis Kate Shattuck, Korn Ferry
*Sessions/Topics subject to change
2022 Speakers
Michael Glotz, MBA, CRP | Strategic Risk Associates
Michael Glotz is the Chief Executive Officer of Strategic Risk Associates (SRA) and is the firms' practice leader for risk management, governance, capital management and crypto risk management activities. He has led numerous risk management and capital planning engagement efforts for national, regional and community organizations. Immediately before SRA's founding, Mr. Glotz was a Managing Vice President with Capital One Financial Corporation. Mr. Glotz held a number of senior positions with Capital One, which included the oversight and development of over 100 audit and risk professionals. Mr. Glotz received a BBA Degree in Business with the University of Wisconsin, an MBA with the University of Richmond and completed the Executive Development Program at Wharton, University of Pennsylvania. He is a Certified Risk Professional.
Renee Haltom | Federal Reserve Bank of Richmond
Renee Haltom is a vice president and regional executive at the Federal Reserve Bank of Richmond. Her work involves engaging business, banking, and community leaders on local economic conditions to inform the monetary policymaking process, as well as sharing information about the Federal Reserve System. She is based at the Richmond office and has responsibility for public outreach and engagement in Virginia, as well as for the Community Depository Institutions Advisory Council. Renee has a bachelor's degree in economics from Michigan State University and a master's degree in economics from the University of San Francisco.
Rehman Khan | Travelers Bond & Specialty Insurance
Rehman Khan is a seasoned security practitioner working in cyber space since 2002. Currently, at Travelers, he is responsible for r assessing cyber risk at current and prospect clients. Prior to joining Travelers, he has played key roles in developing cyber capabilities for ally nations under multiple D.O.D initiatives. He has also been in several high-impact strategic positions with major U.S banks and pharmaceutical companies where he lead multiple high-profile mergers and acquisitions. Rehman is passionate about cyber risk and security awareness. He is based in Chicago, IL.
Ted Lansdale | Travelers Bond & Specialty Insurance
Ted Lansdale serves as a Senior Claim Counsel on Travelers Bond & Specialty Insurance's Management Liability First Party Claim team where he handles claims under the Financial Institution Bond and Travelers' crime policy. He is a former manager of Travelers' cyber claim team and continues to handle cyber claims. Prior to joining the insurance industry, Ted was associated with Morrison Mahoney, a Boston-based law firm, where he defended professional liability actions against a range of professionals including lawyers, accountants, and real estate professionals. Ted graduated with honors from New England School of Law where he was an editor of the New England Law Journal and holds a bachelor's degree in economics from Colgate University.
Charles Potts | ICBA
Charles Potts is executive vice president and chief innovation officer for the Independent Community Bankers of America® (ICBA). In this role Potts drives ICBA's innovation, change management and financial technology strategies, working with ICBA leadership to develop impactful, value-added solutions that help community banks seize new market opportunities to meet customers' evolving financial services' needs. Potts' extensive financial services experience spans more than 25 years and includes executive positions at several fintechs and international financial service providers. He previously served as executive managing director at First Performance Global, where he led business and corporate development activities for its card-control and fraud alert platform.
Leslie Schreiner | FHLBank Atlanta
Leslie H. Schreiner serves as First Vice President and Director of Diversity, Equity and Inclusion for FHLBank Atlanta. She is responsible for the development, oversight and implementation of the Bank's strategic diversity, equity and inclusion goals, and is a certified diversity professional as well as certified diversity, equity and inclusion coach. Ms. Schreiner was a founding member of the Bank's Diversity and Inclusion Council and has run the Bank's supplier diversity program. Previously, Schreiner served as the Bank's Director of Strategic Planning and Accounting Services from 2016-2018, and was responsible for strategic planning and budgeting, business intelligence initiatives, as well as accounts payable, fixed assets, and expense reimbursement. She joined the Bank in 2007 as Director of Accounting Automation and Technical Compliance, and prior to this time held senior accounting roles with various companies. Schreiner earned a B.A. in Accounting from the University of Georgia and an M.B.A in Finance from Georgia State University. She is a certified public accountant.
Kate Shattuck, Korn Ferry
Kate Shattuck is a Senior Client Partner in the Washington, D.C. office of Korn Ferry, the global leader in talent, recruiting and human capital advisory services, where she specializes in Financial Services. Kate co-leads the firm's Impact Investing and ESG Practice. She is a member of the Consumer & Commercial Banking, Asset Management and Family Office practices. Kate partners with organizations focused on recruiting, retaining and motivating leaders, especially in key succession planning and programs that build and develop effective teams at the C-suite, board and senior executive levels. Prior to entering the talent management and recruiting profession, Kate worked as an executive in the financial services industry. Kate is a U.S. Army veteran, with experience in Kuwait, Bosnia and South Korea. She serves as a Board Member for Citizen and Northern Bank (NASDAQ: CZNC), headquartered in Wellsboro, PA and the Women's Advisory Board for the Girl Scout Council of the Nation's Capital. She enjoys the great outdoors and is a survivor of pandemic homeschooling.
2022 Session Materials
Session Materials will be posted as they become available.
Economic Update Renee Haltom | Federal Reserve Bank of Richmond
The DEI Landscape in Banking and the Role of the Board in a Bank's DEI Strategy Leslie Schreiner | FHLBank Atlanta
Cyebrcrime and Payments Rehman Khan & Ted Lansdale | Travelers Bond & Specialty Insurance
Top 10 Questions Boards Should be Asking about Enterprise Risk Management Michael Glotz | Strategic Risk Associates
FinTech Engagement – Why it's Important Charles Potts, ICBA
Bank Leader's Call to Service: Attracting Top Talent Kate Shattuck, Korn Ferry
Sponsors
Thank you to our Sponsors!

Paymerang
7401 Beaufont Springs Drive, Suite 300
Richmond, VA 23225
www.paymerang.com/industries/banking/
Chris Carlton, VP, Banking
ccarlton@paymerang.com | (804) 302-8510
Paymerang provides a streamlined invoice and payment automation platform that bring Accounts Payable (AP) departments into the modern age. Paymerang's platform saves AP departments hundreds of hours annually, enhances visibility, increases accuracy, improves efficiency, and earns rebates while reducing paper, fraud risks, and operating costs.

Piper Sandler & Co.
1251 Avenue of the Americas 6th Fl
New York, NY 10020-1128
www.pipersandler.com
Avi J. Barak, Managing Director
Avi.Barak@psc.com | (212) 466-7788
Piper Sandler is a leading investment bank and institutional securities firm driven to help clients Realize the Power of Partnership®. Through a distinct combination of candid counsel, focused expertise and empowered employees, they deliver insight and impact to each and every relationship. Their Financial Services Group provides merger and acquisition advisory, capital markets, fixed income and equity trading and sales, equity research, balance sheet management, mortgage finance, and other advisory services to financial institutions and their investors. Founded in 1895, the firm is headquartered in Minneapolis with offices across the United States and in London, Aberdeen and Hong Kong.
​

S&P Global Market Intelligence
212 7th Street NE
Charlottesville, VA 22902
www.spglobal.com
HD Jacobs, Lead Sales Specialist
hd.jacobs@spglobal.com | (434) 825-1121
S&P Global Market Intelligence combines broad data, powerful analytics, and deep banking-sector intelligence to give our clients unrivaled insight into the companies and markets they follow.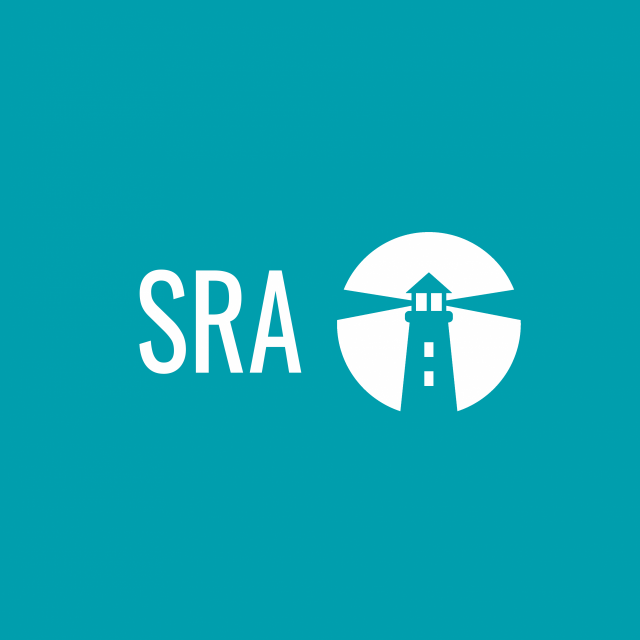 Strategic Risk Associates
4701 Cox Road, Suite 135
Glen Allen, VA 23060
www.srarisk.com
Michael B. Glotz, CEO
mglotz@srarisk.com | (804) 317-6586
Strategic Risk Associates (SRA) is a technology solutions provider and risk management consulting practice serving the Financial Services, Insurance and Technology industries. SRA's proprietary technology and methodology was designed and built "by bankers, for bankers" enabling clients to navigate risk and drive growth. SRA Watchtower is a risk intelligence and intuitive performance management platform built to continuously inform, enlighten, and empower banking executives and boards. SRA has helped hundreds of banks effectively navigate through significant risk events since the 2008 financial crisis.
Event Policies
EVENT POLICIES
By registering for this event, you are agreeing to the Event Policies.
CANCELLATION POLICY
All cancellations will be charged a $25.00 administrative fee. Cancellations received less than 72 business hours before the program will be charged a $75.00 administrative fee plus any additional fees associated with the training. Substitutions are allowed prior to the beginning of the conference.
SPECIAL NEEDS & AMERICANS WITH DISABILITIES NOTICE
If you have special needs that may affect your participation in this event, please contact Kristen Reid to discuss accommodations.
VBA and VACB Staff Contact Info