2020 VBA State Legislative Zoom Meetings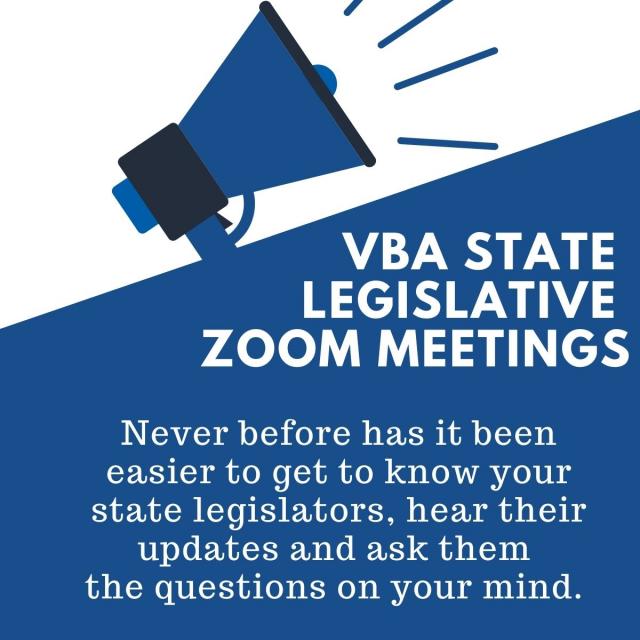 Join us this fall for our series of virtual State Legislative Meetings.
These events are free; registration is required. Zoom access links will be available upon registration.
Click the link to register for the event in your area:
Valley/Roanoke
Roanoke to Winchester, 81 corridor
October 21st at 1:00 p.m.
Hampton Roads/Peninsula
Everything east of New Kent to the beach and Eastern Shore, including the 460 corridor east of Petersburg/Hopewell area
October 22nd at 1:00 p.m.
Greater Richmond/Northern Neck
South of Fredericksburg and the Richmond metro area, south of Richmond along I-95 to the NC line, Orange/Culpeper plus the Northern Neck
October 23rd at 1:00 p.m.
Northern Virginia/Fredericksburg
Fredericksburg and north, Loudoun and east
October 29th at 9:00 a.m.
Southside Virginia/Charlottesville
Charlottesville and south to North Carolina border, Martinsville to I-95
October 30th at 9:00 a.m.
Southwest Virginia
Everything south of Roanoke and west of Martinsville
October 30th at 3:00 p.m.