Get to Know 2021-2022 VBA Chairman Leton Harding
Powell Valley National Bank (PVNB) Chairman, President & CEO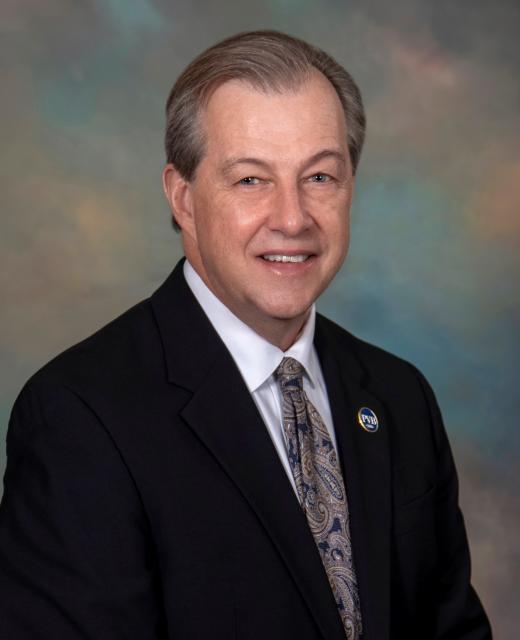 You were installed as chairman during our Virtual Annual Meeting in June as the first VBA chairman to be a former VBA staff member, serving as vice president and executive director of the Community Bank Council and manager of legislative programs at the VBA from 1986 to 1993. Why is the role of VBA chairman meaningful to you, especially as you come full circle in your career, from working at the VBA to serving it in its highest leadership position?
Imagine you are a baseball player and your name is mentioned in the same breath as Babe Ruth, Hank Aaron, Willie Mays and Mickey Mantle. The feeling that baseball player would have is the feeling that swells up in my heart when I think of serving in the same role as Clements (John, Peter and my mentor Bill), H.B. Rew, Doug Monroe, Vernard Henley, Betsy Duke, Gordon Gentry, Sam Cardwell, Bob Freeman and so many other outstanding Virginia Bankers.
I feel blessed to have served the VBA as a volunteer banker as well as a staff officer. It has allowed me to understand more fully the work, efforts, and sacrifices from people who believe that our industry – the banking industry – is vital to our Commonwealth and its future.
In your March 2021 Letter to Shareholders, you shared, "Through yet another terrible time, the true value of a deeply rooted and committed Bank has been proven by our actions and deeds." How does it feel to take on this VBA leadership role after more than a year of uncertainty and change and during such a transformative time in our industry?
So much work has been undertaken by so many, including and especially Virginia banks, their boards, officers and employees, in order to turn back the COVID tide. Through the efforts of my two most recent predecessors, John Asbury and Jeff Haley, vital accomplishments have been made to support our industry and return the economy to a strong footing.
My role now is rather simple: Continue to beat the drum for our industry. The ravages of a terrible disaster showed the true mettle of the banking industry; an industry completely intertwined in the lives of the communities we serve. Over the past 18 months, Virginia banks have stood tall and lifted up those around them through efforts that can truly be described as herculean. I will continue to voice my support for our industry from my chairman's platform.
Tell us about any specific traits or skills you have obtained from your 44-year career and community involvement that you deem as necessary and influential in your current role at Powell Valley National Bank and also as VBA chairman?
My wife often shares with friends, "if Leton won the lottery he would become a full-time student." Having a passion for learning and understanding that a life or career is best served by being a good student and letting others give you the gift of their teachings makes you a better leader.
I find that every day, with every person I meet, every article I read, and every email I send or receive, I have the opportunity to learn. Who I am today and what I will be tomorrow are both built upon a composite of learning from others over the course of my banking career and my life experiences. I have learned to appreciate that every person I meet has the potential to teach me and make me a better person and a better banker. These lessons have been invaluable to my career.
Career timelines aren't always linear. As someone who worked with what we then called the Young Bankers Section and as a strong mentor to many colleagues throughout your career, what advice do you have for the next generation of banking leaders?
​Joseph Campbell once said, "The cave you fear to enter holds the treasure you seek." Often our industry has looked backwards, not forwards, as well as longed for stasis and not embraced change. That has allowed others to take from the industry what could have been ours.
If you go to the ocean, you can try to tell the waves to stop – or you can get a surfboard and have some fun. You will fall. You will tumble. But you will eventually succeed in riding the waves.
As a young person reading this, please understand that you work in an industry that can literally save thousands of jobs – and has – through the implementation of such programs as the Paycheck Protection Program. You can also help local communities, businesses and consumers through a traditional role of being "their banker." In addition to all this, of added importance is to understand that your embrace of, and comfort with, technology can be incorporated into the banking world to create a stronger, more vibrant and caring industry. Do not be afraid to get on the surfboard in order to become successful in riding the wave of innovation.
In addition to serving as VBA chairman, you are also a member of the VBA Education Foundation board and a member of the VBA Diversity, Equity and Inclusion Council. Tell us about how you make both financial literacy and DEI priorities in your organization.
​Being a part of a bank that has survived 30 economic events, including the Great Depression, The Great Recession and now the COVID-19 pandemic, you realize that the best way to grow and sustain your bank (business) is to hire the best people who support the communities you serve. And best is not determined by skin color, sex, background or other arbitrary factors.
As a native of Appalachia and someone who often sees, hears and listens to erroneous stereotypes of "mountain people," I get a glimpse of others' ignorance when it comes to judging people on something other than "the content of their character," as Dr. Martin Luther King, Jr. said.
To grow and thrive over 133 years, as our bank has, means that your customers have to trust you. Banks accomplish this through fair treatment and being a partner in their customers' financial journeys. Consumers need to be educated through financial education about the roads they are to travel and understand that sharing of financial knowledge, like any knowledge, does not make us weaker, but makes us stronger.
When you think about the future of the banking industry, what keeps you up at night and what makes you hopeful?
​The need for our industry to adapt to change at a faster rate. I often wonder when I think of PayPal, Square and other fintech companies, "Why did our industry not do this first?"
The bank I first worked for, The Wise County National Bank, was processing transactions in 1976 online and in real-time. You made a deposit in Big Stone and the teller in Norton or Wise could see the transaction and have that information, should you come in that same day.
Bill Clements, my mentor and president of the bank at the time, was a "Boushall Boy" and knew that you had to embrace technology (and change), not fight it, all the way back to 1976. What if others had had the same mindset as Bill Clements? Where could our industry be today?
In this world of constant change, communication and connectivity, in what ways do you view the VBA as an indispensable resource for both yourself and Powell Valley National Bank?
The warmth of the sun (one bank) can keep you warm only for a while. The sun's rays running through a magnifying glass (the VBA) can start a fire that keeps you warm in the coldest and darkest of times.
Individually, the banks of Virginia did much these past twenty months or so. However, collectively through our association, our strength as banks became magnified many fold.
Banks could have undertaken and completed good works during the COVID pandemic without the association; but we did so much more as a result of our unity through our VBA membership and with the support of the VBA, providing us resources, programs, education and information.
COVID has taught us all many things. It has taught us lessons about our core values, like the importance of family; simple gifts of life, like grocery shopping or going to church and school; and the ongoing value of an organization like the VBA that bands our industry together to provide solutions to collective challenges.
What is something about you that would surprise our readers?
​Well first, any statements by Dick Holland, chairman of Farmers Bank, are not to be believed and are to be considered completely unreliable (Dick and I are great friends who have teased each other in a good -natured manner for years)!
As a co-founder of The Birthplace of Country Music Alliance (and successor organizations and venues), readers would be surprised to know that I am not a country music fan. Yes, I like some country music and musicians (and take pride in my picture with Johnny Cash), but I lean more to jazz, alternative rock and Americana music.
I tell folks you do not have to be a football fan to want to have the Super Bowl in your city. Just because I am not a country music fan does not mean I don't appreciate or honor the legacy of Bristol as the "Birthplace of Country Music" and the value of that legacy for our region.
My Media Mix:
Music – Really enjoying Nathaniel Rateliff, Florence + the Machine, Railroad Earth, Blue Highway and Zach Bryan. And of course, "The Boss", anytime.
TV – We binge watched Schitt's Creek late last year – what a great show. Most recently Shadow and Bone on Netflix.
Books – I enjoy history and books centered on Appalachia. Recently I completed Blood and Treasure by Bob Drury and Tom Clavin – the story of Daniel Boone and America's fight for the First Frontier. I also recently read another book from an Appalachian author – Ron Rash's One Foot in Eden. Next up is 2034 by Elliot Ackerman and Admiral James Stavridis.