5 Minutes with Women in Leadership at GSB-LSU
Jamie Johnson & Nicole Martin
Jamie Johnson
AVP/Merchant Risk Quality Control Manager
Chesapeake Bank
President of the Class of 2023 at the Graduate School of Banking at LSU
Nicole Martin
SVP/Chief Operations Officer
Benchmark Community Bank
Vice President & Treasurer of the Class of 2023 at the Graduate School of Banking at LSU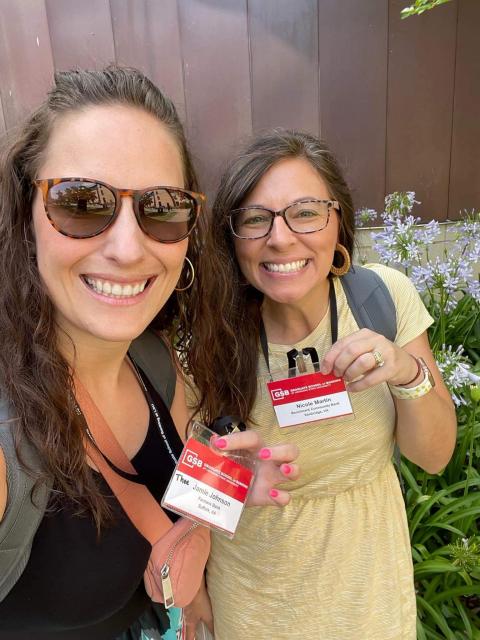 You are both graduates of the Virginia Bankers School of Bank Management. How did your experience at Bank School encourage you to apply for, and prepare you for, GSB-LSU?
JJ: The Virginia Bankers School of Bank Management provided an opportunity to learn all aspects of banking. At the end of the three years, I knew I wanted to continue to learn which prompted me to apply to the Graduate School of Banking at LSU. GSBLSU felt like the 4th year of bank school because we continued to build on the information taught in the previous three years.
NM: VBA Bank School sets the foundation for a holistic understanding of the bank. GSBLSU builds upon that foundation and provides deeper insight from a management perspective. The VBA does a wonderful job of promoting and encouraging continued learning at GSB.

To have two Virginia women as the president and vice president of the class of 2023 is inspiring. Why did you decide to run for an officer position at GSB-LSU when you started the program?
JJ: I was the class secretary for the 2019 VBA Bank School class and I loved being part of the process of making the experience memorable for others. Running for a class officer position was not about a title, rather, it was a desire to serve our class and make a difference. Sharing this experience with Nicole has made this experience even more rewarding. We are each other's biggest supporters and cheerleaders.
NM: Our first year of GSBLSU was completely virtual due to the pandemic. From the start, we felt it was important to try and connect with our classmates as much as possible, so before the session even began, we developed a Facebook group to encourage interaction and build relationships. From there, I knew I wanted to play a role in keeping our class connected – running for office was an easy way to do so.

Favorite class from the first two years?
JJ: Leading Through Motivation
NM: Intro to Digital Assets
Favorite memory of the program so far?
JJ: The class parties were the most fun, but I think the late-night study sessions were the most memorable. The study sessions allowed us to truly bond with friends in smaller group settings. Since our days started early and ended late, we were pretty delirious and laughed a lot while trying to study.
NM: So many – just getting to be on the beautiful LSU campus last year was awesome – but I think our class party, featuring dueling pianos, is at the top of the list!

What's one thing you want to accomplish in your final year, before graduation?
JJ: I know I'm going to miss all of the people, so my goal is to soak up every minute and make as many memories as possible before graduation.
NM: Get all our class dues collected so we can plan an epic senior year for our classmates.
ELEVATE is a newsletter for women in banking and those who support them. What would you say to our readers who are considering applying for a program like Bank School or GSB-LSU?
JJ: I'd highly encourage them to apply! There is room for others "at the table", and you will find yourself surrounded by support. Virginia bankers, both men and women, are a very supportive group.
NM: Just do it! I am blessed to have several women mentors at my bank who encourage me to keep growing and learning. I hope I can be that for others.