2020 Virginia Reads One Book Resources
Sponsored by the VBA Education Foundation and Banks Across Virginia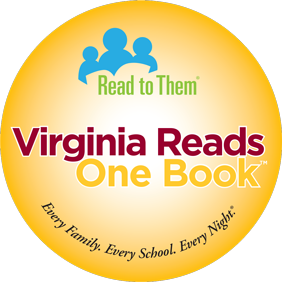 Thank you for your interest in sponsoring Virginia Reads One Book in your community!
The VBA will be contacting banks soon with opportunities to sponsor interested schools in your area. As schools complete the funding request forms, the VBA will contact banks in the schools area who have expressed interest in sponsorship.
Program Overview & Timeline
During the Virginia Reads One Book (VAROB) program, the entire school community, including bus drivers, resource teachers, facilities staff, office personnel, students and their families, read the same book on the same schedule. Students participate in financial literacy activities developed by the Virginia Council on Economic Education that correlate with the state standards of learning and each chapter of the book.
Other statewide VAROB sponsors include GoNoodle (new for 2020), Tackle Reading, the Virginia Council on Economic Education, and the Washington Redskins Charitable Foundation.
Program Timeline
By January 15th – school/bank partnerships will be secured and orders will be places for books/materials
January 31st - schools will receive access to the program resources
January 31st at 9:30 a.m. - conference call for bank sponsors to go over timeline, next steps and resources for the 2020 program.
Call in number: 1-877-338-0987, Room #9173506
First/second week of February – schools should receive their copies of the books
Third week of February – stickers, posters, bookmarks and other program materials will arrive at the schools
VAROB 2020 will begin on or around March 6. The program is designed to last about three weeks.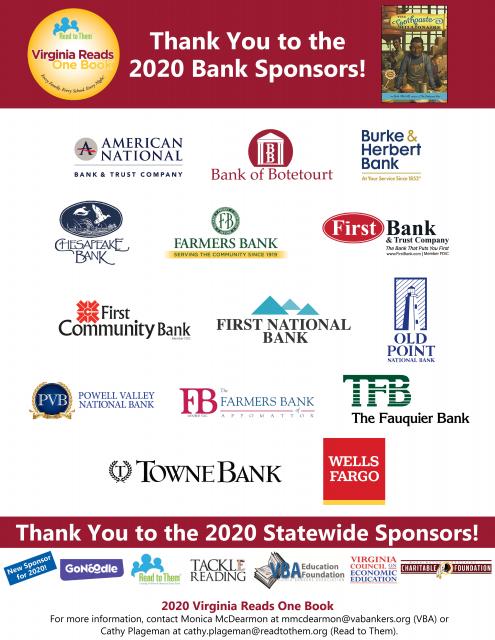 How Can Your Bank be Involved During the Program at the School?
ICYMI: Bank Sponsor Conference Call - February 5, 2020
Does your bank already have a relationship with a school that you'd like to sponsor? The link that they would need to complete the funding request form is: https://www.formpl.us/form/403906148.
Some ways that bankers have been involved in the past are:
Attending and helping at school kick-off ceremonies
Helping to pass out books at kick-off ceremonies
Provide promotional giveaways or bank logo items to students/staff
Serving as guest readers throughout the program in classrooms or with small groups
Presenting financial literacy lessons that correlate with the chapters of the book
Tie the program with youth savings programs/accounts that already exist at your bank (providing students with a bookmark voucher worth $X when they bring it in to open a savings account with their family)
View a full list of ways your bank can support the school here!
Templates & Resources for Bankers
ICYMI: Bank Sponsor Conference Call - February 5, 2020
Before the Program Begins:
View a full list of ways your bank can support the school here!
Email Templates: Introduction from Banker to Sponsored School(s)
Reading Schedule:
During the Program:
GoNoodle Blazer Fresh "Celebrate" Video Link: https://vimeo.com/363157552 (password Mayflower1)
Classroom Activity Ideas:
Financial Literacy Activity Options – Includes activities on starting a business, budgeting, marketing, setting up a classroom auction, classroom mini-economy, and a school-wide business program.
Financial Literacy Vocabulary Words
By Chapter Activities:
Discussion Questions by Chapter
Financial Literacy Activities by Grade Level and by Chapter – Includes activities on needs and wants, choices and opportunity cost, limited resources, goods and services, spending or saving, comparison shopping, and budgets for all grade levels.
Lessons from the Virginia Council on Economic Education
Click here to access these materials. Bankers can list their bank name under "Affiliated School".
Social Media Information:
Be sure to tag @vabankers, @readtothem and use the hashtags #vabankers and #VAROB2020 in your social media posts.
After the Program:
Customizable Press Release for Bank Sponsors
What Resources do the Schools Receive?
When you sponsor a school for VAROB, they will receive a wealth of resources to ensure the success of the program. Schools will have access to these resources in early 2020 to allow for schools to plan their program. You can view the complete set of resources here.
Resources include:
Book for every student and staff member – The Toothpaste Millionaire
Promotional materials – posters, bookmarks and stickers in front cover of every book with the bank's logo
Lesson plans created by the VCEE that correlate with the VA SOLs
School assembly ideas
Cross curriculum lesson plans that correlate with the book
Daily trivia questions
and more!