2020 VBA Bank Day Scholarship Program Student Resources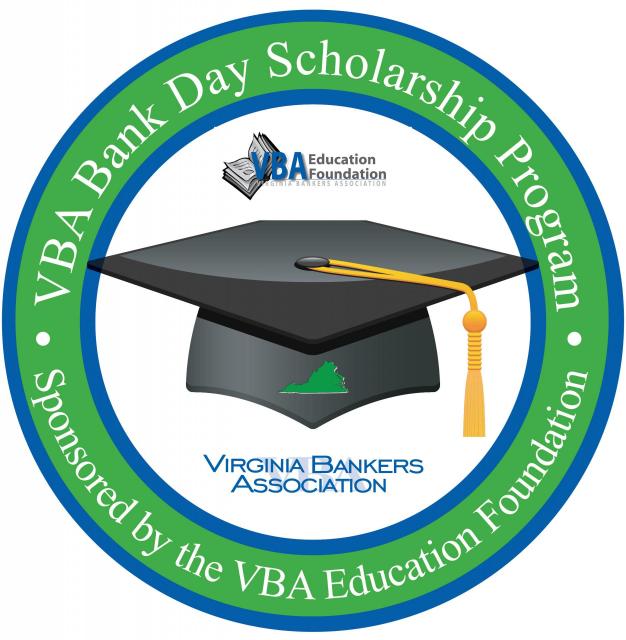 This page is dedicated to resources to assist students participating in the VBA Bank Day Scholarship Program.
The resources on this page can supplement an in-person or virtual Bank Day experience or be the source of information for students who had a Bank Day event cancelled in their area due to the Coronavirus and did not have a virtual option made available to them.
Student participation criteria reminders:
Student must currently be enrolled as a high school senior.
Student must hold a 3.0 or higher GPA.
Student must be a resident of Virginia.
Student must attend a high school in the state of Virginia.
Scholarship Amounts: $26,000 Total!
$1,000 Each for six honorable mention scholarships
$2,500 Each for six regional winners
$5,000 Statewide winner ($7,500 total since all candidates will also be regional winners)
2020 Bank Day Essay Topic: What did you learn on Bank Day (or from Bank Day resources) that will help you manage your financial future AND what did you learn about how banks support their communities?
Essay Information
Please remember that the essays are due to the VBA by April 3, 2020 at 5:00 p.m. You will submit them directly to the VBA via email* – mmcdearmon@vabankers.org.
*Google docs cannot be accepted.
Resources: Read
Students are STRONGLY encouraged to check their host bank's website and social media platforms for more specific information about ways the bank supports your local community. Consider searching for the bank's most recent Annual Report or Letter to Shareholders on their website.
Understanding Credit & Managing Student Loans

This PowerPoint reviews the importance of budgeting, the advantages of being "banked", understanding credit and the importance of your credit score, and ways to make informed financial decisions about paying for college.

2020 Essex Bank Presentation

This PowerPoint was used with students at Essex Bank. There is great information included on how a bank makes money, bank structure and bank products and services. There are also video links included that are great examples of how this bank supports their small business customers. Thank you to Essex Bank for sharing this presentation!

Virginia Banking Magazine: Emerging Bank Leaders Committee Chair Q&A

In this article, the 2019 EBL Committee Chair Tom Rasey discusses his road to becoming a banker, how banks across Virginia support the communities they serve, and filling the banking industry's talent pipeline.

Virginia Bankers Association's Facebook Page

On our Facebook account, you can see the variety of ways Virginia banks are supporting their communities with a focus on financial literacy efforts.
Resources: Watch
Resources: Listen