Haley Named Chairman of VBA
Installation Occurred During 126th Annual Convention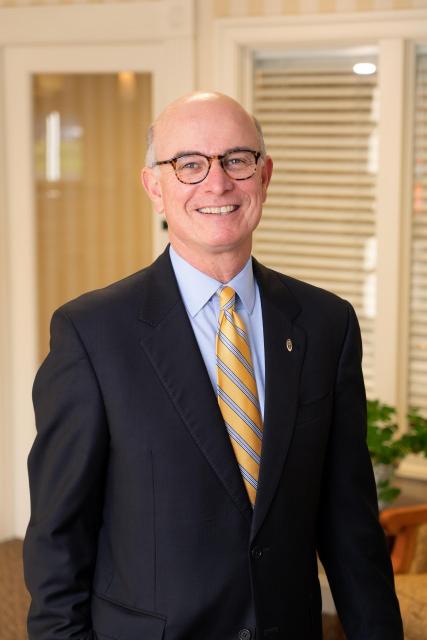 During the 126th Annual Convention of the Virginia Bankers Association, Jeffrey V. Haley, president & CEO of American National Bank & Trust, was named Chairman of the Virginia Bankers Association (VBA). He succeeds Scott C. Harvard, CEO & director of First Bank, Virginia, to become VBA's 127th chairman.
Commenting on Haley's election, Bruce T. Whitehurst, VBA president & CEO said, "We are delighted to welcome Jeff to the position of chairman for the 2019-2020 programming year. As a proven bank CEO and industry leader, he brings a wealth of experience and strategic vision to the association, Jeff exemplifies true commitment to our industry and has already proven to be a significant asset to our board."
Haley has served as president of American National Bank and Trust Company since 2010 and as chief executive officer of the bank since 2012. He has served as president of its holding company, American National Bankshares Inc., since 2012 and as chief executive officer of the holding company since 2013.
Prior to these positions, Haley served as Senior Vice President of the bank as well as President of Trust and Financial Services. He also spent time as the Executive Vice President and Chief Operating Officer of the bank.
Haley is an alumnus of James Madison University and the North Carolina School of Executive Bank Management. Active in many professional and civic organizations, he currently serves as a chairman of Bankers Insurance, LLC and a board member of the Virginia Chamber of Commerce. Additionally, he serves as Treasurer of the Future of the Piedmont Foundation.
###
About the Virginia Bankers Association
The Virginia Bankers Association represents banks of all sizes and charters and has served as the unified voice for Virginia's $615 billion banking industry and its 42 thousand employees since 1893. To learn more about the VBA, click here.