Asbury Named Chairman-Elect of VBA
Installation Occurred During 126th Annual Convention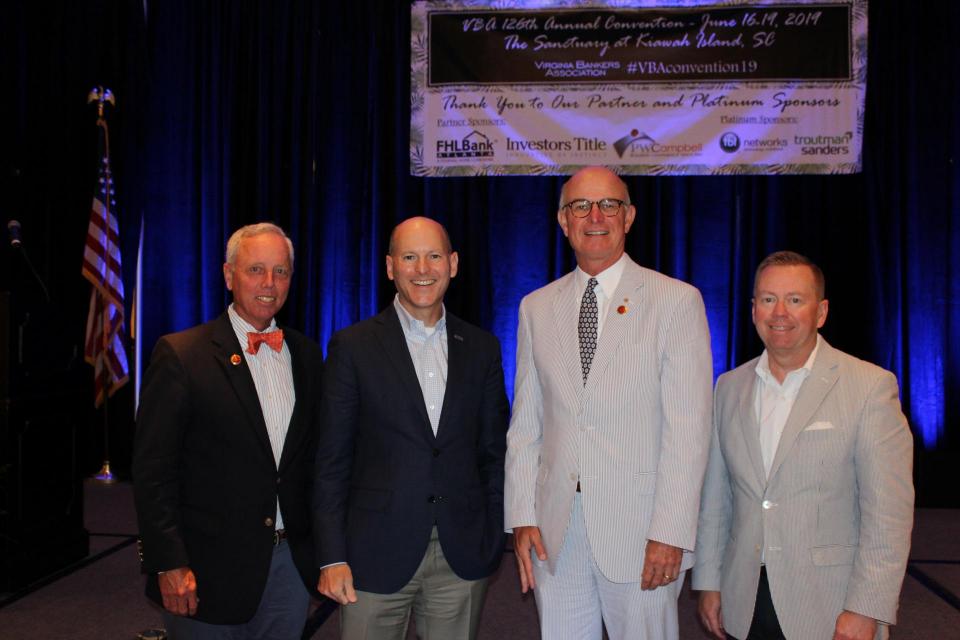 During the 126th Annual Convention of the Virginia Bankers Association, John C. Asbury, president & CEO of Atlantic Union Bankshares Corp., was named chairman-elect of the Virginia Bankers Association (VBA). As chairman-elect, he is slated to become the association's chairman in June 2020.
"I look forward to the opportunity to work even more closely with Bruce Whitehurst, his team and the members of the VBA," said Asbury. "I am proud to be a part of the work that the VBA does to support the banking industry in their role with their customers and in their communities, and I aim to make an impact on continuing and expanding that work."
Commenting on Asbury's election, Bruce T. Whitehurst, VBA president and CEO said, "John is an accomplished leader in the banking industry and, during his relatively short time back in Virginia, has already proven to be an active and dedicated member of the VBA. His skills and experience will be of great service to the association and our members, and we are honored to have him as our chair-elect."
Asbury has served as president and CEO of Atlantic Union Bankshares Corp., formerly Union Bankshares Corp., since October 2016. He has served as CEO of the holding company since January 2017.
Before returning to Virginia, Asbury served as president and CEO of privately held First National Bank of Santa Fe in New Mexico. Prior to that, he was senior executive vice president and head of the business services group at Regions Financial Corp., based in Birmingham, AL.
Asbury also spent 17 years at Bank of America and began his banking career in the management training program at Wachovia Bank & Trust in Winston-Salem, N.C.
Asbury graduated from Virginia Tech in 1987 and holds a graduate business degree from The College of William & Mary. Active in many professional and civic organizations, he currently serves as a board member of ChamberRVA, the Virginia Foundation for Independent Colleges and the Virginia Chamber of Commerce.
###
About the Virginia Bankers Association
The Virginia Bankers Association represents banks of all sizes and charters and has served as the unified voice for Virginia's $615 billion banking industry and its 42 thousand employees since 1893. To learn more about the VBA, click here.